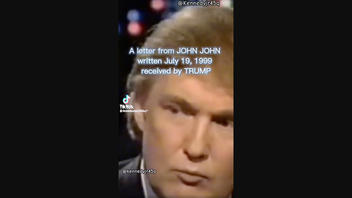 Did John F. Kennedy Jr. write a letter to Donald Trump following the 38-year-old magazine publisher's death on July 16, 1999? No, that's not true: former President Trump wrote in his book "The America We Deserve," published in 2000, that the letter was penned by JFK Jr. the day before Kennedy's death. Kennedy's official day of death is July 16, 1999.
The claim appeared in a video posted on Facebook on April 9, 2023. The video bears a TikTok logo; Lead Stories could not find the original video on TikTok.

The video opens with footage of an interview between Trump and the late CNN talk show host Larry King. Text above the footage reads:
A letter from JOHN JOHN written July 19, 1999, received by TRUMP
This is what the post looked like on Facebook at the time of writing: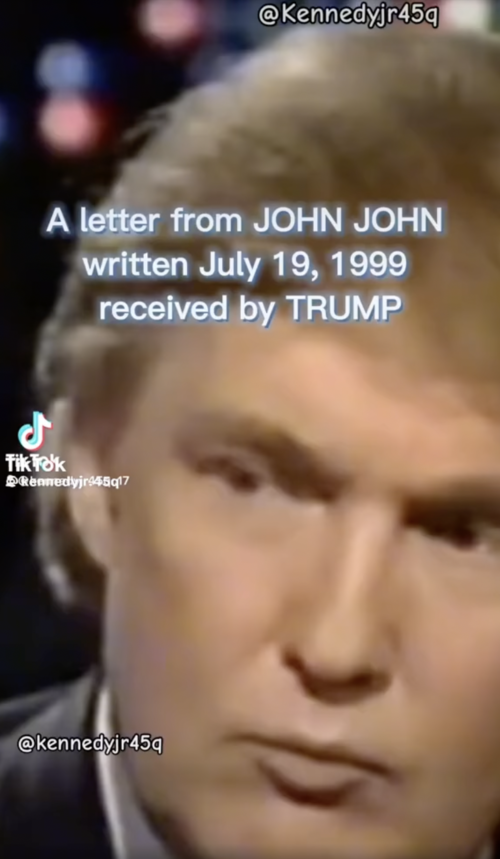 (Source: Facebook screenshot taken on Fri. Apr 14 16:18:25 2023 UTC)
John F. Kennedy Jr., the only son of assassinated President John F. Kennedy, died in an airplane crash off the coast of Massachusetts' Martha's Vineyard, an island in the Atlantic Ocean.

The post on Facebook tries to prove that Kennedy was actually alive on July 19, 1999, which the video claims was the date of his letter to Trump, then a celebrity real estate tycoon.

The interview footage of Larry King and Trump that the video uses to make this claim comes from an October 8, 1999, CNN interview. The segment can be seen at 37:07 in a video on the YouTube channel Factbase Videos.

While King did stumble on his words when citing the date Trump received the letter -- saying first August 19, then July 19 -- Trump confirmed in his 2000 book "The America We Deserve," that JFK Jr. wrote the letter before his death. Trump did not state that the letter had been dated after JFK Jr.'s recorded death.

Trump wrote:
The day John F. Kennedy Jr. died, I received a note he'd written the day before.
No credible evidence indicates that Kennedy lived beyond July 16, 1999.
The National Transportation Safety Board investigation concluded that his plane crashed on that date when he suffered spatial disorientation at night. The report identifies his date of death and that of two other passengers on board the plane -- Kennedy's wife, Carolyn Bessette, and sister-in-law, Lauren -- as July 16, 1999.
A government biography of John F. Kennedy, Jr. also gives that day as his date of death, as does a John F. Kennedy Library Foundation newsletter published in regard to the funeral services in 1999.

Lead Stories has previously debunked other claims that pertain to a broader QAnon-related conspiracy theory that JFK Jr. is still alive.

In 2019, for instance, we disproved two claims that linked JFK Jr. with Trump: one asserted that JFK Jr. had written in 1999 in his magazine George that Trump would be "an unstoppable force for ultimate justice"; a second declared that JFK Jr. would replace then-Vice President Mike Pence as Trump's 2020 running mate.
Other Lead Stories fact checks debunking the conspiracy theory that JFK Jr. has been seen alive after 1999 can be found here, here and here.