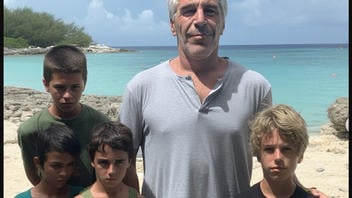 Did a photo recently surface that shows Jeffrey Epstein posing with four children on a tropical beach? No, that's not true: This is not a real photo but an image created with the AI program Midjourney. This image, and another in the same vein showing a likeness of Epstein posing with five children, were posted on Instagram by an account named @aiartistking with full disclosure that these images were AI generated.
Two images were posted on Instagram in the same post on March 25, 2023, by @aiartistking. One of the pictures appeared in a tweet (archived here) on April 10, 2023. The quality of the digital image was degraded and captioning of the tweet had no disclaimer or context added to inform the audience the image is fake:
Don't kid yourselves, this part of the movie is gonna suck.
#JeffreyEpstein #EpsteinIsland
A text overlay on the image reads:
If Only You Knew How Bad Things Really Are
This is what the post looked like on Twitter at the time of writing: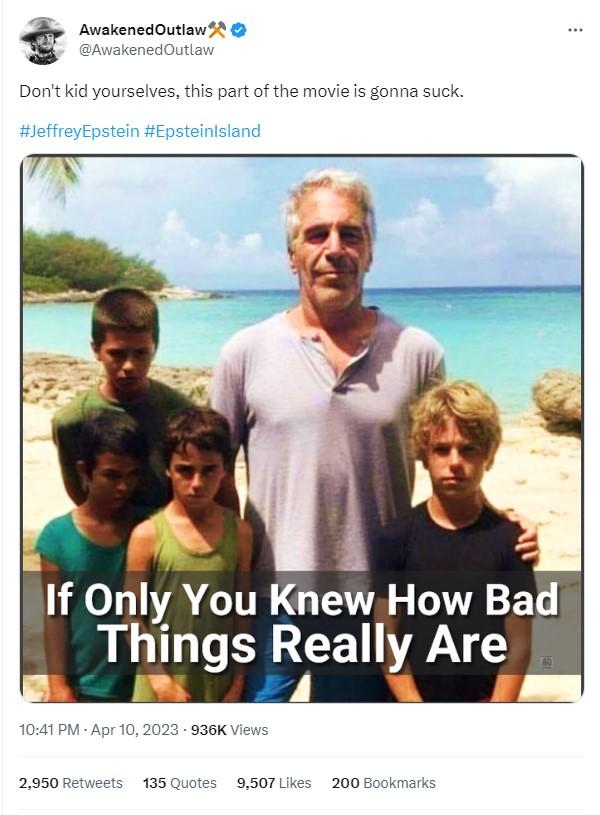 (Source: Twitter screenshot taken on Thu Apr 20 15:52:04 2023 UTC)
When the two images (pictured below) were first posted on Instagram by @aiartistking, the caption consisted mainly of hashtags and mentioned Midjourney three times:
Epstein island is beautiful! #epsteindidntkillhimself #epstein #conspiracy #men #boys #funny #meme #midjourney #midjourneyai #midjourneyv5 #tropical #vacation #family #familytime #love #kids #memes #trump #funnymemes
A commenter asked about the process and @aiartistking responded:
@yodle2018: Curious to know if the beach scene in the background is Ai generated or if it's a photo with the people generated over the top. I don't know much about this technology.

@aiartistking: @yodle2018 the whole thing is generated. Nothing in this picture is real. Its created with midjourney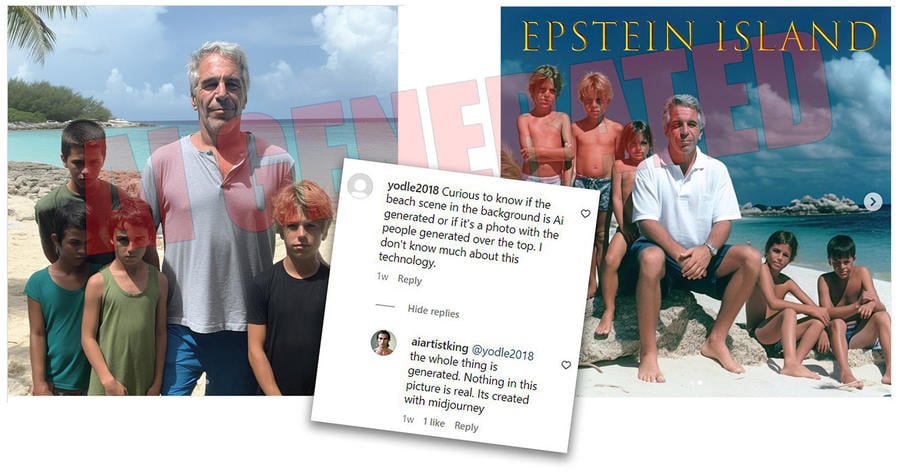 (Image source: Lead Stories composite image markup made with Instagram screenshots taken on Thu Apr 20 17:56:56 2023 UTC)
One of the post's hashtags is #midjourneyv5. The midjourney.com website describes this latest version this way:
The Midjourney V5 model is the newest and most advanced model, released on March 15th, 2023. To use this model, add the --v 5 parameter to the end of a prompt, or use the /settings command and select 5️⃣ MJ Version 5

This model has very high Coherency, excels at interpreting natural language prompts, is higher resolution, and supports advanced features like repeating patterns with --tile
Shortly after the Midjourney V5 model was released, many people were exploring what this technology could produce and were sharing the results online. In the same time period that these Epstein images were generated, the internet was flooded with surprisingly realistic images featuring likenesses of famous people. Many on social media were not aware such technology existed. Lead Stories debunked viral posts that were mistaken for real photos that featured likenesses of Donald Trump, Anthony Fauci, Vladimir Putin and Pope Francis.
A content moderation service called Hive Moderation has developed a tool that can detect AI-generated images and even identify which AI program made the image. The Hive Moderation tool correctly identified the two images (pictured below left and center) that @aiartistking had already said were generated with Midjourney V5, saying they were 99.9% likely to be AI Generated. It also gave both pictures a .99 score that they were generated with Midjourney.
For a control test (below right), Lead Stories used a July 30, 2008, Associated Press file photo of Epstein that Hive Moderation scored 0%, not likely to be AI generated; and .99 not AI generated.

(Image source: Lead Stories composite image with Hive Moderation screenshots taken on Thu Apr 20 17:56:56 2023 UTC)
On TikTok the AI-generated image spawned a new rumor, that one of the children pictured with Epstein has been identified as one of the Island Boys, twin hip-hop artists from Florida -- Kodiyakredd and Flyysoulja. The Island Boys have been actively promoting their music on TikTok. To draw attention to the resemblance, a photo of @flyysouljah has been added to the Midjourney image circulating on TikTok. This claim cannot be true since the kids in the image are the fabrication of an AI program and are not real people.
The Epstein island reference was used once before, in 2022. The Island Boys had been challenged by comedian Tom Armstrong, who is known for enlisting celebrity participation in prank cameos, to give a shoutout to imprisoned Epstein partner Ghislaine Maxwell (YouTube or TikTok).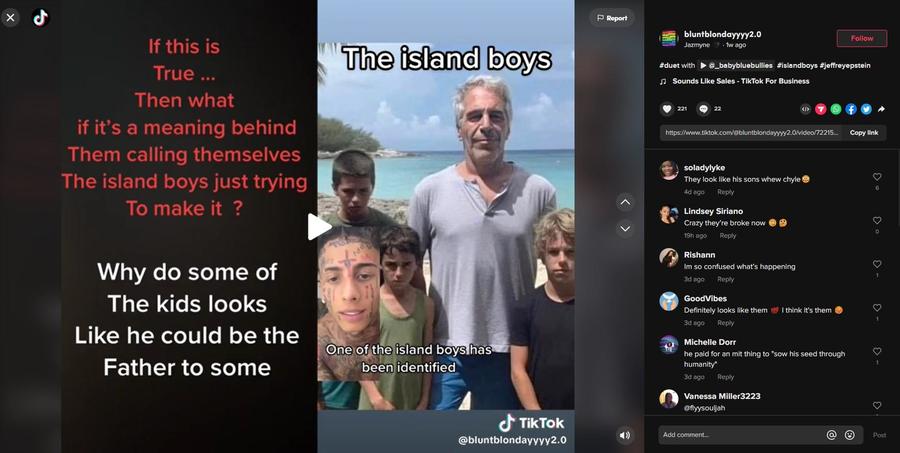 (Image source: TikTok screenshot taken on Thu Apr 20 20:07:16 2023 UTC)