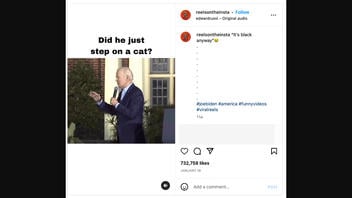 Does a video clip on social media contain genuine audio of President Joe Biden stepping on a cat that squeals in response? No, that's not true: According to an official White House transcript, Biden stumbled over a floor wire at a New York campaign rally -- not a cat. A review of the video from which the post was created shows the sound effect of an agitated cat squealing loudly was added to the original video of him stumbling while speaking.
The video appeared in a post on Instagram on January 18, 2023. Above the video of Biden walking and appearing to stumble over something while speaking into a microphone, a text overlay caption read:
Did he just step on a cat?
This is what the post looked like on Instagram at the time of writing: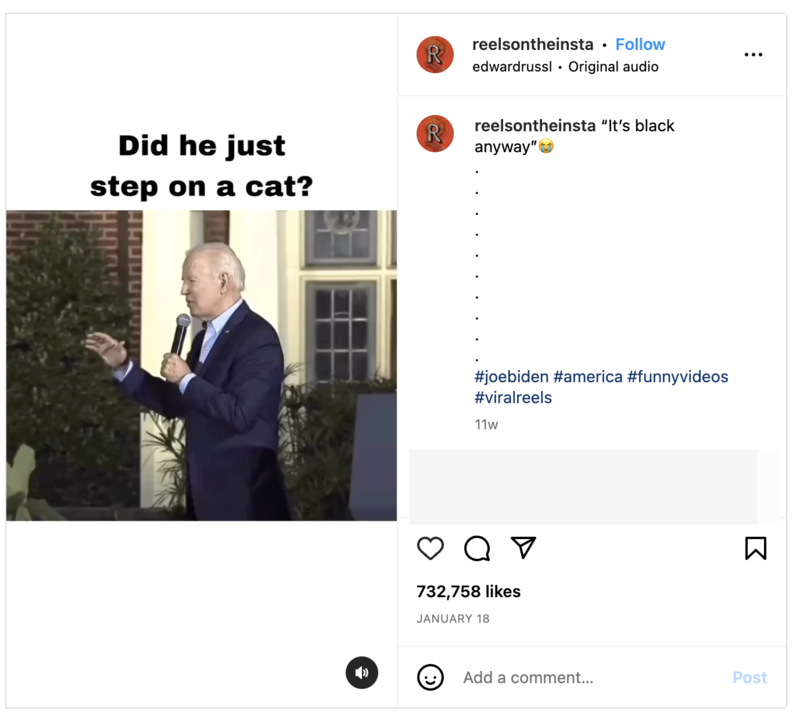 (Source: Instagram screenshot taken on Wed Apr 05 15:32:15 2023 UTC)
The video added, to authentic audio of Biden speaking, the sound of a cat squealing as he appears to stumble.
Toward the bottom of the video post, the social media user "@EDWARDRUSSL" handle appeared. This Instagram user is a self-described "Digital creator" who describes their account as "The Most Viral Meme Page."
The video of Biden stumbling with added audio of a cat's loud squeal is in a November 7, 2022, post on the "@edwardrussl" account.
The footage of Biden is seen at 19:15 in this November 6, 2022, C-SPAN video in which Biden is shown speaking at a rally for New York Governor Kathy Hochul, held in Yonkers. In the video, Biden leaves the podium and, slightly stumbling, looks down and says "stepping on a...it's black" before continuing his speech. A November 6, 2022, official White House transcript, similarly titled, "Remarks by President Biden at Rally for New York Governor Kathy Hochul" stated that Biden stumbled on a floor wire. There is no reference to a cat.
Lead Stories debunked a similar claim that a video included Secret Service agent bemoaning President Biden's jacket troubles.