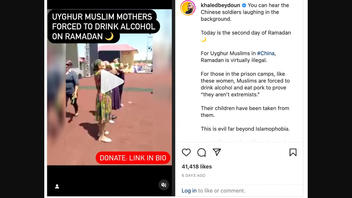 Does a video that resurfaced on social media show Uyghur women consuming alcohol against their will on "the second day of Ramadan" in 2023? No, that's not true: The clip was initially published in 2018, but the exact date and circumstances of filming remain unknown.
The clip reappeared in a post on Instagram on March 24, 2023. Its caption said:
You can hear the Chinese soldiers laughing in the background.





Today is the second day of Ramadan 🌙





For Uyghur Muslims in

#China

, Ramadan is virtually illegal.





For those in the prison camps, like these women, Muslims are forced to drink alcohol and eat pork to prove "they aren't extremists."





Their children have been taken from them.





This is evil far beyond Islamophobia.
Here is what the post looked like at the time of writing: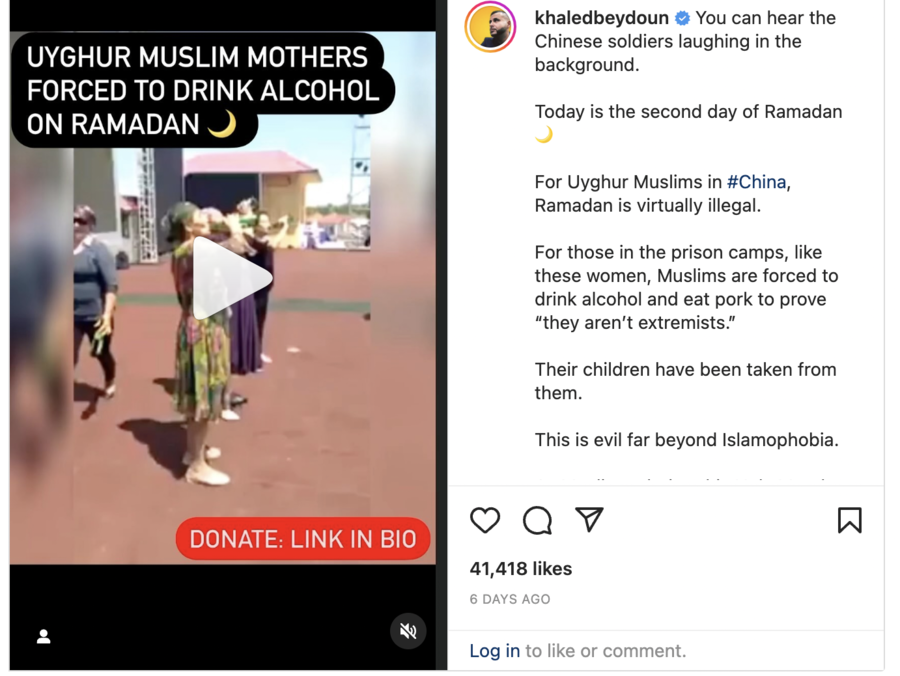 (Source: Instagram screenshot taken on Thu March 30 17:40:35 2023 UTC)
The clip showed three women chugging a liquid from green glass bottles. As another woman walks by and puts a similar green bottle on the ground, a man wearing a red cap and what appears to be a military-style camouflage uniform steps into the frame to pick it up. Based on what is shown in the frame, he doesn't appear to be armed or to threaten the women in other ways.
One striking detail about the video is that two of the four women in the frame wear outfits that are hardly associated with parties: mid-length dresses, covering shoulders and upper arms, and headscarves. That indicates that they may be active practitioners of Islam, and, thus, are not meant to drink alcohol.
The earliest examples of posts sharing the same video go back to 2018 (for example, here, here and here). Many of them were published on or around June 1, 2018.
Other similar tweets discussing "Uyghur Muslims forced to drink" (for example, here) showed men in traditional hats sitting around a dinner table with beer bottles.
Early captions often mentioned "reeducation camps," "the occupying Chinese Amry" (with a typo) or used the hashtag #EastTurkistan, an unofficial name for the region associated with the independence movement.
However, none of the first entries elaborated on where, when and under what circumstances the video was shot and how they obtained it.
One of the first stories about the alleged forced consumption of alcohol in the northwestern Chinese region of Xinjiang, where many mostly Muslim Uyghurs live, was published in 2015. It did not mention any camps. Instead, the Reuters article said that China organized a beer festival in Niya County, in the southern part of the Xinjiang province, shortly before Ramadan, which, as the report put it, "angered" the Uyghur exiles.
However, as of this writing, the only available photograph from the event showed men, not women, chugging beers. It is still available on the Radio Free Asia website, which published a related report with the subheading "fact check." Just like the Reuters article, the RFA piece mentioned money prizes for the participants of beer-drinking contests and pointed out that the pictures of the event on government-controlled media websites showed women dancing, not drinking.
Darren Byler, an assistant professor at Simon Fraser University's School for International Studies in Vancouver, Canada, who wrote several books about Xinjiang, told Lead Stories via email on March 31, 2023, that he was not familiar with this video's background story. But he pointed out that such drinking contests are government-backed and that they became much more regular in 2017:
It is very clear that the participants are Muslim. When I lived in the region in 2015 it would be very very shameful for a Uyghur woman to have her picture taken while drinking alcohol. So my sense is that this was almost certainly from 2017 or later.
Tim Grose
, an associate professor of China studies at the Rose-Hulman University of Technology, who focuses on the Uyghur population, expressed concerns about the unknown origins of the clip. He told Lead Stories the following on April 1, 2023, via email:
Considering everything I've seen and read about the camps, this video absolutely could not have been filmed in a camp. Beyond the stage and backdrop, Uyghur women in camps wouldn't have been allowed to wear atlas (the fabric they're wearing) dress or don headscarves.

It's nearly impossible to measure the amount of pressure (or coercion) to drink. With that said, I'm confident that these women weren't 'forced by gunpoint' and unlikely to have been threatened with immediate violence. However, the general policy states that 'sudden abstention from alcohol' is a mark of 'extremism' and therefore could be used to justify detention. Furthermore, some officials have overseen the opening of stores that specifically stock alcohol and cigarettes as a means to promote 'secularism.'
He added:
As for the photographer, my guess is that the video was posted on Chinese social media, then 'taken' and shared on western social media. Yes, Chinese social media is monitored, but at the time the video circulated, censors probably wouldn't have thought this video and its content would be used to document possible human rights violations.
Lead Stories tried to geolocate the video. However, the unique identifiers seen in the background (such as the outdoor cinema screen, tent and a tower with stage lights), are not permanent structures and, thus, can be easily moved and reassembled in a different location.