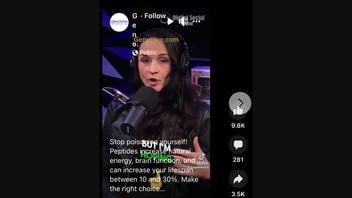 Does cyanocobalamin, a man-made form of vitamin B12, cause or aggravate anxiety and depression if too much of it remains in the body? No, that's not true: The human body has a difficult time absorbing B12, no matter what form it comes in. In addition, any excess is passed out in the urine, so it doesn't have a chance to build up in the way claimed. Moreover, the National Institutes of Health state the opposite of the claim is true: There's a connection between too little B12 and depression.
The claim appeared in a video on Facebook (archived here) published on May 1, 2023, under the title "WATCH THIS IF YOU DRINK ENERGY DRINKS." The text overlay said:
Stop poisoning yourself! Peptides increase natural energy, brain function, and can increase your lifespan between 10 and 30%. Make the right choice...
This is what the post looked like on Facebook at the time of writing: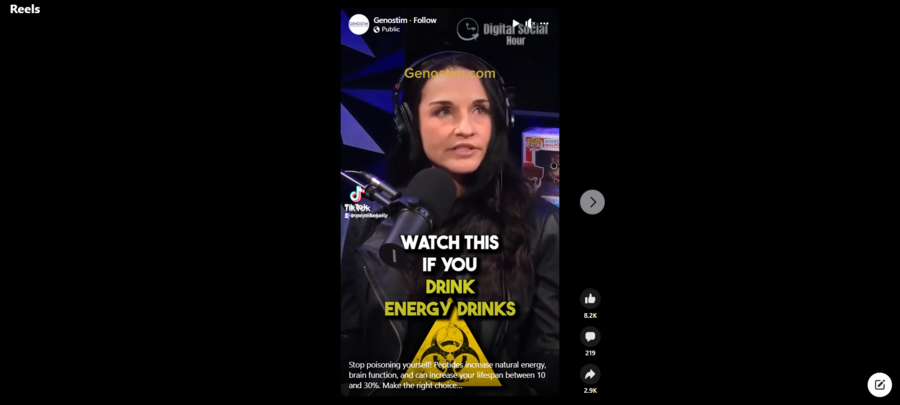 (Source: Facebook screenshot taken on Thu May 4 17:40:40 2023 UTC)
In the 50-second clip, the narrator of the video makes her case against cyanocobalamin, going through a rhetorical list of the ways a person could consume too much B12 and suffer the purported consequences. She said:
In the U.S., we have a single-dose toxicity rule, basically, that says we can put this in small doses in things. But if you wake up in the morning and you take a multivitamin that has the cheap B12 (cyanocobalamin), and then you pop an Emergen-C packet because you think, 'I'm going to get some extra vitamin C,' and then later in the day, you're like, 'I'm feeling a little dehydrated. I'm going to pop a Liquid I.V.' Then you feel really tired because you had all this crap in the morning. So, you have a Monster Energy or a Celsius.

And I'm throwing a lot of companies under the bus right now, but I'm hoping to make this change. They all have cyanocobalamin. So now you've had 100,000% of your daily dose of B12 in the form of cyanocobalamin. You can't process it. So now your anxiety is worse, your depression is worse. You're going to start looking at stuff and going, 'Oh my God, it's everywhere.'
Alexander Michels, a biochemistry research associate at the Linus Pauling Institute for the study of vitamins at Oregon State University, told Lead Stories in a May 4, 2023, email that consuming too much cyanocobalamin doesn't generally increase anxiety and depression. He continued:
While it is possible to get side effects like these from taking very large doses of B12 many times per day for days on end, it is not a common occurrence. If someone does experience a problem after taking a lot of vitamin B12, it has nothing to do with the specific form - so it's not specific to cyanocobalamin.
Carol Haggans with the Office of Dietary Supplements at the National Institutes of Health (NIH) said in a May 4, 2023, email to Lead Stories that there's no truth to the claim in the video. She said:
Cyanocobalamin and other forms of vitamin B12 have not been shown to increase anxiety or depression, even at high levels. In fact, some studies link vitamin B12 deficiency with higher rates of depression, and depression can be a symptom of a vitamin B12 deficiency.
Details about the connection between B12 deficiency and depression can be found on the NIH "Vitamin B12 Fact Sheet for Consumers."
Haggans added:
Cyanocobalamin is a common and safe form of vitamin B12. It is found in many vitamin B12 supplements. Vitamin B12 does not have an upper limit because it has not been shown to cause any harm, even at high doses.
Michels also reiterated in his email that cyanocobalamin is "not inherently dangerous" and "does not build up in your system." He told Lead Stories that he sees an ulterior motive behind the pitch in the video: profit. He added:
The reason that people avoid cyanocobalamin and berate it as a 'cheap form of vitamin B12' is because it contains cyanide. The fear that certain supplement companies are trying to amplify is that everyone will get a form of cyanide poisoning after taking cyanocobalamin. This is simply not true. Our bodies can easily handle the small amounts of cyanide that this compound will produce. Most of this negativity is a marketing ploy designed to get people to pay for more expensive forms of vitamin B12.
A link at the top of the video directs viewers to a website that sells a variety of supplements and vitamins.