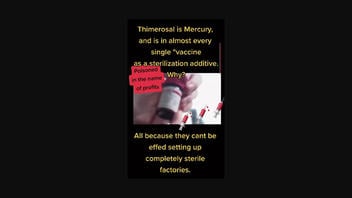 Is thimerosal, a mercury-based preservative, found in "almost every single vaccine" and is it "killing you slowly"? No, that's not true: Multiple studies have shown "no evidence of harm caused by the low doses of thimerosal in vaccines," according to the Centers for Disease Control and Prevention (CDC). The two types of mercury people can be exposed to are very different. Thimerosal is added to vials of multidose vaccines to prevent growth of bacteria.
The claim appeared in a video (archived here) on Instagram on May 7, 2023. A man shown in the video holds a small bottle and says:
This is thimerosal which is labeled very toxic
This is what the post looked like on Instagram at the time of writing: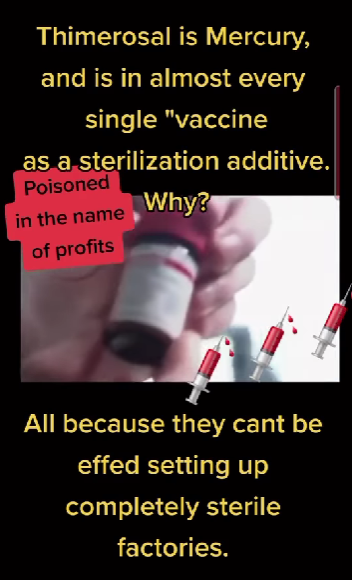 (Source: Instagram screenshot taken on Tues May 9 17:11:45 2023 UTC)
The main caption on the video reads:
Thimerosal is Mercury, and is in almost every single 'vaccine as a sterilization additive. Why? All because they can't be effed setting up completely sterile factories.
Another caption on the video says, "Poisoned in the name of profits." The caption for the Instagram post says, "Mercury is in every 💉💉killing you slowly Part 1."
The low level of mercury in thimerosal is not "very toxic" and is not "killing you slowly."
Under the Vaccine Safety section, the CDC addresses "Thimerosal and Vaccines," noting:
Mercury is a naturally occurring element found in the earth's crust, air, soil, and water. Two types of mercury to which people may be exposed -- methylmercury and ethylmercury -- are very different.
Methylmercury is the type of mercury found in certain kinds of fish. At high exposure levels methylmercury can be toxic to people. In the United States, federal guidelines keep as much methylmercury as possible out of the environment and food, but over a lifetime, everyone is exposed to some methylmercury.
Thimerosal contains ethylmercury, which is cleared from the human body more quickly than methylmercury, and is therefore less likely to cause any harm.
The Food and Drug Administration explains why thimerosal is added to vaccines:
Thimerosal may be added at the end of the manufacturing process to act as a preservative to prevent bacterial or fungal growth in the event that the vaccine is accidentally contaminated, as might occur with repeated puncture of multi-dose vials. When thimerosal is used as preservative in vaccines, it is present in concentrations up to 0.01% (50 micrograms thimerosal per 0.5 mL dose or 25 micrograms mercury per 0.5 mL dose). In some cases, thimerosal is used during the manufacturing process and is present in small amounts in the final vaccine (1 micrograms mercury or less per dose).
Lead Stories previously debunked claims that thimerosal is linked to autism and that flu vaccines with the preservative contain more mercury than allowed in drinking water, as well as the claim that ingredients in vaccines are toxic to people.