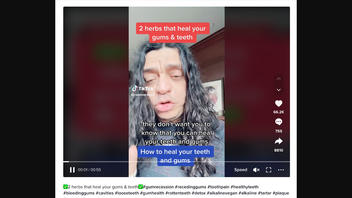 Can using the herb comfrey as a mouthwash help heal teeth and gums? No, that's not true: A professor at the UCLA School of Dentistry told Lead Stories that there is no evidence that comfrey can restore damaged gums or teeth. The Mount Sinai Health System explicitly states that people should not take comfrey by mouth. Scientific evidence points to comfrey being toxic to the liver and it can cause death if taken outside of a doctor's supervision.
The claim appeared on TikTok (archived here) where it was published on April 8, 2023. It opened:
They don't want you to know that you can heal your teeth and gums. They rather scare you, but let me tell you, you can naturally help your teeth and gums.
This is what the post looked like on TikTok at the time of writing: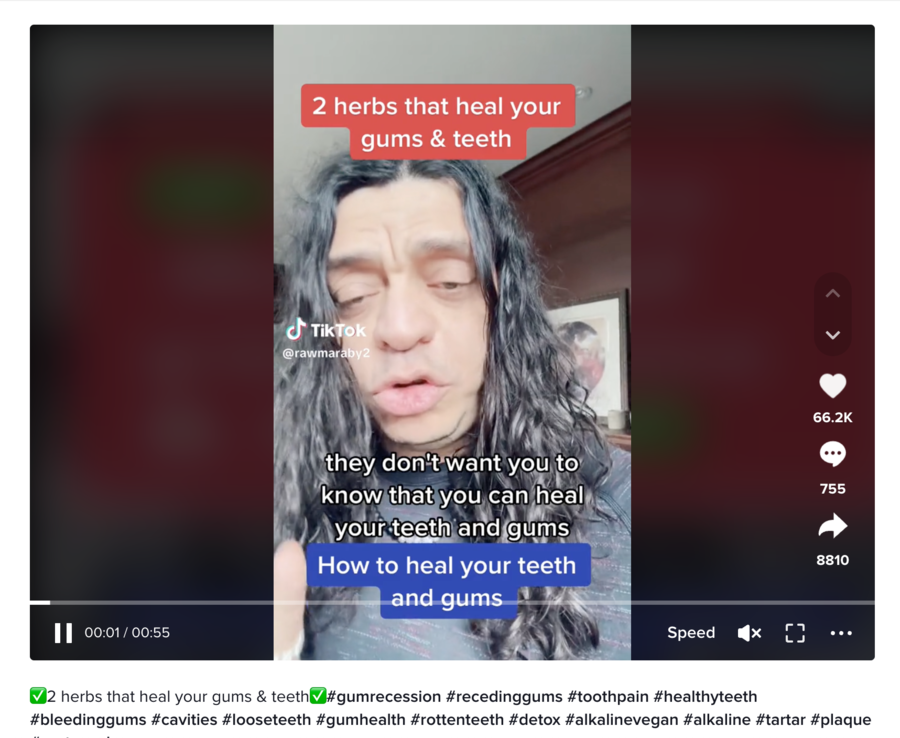 (Source: TikTok screenshot taken on Mon May 8 14:11:11 2023 UTC)
The narrator of this video says comfrey can heal a person's teeth and gums if there is damage to either. He claims that comfrey helps stimulate and repair bones because it is a phytonutrient. He recommends taking comfrey mouthwash to promote the healing of the damaged teeth and gums.
Comfrey is an herb plant native to Eurasia.
The narrator also mentions the herb horsetail as a cure for damaged gums and teeth. Horsetail is another herb that grows in moist soil. More information on horsetail being used as an herbal remedy can be found here.
In a May 8, 2023, email, Dr. Edmond Hewlett, a professor at UCLA's School of Dentistry and the spokesperson for the American Dental Association, told Lead Stories that there is no scientific evidence that comfrey will restore a person's damaged gums or teeth:
There is no scientific evidence to suggest that comfrey or horsetail can be used to treat cavities or periodontal disease. Teeth cannot be regenerated and there is nothing you can eat, drink or swirl in your mouth to rebuild what decay has removed.
The Mount Sinai Health Library's page on comfrey says it is sometimes used to treat wounds and reduce inflammation from sprains and broken bones. Under the subheading "Precautions," the page explicitly states "You should never take comfrey by mouth" because it can cause liver damage and death. Comfrey has toxic substances, so it should only be taken for a short time under a doctor's supervision.
More Lead Stories fact checks about oral health can be found here, here and here.