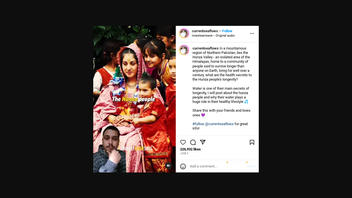 Do the people of the Hunza Valley in northern Pakistan never get cancer because they consume apricot seeds? No, that's not true: There are recorded cases of cancer among the people of the Hunza Valley that date back several decades and there is no evidence that apricot seeds prevent cancer. In fact, the seeds can actually be harmful.
The claim appeared in a video post on Instagram on June 5, 2023. The caption of the post read:
In a mountainous region of Northern Pakistan, lies the Hunza Valley - an isolated area of the Himalayas, home to a community of people said to survive longer than anyone on Earth, living for well over a century. what are the health secrets to the Hunza people's longevity?

Water is one of their main secrets of longevity, I will post about the hunza people and why their water plays a huge role in their healthy lifestyle 💦

Share this with your friends and loves ones 💜

#follow @currentseaflows for great info!
The video also provides supposed details about the people of the Hunza Valley, stating that when they were first "discovered" their average age was 160 years old and that they "never get cancer." The video says their favorite food is apricot seeds and that they extract oil from the seeds to use on their bodies. Eating apricot seeds prevents cancer in the body, the video says.
This is how the post looked at the time of writing: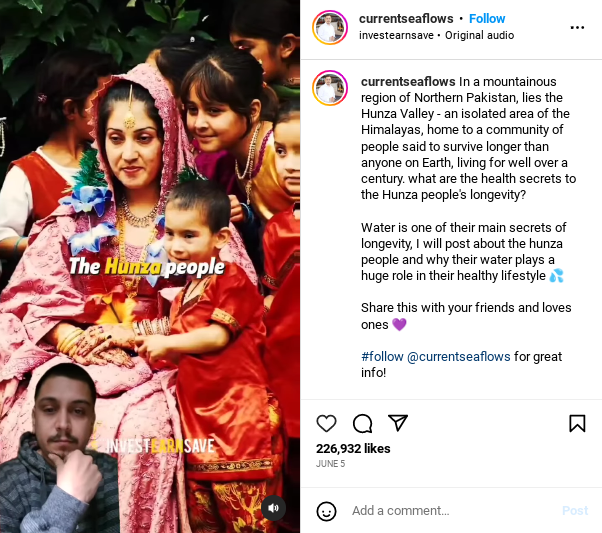 (Source: Instagram screenshot taken on Wed Jun 14 14:38:25 2023 UTC)
Hunza Valley people's health: a recurring myth
On April 29, 2021, AFP published a fact check of this claim, noting that there has been no evidence that Hunza Valley residents don't get cancer. In fact, according to a 1963 report by Kyoto University researchers who traveled to the Hunza Valley region in 1955, there have been cases of the people of the Hunza Valley having malignant diseases.
The supposed longevity of the people of the Hunza Valley is also greatly overstated in the video. Although it claims that the regional group has had individuals commonly live 160 years, the oldest verified person on record was Jeanne Calment of France at 122 years old (whose age has been the subject of controversy) and Kane Tanaka of Japan at 119 years old. At the time of writing, the oldest living person is María Branyas Morera of Spain, who is 116 years old.
Apricot seeds do not eliminate or prevent cancer
For decades, the Food and Drug Administration has alerted internet users about online scams that promote apricot kernels (synonymous with apricot seeds) as a cure for cancer, since consuming raw apricot kernels can cause serious adverse effects. The seeds contain amygdalin, a chemical compound that turns into the poison cyanide when ingested. Other names for amygdalin include "laetrile" (with laetrile also being a derivative of amygdalin) and "vitamin B17," which is not an actual vitamin, as explained in this previously published Lead Stories fact check. Lead Stories has also debunked the claim that apricot seeds cured a man's cancer.
The National Institutes of Health's National Cancer Institute published a resource that debunks the idea that laetrile/amygdalin/vitamin B17 is an effective cancer treatment. Lead Stories reached out to the NCI and the American Cancer Society for comment on the claim and will update this story with any relevant responses.
Other organizations outside the U.S. such as the Singapore Food Agency have warned of the dangers of consuming raw apricot kernels. The Cancer Council, a nonprofit organization in Australia, specifically cautions against using apricot kernels as a cancer treatment, noting that "eating apricot kernels in large amounts, is not only ineffective at treating cancer but could also be very dangerous" and that Australia and New Zealand banned the sale of raw apricot kernels in 2015.