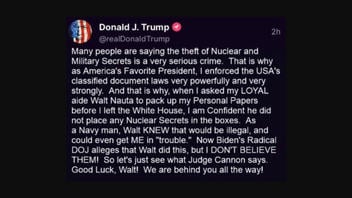 Did former U.S. President Donald Trump write in a post shared to his social media platform Truth Social that as president he "enforced the USA's classified document laws very powerfully," that he asked "LOYAL aide Walt Nauta" to pack his personal papers before he left the White house, and that he wished Nauta "Good Luck" in court? No, that's not true: A widely shared supposed screenshot said to have been taken of Trump's Truth Social account was faked. Lead Stories found no evidence of the post on his Truth Social account or any record of the post in the internet archive. Furthermore, no credible news sources attributed the quote to Trump and a verbatim search of the post did not return any results.
A version of the claim originated in a now-deleted post published on Twitter on June 14, 2023 (archived here), that was said to display an authentic screenshot of a post published to Truth Social by Trump. The supposed post read:
Many people are saying the theft of Nuclear and Military Secrets is a very serious crime. That is why as America's Favorite President, I enforced the USA's classified document laws very powerfully and very strongly. And that is why, when I asked my LOYAL aide Walt Nauta to pack up my Personal Papers before I left the White House, I am Confident he did not place any Nuclear Secrets in the boxes. As a Navy man, Walt NEW that would be illegal, and could even get ME in "trouble." Now Biden's Radical DOJ alleges that Walt did this, but I DON'T BELIEVE THEM! So let's just see what Judge Cannon says. Good Luck, Walt! We are behind you all the Way!
Below is how the screenshot appeared: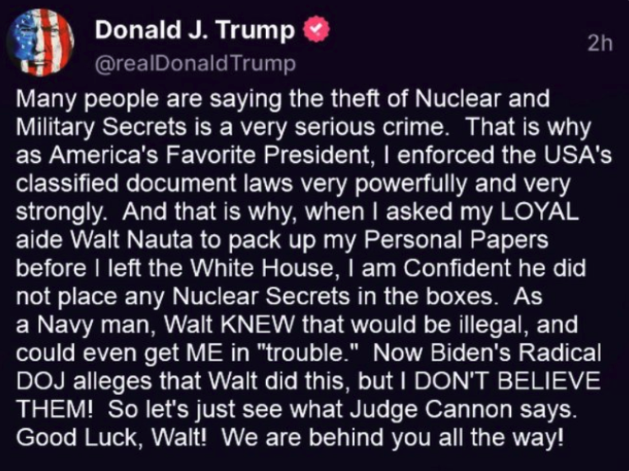 (Source: Twitter screenshot taken Weds June 22:26:45 UTC 22023
Our newsroom found no record of the above quote on Trump's Truth Social account, nor did we find any record of the post in the Wayback Machine, a digital archive of the internet.
There were no other legitimate reports on any national news outlets of Trump having said or posted the alleged statement. A search of the quote in its entirety using Google News' index of thousands of credible news sites did return any results.
Trump was indicted on June 9, 2023, and faced 37 felony counts related to the mishandling of classified documents, obstructing justice and making false statements. Here is a copy of the indictment released by the Department of Justice. On June 13, 2023, Trump appeared at the federal courthouse in Miami to formally surrender to authorities and enter a plea of "not guilty." Nauta, Trump's co-defendant, also appeared in court for charges alleging that he moved boxes containing classified documents from the White House to the former president's Mar-a-Lago estate and then lied about doing so to authorities.
Lead Stories contacted Trump spokesperson Liz Shrew to verify that the quote was falsified and will update the article should we receive a response.
Lead Stories has also reported that the U.S. Marine Corps "white hats" were not deployed to Florida to "protect President Trump," that an April 2023 "mug shot" of Trump was created using artificial intelligence and that photographs claiming to show Trump being arrested by New York City law enforcement in March 2023 were faked.