STORY UPDATED: check for updates below.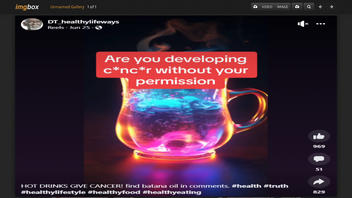 Is batana oil a product that "thoroughly cleanses your organs and repairs any damage done to them"? No, that's not true: Batana oil is primarily used as a cosmetic product rather than for internal consumption. It is derived from the fruit of the American palm and is commonly used for hair and skin care. There is, however, no scientific evidence to substantiate the assertion that batana oil effectively cleanses organs or aids in their repair. It is not approved for such use.
The claims appeared in a video posted on Facebook and published on June 25, 2023, under the title "Are you developing c*nc*r without your permission." Its caption read:
HOT DRINKS GIVE CANCER! find batana oil in comments. #health #truth #healthylifestyle #healthyfood #healthyeating
This is what the post looked like on Facebook at the time of writing: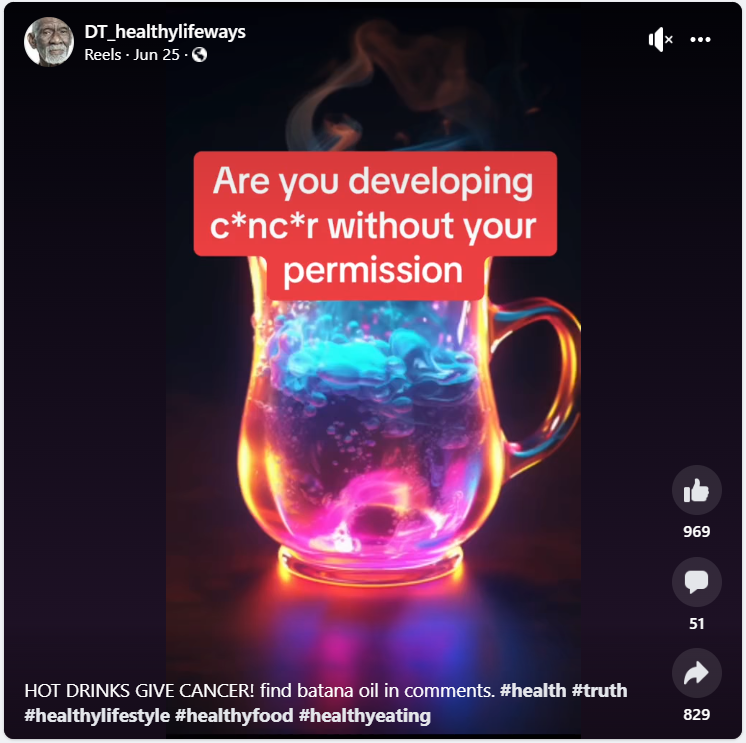 (Source: Facebook screenshot taken on Thu Jun 29 15:52:55 2023 UTC)
The video
During the 59-second video, a narrator makes several inaccurate and unproven claims. This is what the clip says (emphasis ours):
Hot drinks can give you cancer. Let me explain. The hot drinks that you drink, such as tea and coffee, are slowly giving you cancer without you knowing it. Why? Because a study conducted by Dr. Shrey Srivastav concluded that drinking hot beverages may put you at risk for esophageal cancer due to thermal and chemical injuries to the esophageal mucosa. If you want to prevent this, then I'd suggest that you make a change.

The first thing that you can do is by waiting for your hot beverages to cool down first before consuming them while it's scorching hot, as it reduces the risk of damage to your organs. Then you can get a natural remedy that could cleanse your organs and reduce the risk of you getting cancer. One such remedy that I'd recommend is batana oil sold by the brand DoctorTruth. Batana oil is a natural remedy that thoroughly cleanses your organs and repairs any damage done to them. It practically gets rid of any diseases in your body, so your organs would function better.

While it's pretty rare to come by ... [ends abruptly]
For the purposes of this fact check, Lead Stories is focusing solely on the claim that batana oil repairs damage to human organs.
Food and Drug Administration
Jeremy Kahn, a press officer with the U.S. Food and Drug Administration (FDA), provided the agency's response in a June 29, 2023, email to Lead Stories. It said:
Batana Oil is not an active ingredient in any FDA-approved or otherwise legally marketed drug product for repair of human organ damage.
In a separate email to Lead Stories on July 5, 2023, an FDA spokesperson added:
The FDA is not aware of any evidence that batana oil is safe or effective to repair damage to human organs. Batana oil is not an ingredient in any FDA-approved drugs. The FDA defines health fraud as the deceptive promotion, advertising, distribution, or sale of a product represented as being effective to prevent, diagnose, treat, cure or lessen an illness or condition, or provide another beneficial effect on health, but that has not been scientifically proven safe and effective for such purposes. Health fraud scams waste money and can lead to delays in getting proper diagnosis and treatment. Some may also cause serious or even fatal injuries.
The FDA website states the agency's mission:
The Food and Drug Administration is responsible for protecting the public health by ensuring the safety, efficacy, and security of human and veterinary drugs, biological products, and medical devices; and by ensuring the safety of our nation's food supply, cosmetics, and products that emit radiation.
National Center for Complementary and Integrative Health
The National Center for Complementary and Integrative Health at the National Institutes of Health (NIH) responded to a Lead Stories query about the claim and provided this response in a July 3, 2023, email:
We searched in PubMed, NIH Reporter, and conferred with several SMEs [subject matter experts], and could not find any scientific research to support the claim.
Sales pitch for DoctorTruth
In practice, the post on Facebook is a sales pitch for DoctorTruth batana oil. The post's caption reads, "find batana oil in comments." As promised, a link to batana oil products is included in the comments section.
The DoctorTruth website says its goal is "to provide herbal medicines and continue the Dr. Sebi legacy."
"Dr. Sebi," whose real name was Alfredo Bowman, was an immigrant from Honduras who died in 2016. He was not a medical doctor and he was known for promoting questionable herb-based products.
Lead Stories has already debunked the claim that the DoctorTruth Batana Oil (Hair Growth Blend) can stimulate hair growth. Another fact check related to a batana oil remedy and Elon Musk can be found here.
2023-07-05T18:31:38Z

2023-07-05T18:31:38Z

Adds response from FDA spokesperson

2023-07-03T17:19:47Z

2023-07-03T17:19:47Z

adds a response from National Center for Complementary and Integrative Health.