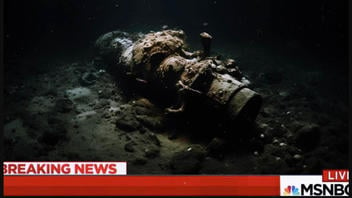 Did MSNBC try to pass off a fake picture of the Titan submersible wreckage found on the sea floor in a live broadcast of breaking news footage? No, that's not true: The image of the debris did not originate on a live MSNBC broadcast and does not show a piece of debris from the Titan submersible, or wreckage from any other vessel for that matter. This image was created with the AI program Midjourney. Additionally a Breaking News chyron was added to the fake image by an unknown person.
The AI-generated image was posted on Twitter (archived here) by @prince_of_fakes on June 22, 2023 with the caption:
BREAKING: First photograph - Titan titanic submarine implosion debris field.
On June 23, 2023, a post on Facebook (archived here) was published with two images, one of the OceanGate Titan submersible and the other an AI-generated image with a fake MSNBC chyron added. The post was captioned:
I can't be the only one who thinks the pictures don't add up, they look nothing alike and there are also what looks to be stuff growing on it.. it doesn't go from shiny white to that in 2 days
This is what the post looked like on Facebook at the time of writing: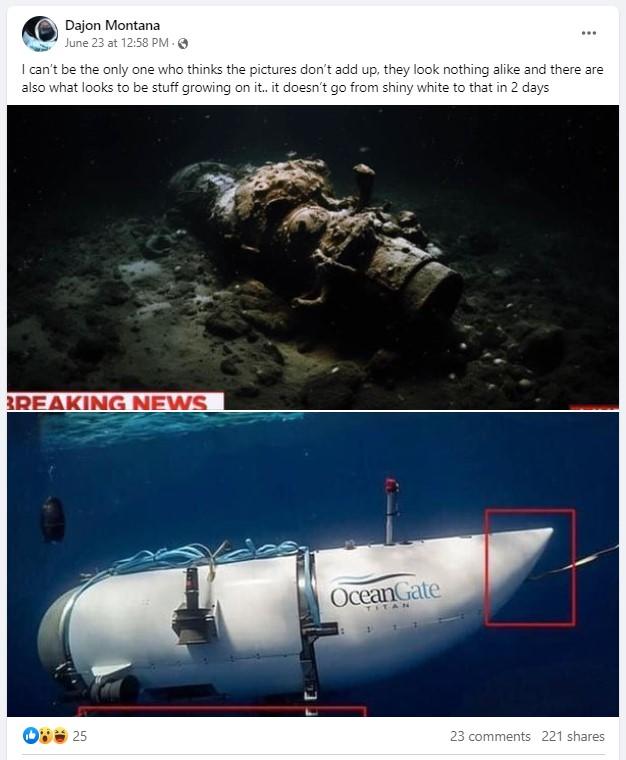 (Source: Facebook screenshot taken on Mon Jun 26 14:54:19 2023 UTC)
Lead Stories used the AI-Generated Content Detection tool from Hive Moderation to analyze the image posted by @prince_of_fakes on Twitter. The results say there is a 99 percent chance the image was AI generated and a 99 percent chance it was generated on the Midjourney platform. Lead Stories has encountered false negative results, with this tool, meaning an image known to be AI generated is not detected as AI. We have never encountered a false positive reading where an image known to be real was deemed fake.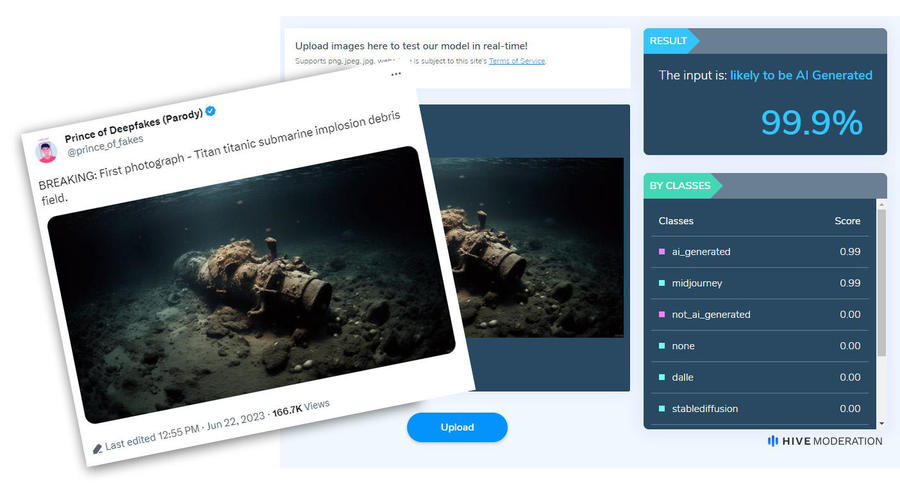 (Source: Lead Stories composite image made with Twitter and Hive Moderation screenshots taken on Mon Jun 26 14:54:19 2023 UTC)
The marked-up panel (below right) shows the image posted on Facebook. The MSNBC chyron superimposed onto the AI-generated image is not the chyron graphic design MSNBC was using as of the date the faked image was posted. A March 29, 2021, article in NewscastStudio.com (below left) announced the MSNBC change of graphics, and included a photo illustrating how the new chyron will appear, explaining:
The changes come with new show titles that build off the word 'reports,' replacing the previous 'live' moniker. Dayside hours such as those anchored by Stephanie Ruhle are now branded as 'Stephanie Ruhle Reports.'

The insert graphics, which include elements like lower thirds and over-the-shoulder elements, were also updated with a streamlined look to match the new 'MSNBC Reports' branding.
(Source: Lead Stories composite image made with newscaststudio.com and Facebook screenshots taken on Mon Jun 26 14:54:19 2023 UTC)
Additional Lead Stories fact checks of claims related to the OceanGate Titan submersible can be found here.