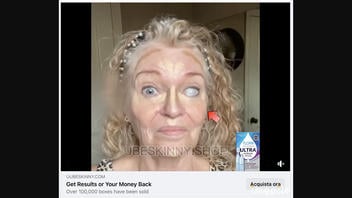 Do TLOPA™ Ultra Eye Therapy Drops cure cataracts, presbyopia, glaucoma and other eye conditions? No, that's not true: There is no evidence that these eye drops cure any eye issues. It is not approved by the Food and Drug Administration (FDA). Vuity are the only eye drops that can treat presbyopia. Glaucoma and cataracts require surgery to restore eyes to a healthy state.
The claim appeared on Facebook (archived here) where it was published on April 17, 2023. A video opens with a woman speaking inaudibly, with upbeat music covering her words. The caption of the Facebook post is:
'This drops has given us clear vision and bright eyes. Cataracts, presbyopia and other eye diseases have been bothering me and my family. My mother even got cataracts and glaucoma. But after 4 weeks of consistent use, these symptoms were well treated. The results are amazing. It helps to treat eye diseases!'

How was I transformed:
This is what the post looked like on Facebook at the time of writing:
(Source: Facebook screenshot taken on Wed Jun 21 14:18:39 2023 UTC)
Presbyopia is the gradual loss of the eye's ability to focus. Glaucoma is an umbrella term for multiple eye conditions that have damaged the optic nerve. Cataracts is the clouding of an eye.
The post was created by "Olivia," who wears a white coat in their profile picture. Their Facebook account's About section simply labels themselves as a "Doctor" in Los Angeles, but it doesn't specify what kind of doctor she is, where she works or what her last name is. The page is run by multiple people in seven countries and one unavailable country. Under "Details About Olivia," it reads in Arabic: "Religious urging morals and purity of souls and the removal of hatred and hatred And the grudges that are the cause of the destruction of the Arab and Islamic nation." The Arabic was translated to English using Google Translate.
The post links to the website where the eye drops are sold is here (archived here).
FDA public affairs specialist Jessica Moultrie wrote to Lead Stories in a June 23, 2023, email that:
TLOPA™ Ultra Eye Therapy Drops is not an FDA approved product.
Moultrie continued, "There are no drug or biologic products approved by the FDA to prevent or treat the development of cataracts. Further, nonprescription drug products indicated for the treatment of cataracts cannot be marketed without an approved application under section 505G of the Federal Food, Drug, and Cosmetic Act (FD&C Act) (referred to as over-the-counter monograph drugs). There is no existing OTC monograph under which a treatment for cataracts can be marketed."
Lead Stories searched the FDA's drug database, Drugs@FDA, and did not find TLOPA™ Ultra Eye Therapy Drops listed as an FDA-approved drug.
More information on the "FDA Approved" label and what falls under their purview can be found here on the FDA website.
Searching for TLOPA™ Ultra Eye Therapy Drops on Google resulted in Google Images showing "TheraTears Dry Eye Therapy Drops." The TLOPA eye drops look to have been photoedited onto the packaging for TheraTears, a real eye drop company. TheraTears does not claim to be FDA-approved.
Vered Hazanchuk, a public relations manager for the American Academy of Ophthalmology, told Lead Stories that the only cure for cataracts is surgery. For glaucoma and presbyobia, she explained:
Glaucoma can be treated with surgery or prescription eye drops. These are medicated eye drops prescribed by a doctor specifically for glaucoma, not over the counter drops used for dry eye, and don't 'cure' glaucoma, they prevent glaucoma from getting worse ... Vuity is the only eyedrop I've heard of that is FDA approved to help with presbyopia.
Vuity, which is FDA approved, describes itself as an "FDA-approved eye drop to treat age-related Blurry Near Vision (presbyopia) in adults."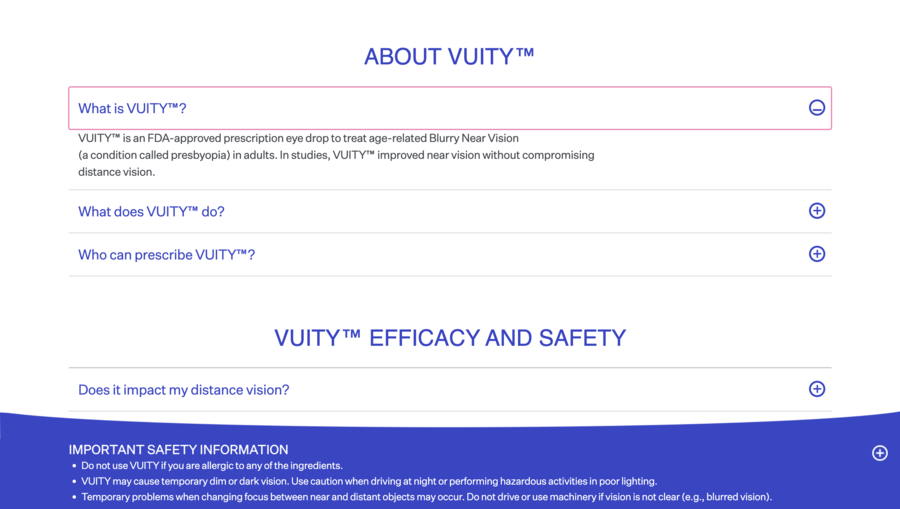 (Source: Vuity screenshot taken on June 26 15:54:28 2023 UTC)
Other Lead Stories fact checks on eye health can be found here, here and here.