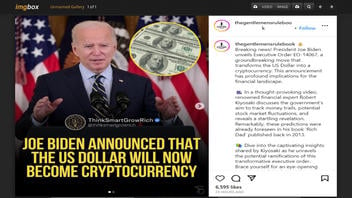 Did President Joe Biden announce that the "US dollar will now become cryptocurrency"? No, that's not true: There's no evidence to back that claim. While the president did issue an executive order (EO) on March 9, 2022, on "Ensuring Responsible Development of Digital Assets," it called on government agencies to look at the risks and benefits of digital currencies.
Additionally, the EO did nothing to change the fact that the U.S. dollar remains the official currency of the United States and is not based on a blockchain or distributed ledger technology like cryptocurrencies such as Bitcoin or Ethereum.
The claim appeared in a post on Instagram on July 12, 2023, under the title "JOE BIDEN ANNOUNCED THAT THE US DOLLAR WILL NOW BECOME CRYPTOCURRENCY" The caption said:
Breaking news! President Joe Biden unveils Executive Order EO-14067, a groundbreaking move that transforms the US Dollar into a cryptocurrency. This announcement has profound implications for the financial landscape.





🎥 In a thought-provoking video, renowned financial expert Robert Kiyosaki discusses the government's aim to track money trails, potential stock market fluctuations, and reveals a startling revelation. Remarkably, these predictions were already foreseen in his book 'Rich Dad' published back in 2013.





📚 Dive into the captivating insights shared by Kiyosaki as he unravels the potential ramifications of this transformative executive order. Brace yourself for an eye-opening exploration of the future of money and its profound impact on the global financial system.
This is what the post looked like on Instagram at the time of writing: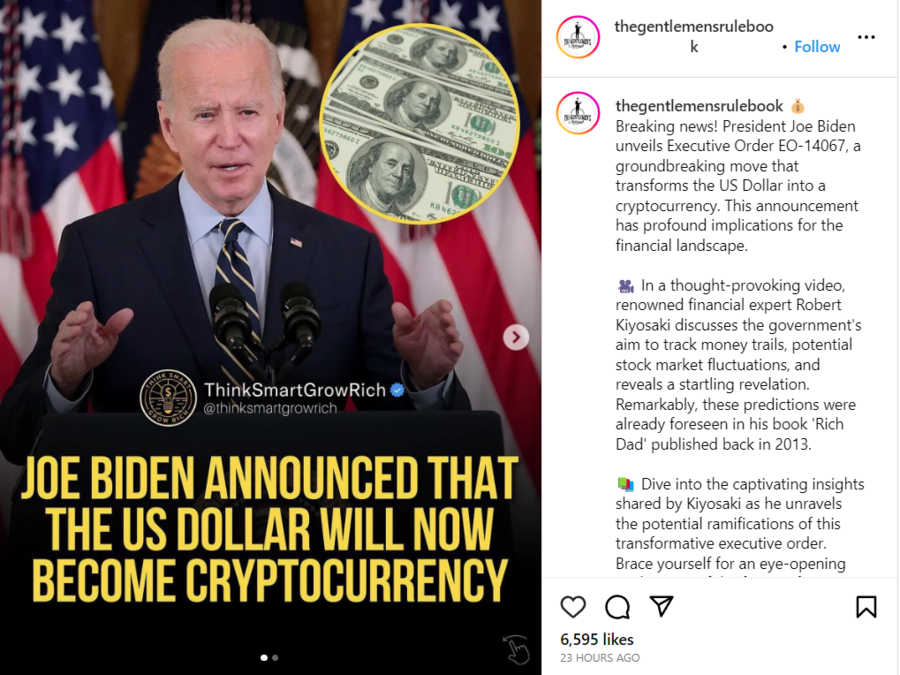 (Source: Instagram screenshot taken on Thu Jul 12 20:49:59 2023 UTC)
The executive order
Nothing in Executive Order 14067 grants permission to create a digital currency. The EO issued on March 9, 2022, simply initiated an official discussion about it.
On September 16, 2022, the White House followed up with a fact sheet about those discussions called "White House Releases First-Ever Comprehensive Framework for Responsible Development of Digital Assets." It said:
Over the past six months, agencies across the government have worked together to develop frameworks and policy recommendations that advance the six key priorities identified in the EO: consumer and investor protection; promoting financial stability; countering illicit finance; U.S. leadership in the global financial system and economic competitiveness; financial inclusion; and responsible innovation.
Also in September 2022, the White House released the "TECHNICAL EVALUATION FOR A U.S. CENTRAL BANK DIGITAL CURRENCY SYSTEM" document, and the U.S. Treasury Department offered this report: "The Future of Money and Payments."
Mark Witte, an economics professor at Northwestern University, told Lead Stories in a July 13, 2023, phone interview that he knows of no plans by the U.S. government to launch a digital dollar or the U.S. dollar as a cryptocurrency. Ultimately, he said, any changes to the monetary system wouldn't be that dramatic:
I think you wouldn't notice the difference. I think we'll always have some kind of paper money. At least that's the plan, as I understand it. But right now, most of your money is digital because most of your money is in a savings account or a checking account.

The bank doesn't have boxes and boxes of money. It just has like a spreadsheet with your name attached, telling you how much money is in there or telling them how much money you've got there.
The Federal Reserve
As of July 13, 2023, the Federal Reserve website stated that there was no plan in place for the U.S. dollar to become a cryptocurrency. It said:
While the Federal Reserve has made no decisions on whether to pursue or implement a central bank digital currency, or CBDC, we have been exploring the potential benefits and risks of CBDCs from a variety of angles, including through technological research and experimentation. Our key focus is on whether and how a CBDC could improve on an already safe and efficient U.S. domestic payments system.

CBDC is generally defined as a digital liability of a central bank that is widely available to the general public. Today in the United States, Federal Reserve notes (i.e., physical currency) are the only type of central bank money available to the general public. Like existing forms of money, a CBDC would enable the general public to make digital payments. As a liability of the Federal Reserve, however, a CBDC would be the safest digital asset available to the general public, with no associated credit or liquidity risk.
Additionally, the Fed said paper currency isn't going anywhere:
The Federal Reserve is committed to ensuring the continued safety and availability of cash and is considering a CBDC as a means to expand safe payment options, not to reduce or replace them.
Robert Kiyosaki
Ultimately, the Instagram post saying, "US Dollar Will Now Become Cryptocurrency," appears to be a marketing pitch to promote a video and sell books by businessman and author Robert Kiyosaki, rather than providing accurate information about the American financial system.
Additional Lead Stories fact checks of claims related to the Federal Reserve can be found here.
Additional Lead Stories fact checks of claims related to the White House can be found here.