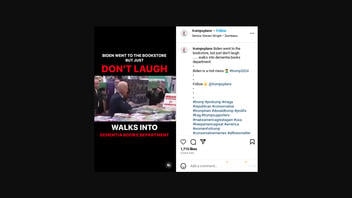 Does a video show President Joe Biden browsing and selecting books in a store's section called "Brain Exercises for Dementia"? No, that's not true: The video was altered to add a sign with those words on it. Biden was actually picking up children's books in 2012.
The claim appeared in a post (archived here) on Instagram on July 16, 2023. It included a video of Biden in a book section of a store with a sign that appeared to be on top of the books that read "Brain Exercises for Dementia." The caption of the post read:
Biden went to the bookstore, but just don't laugh
...... walks into dementia books department
•
Biden is a Hot mess 🤦‍♂️ #trump2024
•
•
Follow 👉 @trumpsplans
•
•
•
#trump #protrump #maga #republican #conservative #trumptrain #donaldtrump #prolife #kag #trumpsupporters #makeamericagreatagain #usa #keepamericagreat #america #womenfortrump #conservativememes #alllivesmatter #rightwing #progun #wethepeople #americafirst #walkaway #republicanmemes #redpill #proamerica #fakenews #biden #bluelivesmatter
This is how the post looked on Instagram at the time of writing: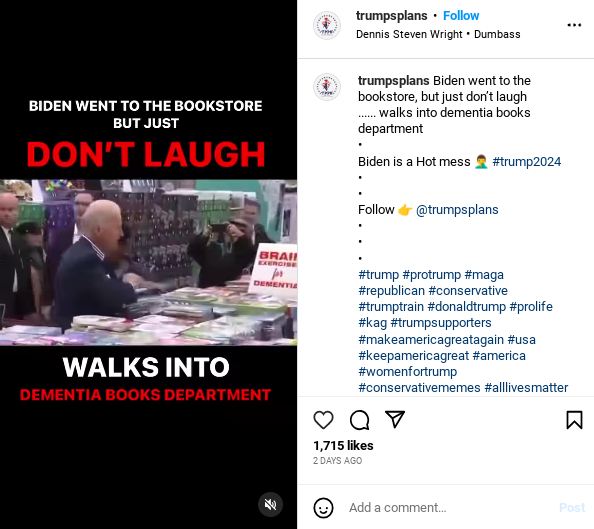 (Source: Instagram screenshot taken on Wed Jul 19 14:32:29 2023 UTC)
The video, which shows Biden in 2012 at the grand opening of the first Costco Wholesale location to open in Washington, D.C., was edited to add the "Brain Exercises for Dementia" sign. There are several legitimate videos of the event that prove this. At around the 6:50 mark of this C-SPAN video of Biden's Costco visit, Biden can be seen approaching a section of the store with books, with no sign indicating what genre the books fall under. However, at the 6:52 mark of the video, Biden remarks that he is approaching the children's books section and an associate at the store can be seen briefly helping him pick up books that appear to be children's books. At the 7:43 mark of the video, someone asks Biden who he is shopping for, to which he replies:
My wife started a thing called Book Buddies back in Wilmington for women in shelters with their children and daycare centers. So I'm buying a bunch a books for the Book Buddies back in Delaware.
Videos of Biden in the book section during the Costco opening -- without the fake dementia sign -- can be found from CBS News and The Associated Press.
Lead Stories articles on claims related to Biden can be found here.