STORY UPDATED: check for updates below.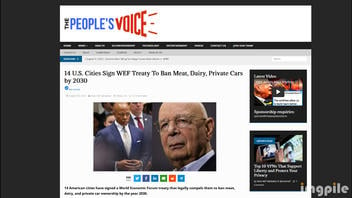 Did 14 American cities join a "World Economic Forum treaty" imposing a total ban on meat, dairy and private cars by 2030? No, that's not true: At the time of writing, there is no such WEF treaty. The source of the claim cited an unrelated report that explored several emission reduction models and was not meant to become a law or any other legally binding agreement forcing any city to prohibit "meat, dairy and private cars."
The story appeared in an article (archived here) published by The People's Voice on August 20, 2023, under the title:
14 American cities have signed a World Economic Forum treaty that legally compels them to ban meat, dairy, and private car ownership by the year 2030.
The article continued:
The C40 has established a 'target' to meet the WEF's radical depopulation goals by the year 2030.

The C40 Cities have agreed that their residents will be forced to comply with the following list of unconstitutional rules:

'0 kg [of] meat consumption'
'0 kg [of] dairy consumption'
'3 new clothing items per person per year'
'0 private vehicles' owned
Here is what it looked like at the time of writing: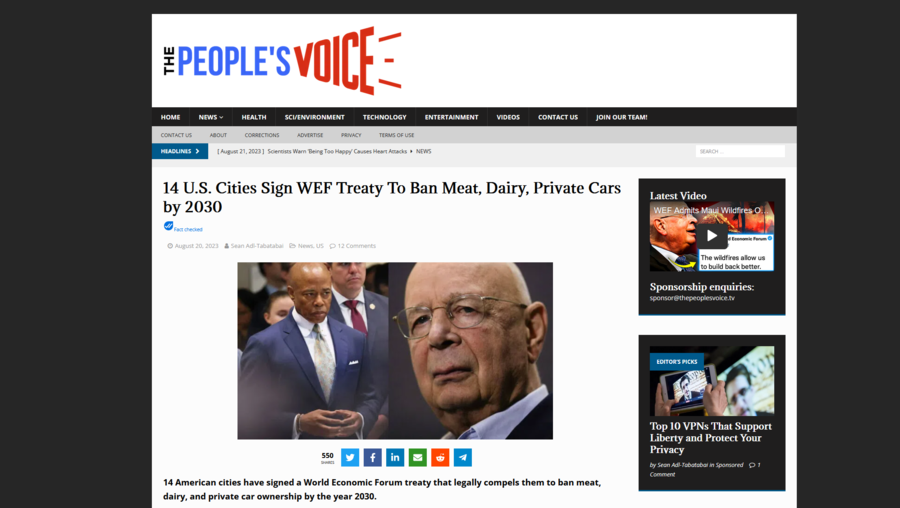 (Source: The People's Voice screenshot taken on Mon Aug 21 13:36 2023 UTC)
The article cited a 2019 report published by C40 (as of this writing, it can also be accessed here.)
Funded by several European governments and a mixture of philanthropies and businesses, C40 describes itself as a "global network of mayors of the world's leading cities that are united in action to confront the climate crisis." As of this writing, there were 96 participating cities.
Lead Stories previously debunked a similar claim falsely stating that the same report announced a total ban on fashion by 2030.
At the time, on July 10, 2023, a C40 Cities spokesperson told Lead Stories via email:
The report was neither funded by the World Economic Forum, nor does C40 have a formal relationship with WEF.
The organization's representative continued:
The report does not advocate for restrictions on consumption, including restrictions on the consumption of meat and dairy.
On August 22, 2023, a C40 Cities spokesperson confirmed once again via email to Lead Stories that the organization is not funded by the World Economic Forum and does not operate in a formal affiliation with it.
The C40 representative refuted the claim:
The report is an analysis of consumption-based emissions in C40 cities, not a plan for cities to adopt, let alone a legally binding treaty. It's up to individuals to make their personal lifestyle choices, including what type of food to eat and what type of clothing they prefer.

No C40 city mayor has agreed to force people to eliminate meat and dairy consumption, or otherwise severely restrict consumption.
An explainer published by C40 Cities in March 2023 says that the 2019 report is "an invitation, not prescription." It elaborates:
We explored ways to make the production of goods and services less carbon-intensive without compromising their function, and provided a scenario for the adoption of low-carbon choices without compromising quality of life. In practice, these ideas aren't intended for every person, community or city. To successfully transition to a lower-carbon economy, cities must balance their ambition with what's financially, technologically and culturally feasible. No one city or nation will follow the exact same emissions reduction pathway.
The report highlighted the broader benefits of reducing consumption-based emissions. For example, it pointed out that "eating less red meat and more vegetables and fruits could prevent annually 160,000 deaths" linked to different health conditions.
Contrary to the claim, the word "depopulation" is not used in the report at all.
Page 78 of the document does, however, contain a table discussing food-related interventions. There are two columns: progressive and ambitious targets.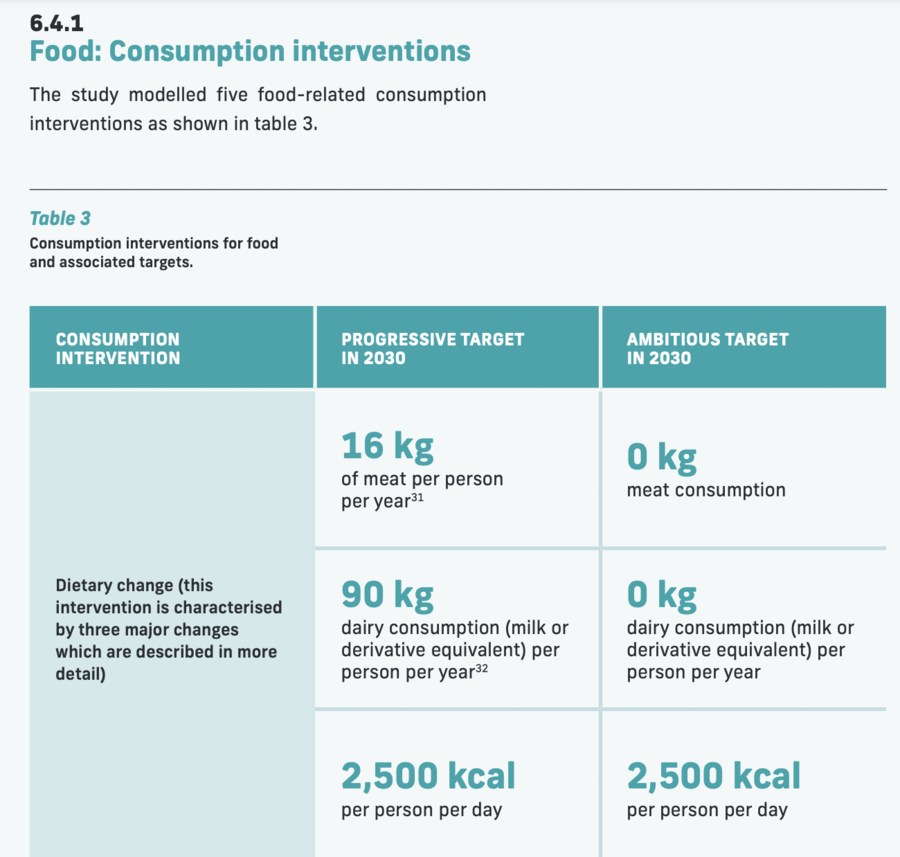 (Source: ISSUU screenshot taken on Tue Aug 22 17:32:03 2023 UTC)
Yet, the glossary preceding the report clarifies how the word "target" was used:
Progressive target. Target level of ambition for consumption interventions determined through research on currently available technologies and evidence of feasibility for progressive changes in consumer choices (e.g. historic evidence of consumer habit change or alignment with other consumer priorities such as health).

Ambitious target. Target level of ambition for consumption interventions that is more 'ambitious', based on a future vision of resource-efficient production and extensive changes in consumer choices. This level was typically informed by expert judgement rather than existing research.
Page 69 additionally acknowledges:
Achieving these targets will be difficult ...
The People's Voice has a lengthy record of publishing false stories in the past. It describes itself as a resource "comprised of various web pages operated by Fact Checked Limited," but it has nothing to do with fact-checking.
As of this writing, its website contained a liability disclaimer, saying:
FACT CHECKED LIMITED AND/OR ITS SUPPLIERS MAKE NO REPRESENTATIONS ABOUT THE SUITABILITY, RELIABILITY, AVAILABILITY, TIMELINESS, AND ACCURACY OF THE INFORMATION, SOFTWARE, PRODUCTS, SERVICES AND RELATED GRAPHICS CONTAINED ON THE SITE FOR ANY PURPOSE. TO THE MAXIMUM EXTENT PERMITTED BY APPLICABLE LAW, ALL SUCH INFORMATION, SOFTWARE, PRODUCTS, SERVICES AND RELATED GRAPHICS ARE PROVIDED 'AS IS' WITHOUT WARRANTY OR CONDITION OF ANY KIND.
Other Lead Stories fact checks on stories by The People's Voice can be found here.
2023-08-22T22:10:43Z

2023-08-22T22:10:43Z

Adds comment from C40 representative on August 22, 2023.