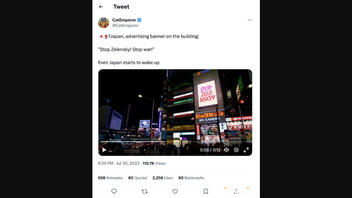 Did a billboard in Japan read "Stop War, Stop Zelenskyy"? No, that's not true: Those statements were added to an electronic billboard on a Japanese street in a video. The actual advertisement on the sign had nothing to do with the Russian war on Ukraine. Japan's government released a statement in support of Ukraine in June 2023, and there is no evidence that there was an anti-Ukraine electronic billboard in Japan in July 2023.
The claim appeared on X, the platform formerly known as Twitter, on July 30, 2023, (archived here). The caption read:
🇯🇵📢Japan, advertising banner on the building: "Stop Zelensky! Stop war!" Even Japan starts to wake up
This is what the post looked like on X at the time of writing: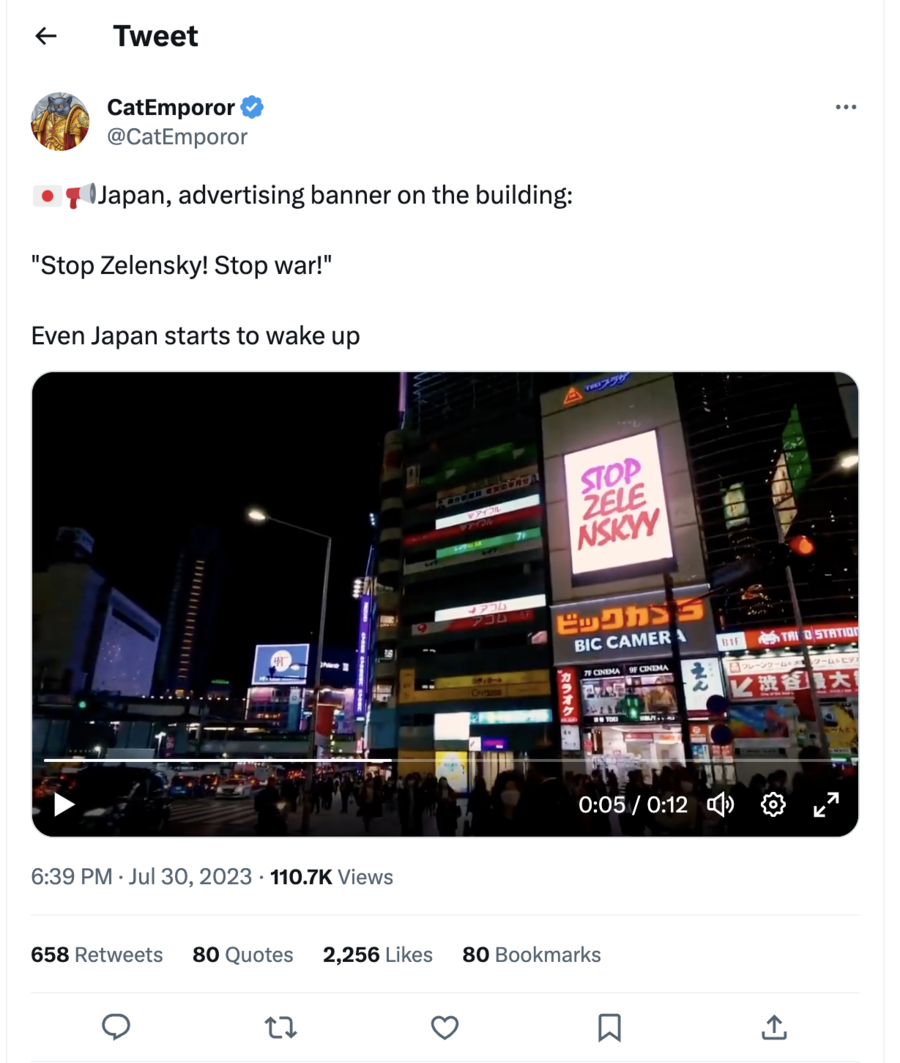 (Source: X screenshot taken on Tue Aug 1 14:20:31 2023 UTC)
The video is a 12-second clip taken by someone walking on a Japanese city street lit up with various signs and ads. The camera pans over to the ads on the right side of a crosswalk. An electronic billboard can be seen that appears to flash the two phrases, "Stop Zelenskyy!" and "Stop War!" The post does not give any indication of the exact location.
A reverse image search of a still from this video shows that this was shot in Shibuya City, a section of Tokyo that receives a lot of traffic (example of search here). This video is from a much longer YouTube video titled, "Night Walk in Tokyo Shibuya (東京散歩)" that was posted in October 2020. The clip shown on X can be seen at the 21:20 mark in the YouTube video. In the full YouTube video, there is no billboard that reads, "Stop War, Stop Zelenskyy." Instead, it is an advertisement with Japanese models on it. Below is a screenshot of the sign as it appeared in the YouTube video: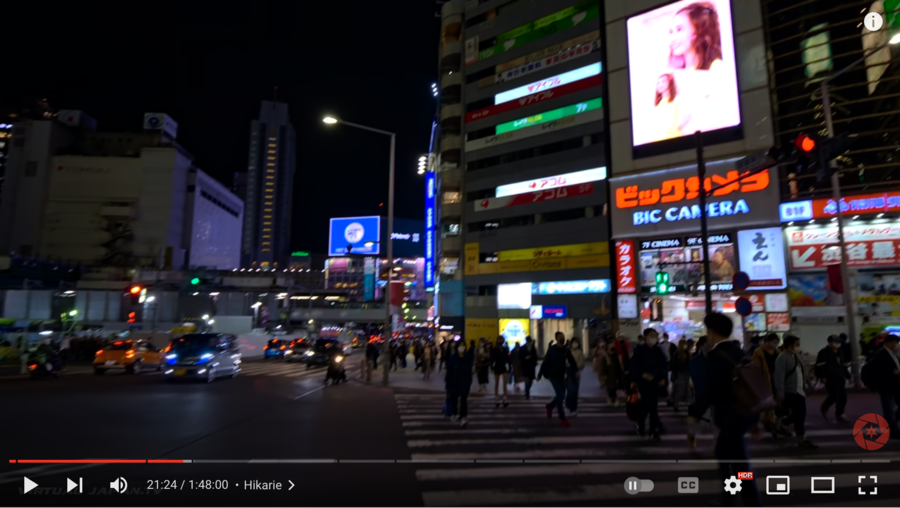 (Source: YouTube screenshot taken on Tue Aug 1 15:15:20 2023 UTC)
There is no evidence that this billboard, or any billboard in Japan, has shown an anti-Ukrainian message, according to a search of Google News.
The government of Japan released a statement titled "Japan Stands With Ukraine" on June 23, 2023. That statement of support, with details on Japanese sanctions against Russia, is here.
Other Lead Stories fact checks on the war in Ukraine are here.