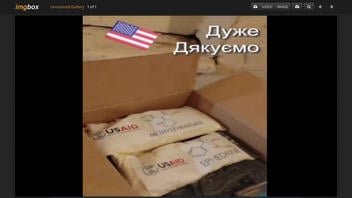 Is the U.S. Agency for International Development (USAID) supplying Ukrainian forces with ephedrine and methylphenidate, according to a video circulating on social media? No, that's not true: A USAID spokesperson told Lead Stories that the video is fabricated or staged and that the agency does not procure or supply controlled substances like these in Ukraine.
The claim appeared in a post and video on X, the social media platform formerly known as Twitter (archived here), on July 31, 2023, with the Ukrainian title "Дуже Дякуємо," which translates to "thank you very much." The caption for the video said:
The 79th Air Assault Brigade of the Armed Forces of Ukraine in Zaporozhye received ephedrine, a prescription stimulant widely used in the production of methamphetamine, as part of a US aid package.
This is what the tweet looked like on X at the time of writing: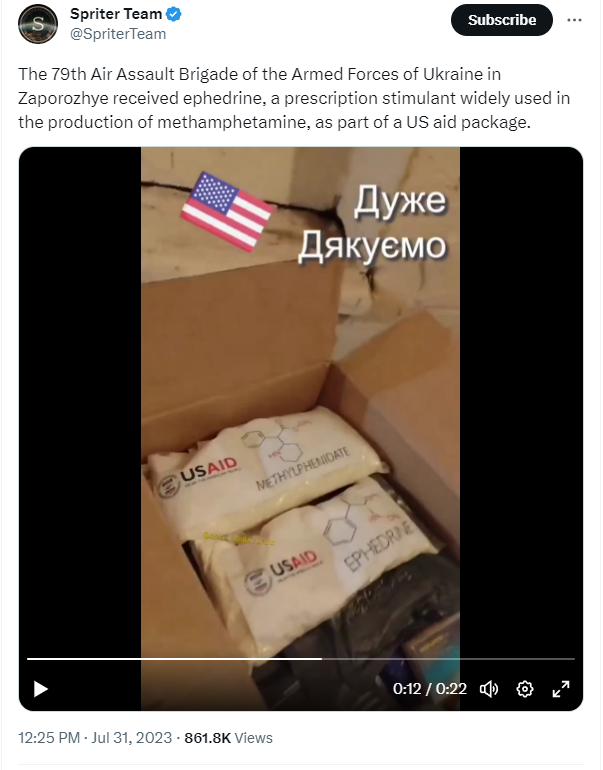 (Source: X screenshot taken on Tue Aug 1 14:59:51 2023 UTC)
The drugs
The 22-second video largely focuses on a cardboard box. Inside of it are two packages labeled "USAID" -- one says "ephedrine"; the second one says "methylphenidate." Both ephedrine and methylphenidate are stimulants.
Ephedrine can be used to manufacture methamphetamine.
U.S. Agency for International Development
In an August 1, 2023, email to Lead Stories, a USAID spokesperson said the humanitarian assistance agency "is not involved with the procurement or supply of controlled substances" in Ukraine. The response continued:
USAID does not provide assistance to Ukraine's armed forces. USAID did not send Ephedrine/Methylphenidate to Ukraine's armed forces.
Additionally, the USAID spokesperson said the clip used in the tweet is fake:
The video in this social media post does not show legitimate USAID medical assistance. It is fabricated and/or staged for this video.
Additional Lead Stories fact checks about the war in Ukraine can be found here.