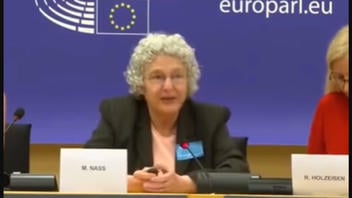 Did Dr. Meryl Nass represent the World Health Organization (WHO) at a press conference, boldly outlining plans to ignore existing human rights laws? No, that's not true: Nass does not speak for the WHO. She is an internal medicine doctor from Ellsworth, Maine, whose license is temporarily suspended while under review. This symposium was not a World Health Organization press conference, but the International Covid Summit III held in Brussels, Belgium. Nass was speaking on the topic of "W.H.O., I.H.R. - treaty and the pandemic accord," offering her own critical characterizations of the organizations' supposed plans. There was not a WHO spokesperson listed on the day's agenda.
The International Covid Summit had speakers on May 3, 2023, and was livestreamed. A TikTok video by @the_great_joe_gillespie, which appears to have been deleted from his TikTok account, was uploaded on Facebook and published as a short reel. It was captioned with 13 hashtags:
#viralreels

#reelsviral

#reels2023

#reelsvideo

#trendingreels

#patriotic

#fypシ

#fypシ゚viral

#reelsfb

#trending

#fyp

#viral

#video
This is what the post looked like on Facebook at the time of writing: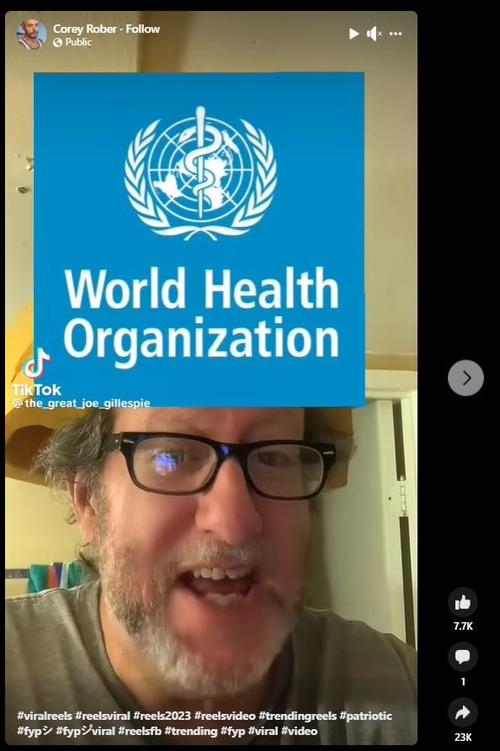 (Source: Facebook screenshot taken on Wed Aug 2 15:27:32 2023 UTC)
The video opens with @the_great_joe_gillespie wearing his signature cheesehead hat, saying:
The World Health Organization had a press conference on how they are going to change people's lives ... and you got to see it to believe it!
The scope of this fact check will not extend to points raised by the individual speakers at this summit, only to the broader claim that this video shows a WHO press conference -- it does not.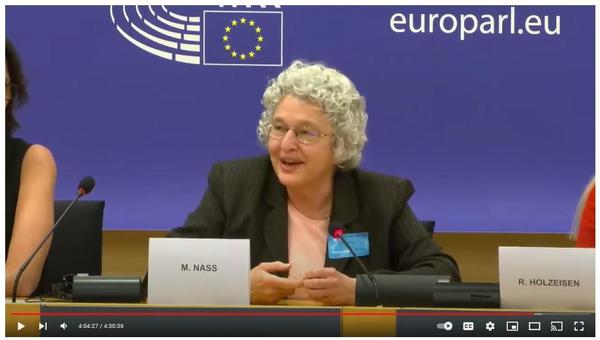 (Source: YouTube screenshot taken on Wed Aug 02 20:24:19 2023 UTC)
The video cuts to a symposium meeting room. This is an edited clip from the International Covid Summit. Panel members were seated in front of a wall bearing a blue backdrop with an emblem, a stylized representation of the Hemicycle of the European Parliament with the flag of Europe along with the URL europarl.eu. The 4½-hour video of Part 2 of the Summit was posted on YouTube on May 28, 2023.
Nass begins to speak at the 3:59:19 mark and finishes at 4:04:27. Two short parts of her address are used in the clip posted on TikTok and Facebook. Her summit topic, as it appears in the program published in "Meryl's COVID Newsletter" on April 29, 2023, is titled, "W.H.O., I.H.R. - treaty and the pandemic accord." Nass is offering her own characterization of the WHO and International Health Regulations (IHR) policy and plans. In the two clips from her address included in the @the_great_joe_gillespie video she says:
4:00:04: The idea is to create a whole new set of laws and ignore the existing human rights laws and other laws under the pretext of pandemic preparedness and the biosecurity agenda.

4:01:43: The WHO is developing through all its nations but with the WHO directorate in the United States in charge, a pandemic treaty and amendments to the existing International Health Regulations that will remove the human rights protections currently embedded in the IHRs, will enforce surveillance, censorship, get rid of freedom of speech, require governments to censor and only push a single narrative. Also we will be subject, if, if they can make this work, to vaccines developed in a hundred days which the organization CEPI [Coalition for Epidemic Preparedness Innovations] is planning to do ...
Nass is not a WHO representative as @the_great_joe_gillespie suggested. As of this writing, Nass' medical license has been suspended by the Maine Board of Licensure in Medicine (.pdf document here). The grounds for the suspension, which she is fighting, include COVID pandemic-related situations regarding patient care, recordkeeping and misrepresentation. The most recent of the six hearings to date was held on July 28, 2023. The Maine Monitor reported on July 30, 2023, that following Friday's hearing, Nass said she has succeeded in making her case a "spectacle."
The International Covid Summit took place in Room PHS1A2 (below right) at the Paul-Henri Spaak building of the European Parliament, not in the main Hemicycle chamber where the plenary sessions take place (pictured below left). This event was not listed in the weekly agenda of the European Parliament until after the fact; a half-hour press conference on the "Outcome of International Covid Summit" was listed on May 4, 2023. The summit was co-hosted by five members of the European Parliament: Cristian Terhes of Romania, Christine Anderson of Germany, Mislav Lolakušić of Croatia, Francesca Donato of Italy and Ivan Vilibor Sinčić of Croatia.

(Source: Lead Stories composite image of Pixabay and YouTube screenshots taken on Wed Aug 02 21:03:51 2023 UTC)
Lead Stories reached out to the press office of the European Parliament by email to request clarification if the event hosted in that meeting room was on the parliamentary agenda. We will update this article if we receive a reply.

A separate claim tangential to Nass' summit topic was previously debunked by Lead Stories, clarifying that the WHO Pandemic Treaty would not give WHO any authority over U.S. domestic policy in addressing pandemics.