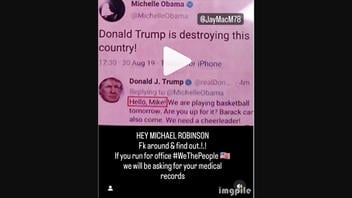 Are the tweets between Michelle Obama and Donald Trump about "destroying the country" and inviting "Mike" to play basketball real? No, that's not true: No such tweets from the former first lady's official account nor the former president's were published on August 30, 2019. The messages currently do not show up on the accounts, nor do they show up on any archive website.
The claim appeared in a video on Instagram on September 18, 2023. It opened with a tweet allegedly from Michelle Obama and a reply allegedly from Trump that read:
Donald Trump is destroying this country!

Hello, Mike! We are playing basketball tomorrow. Are you up for it? Barack can also come. We need a cheerleader!
This is how the post appeared on Instagram at the time of writing: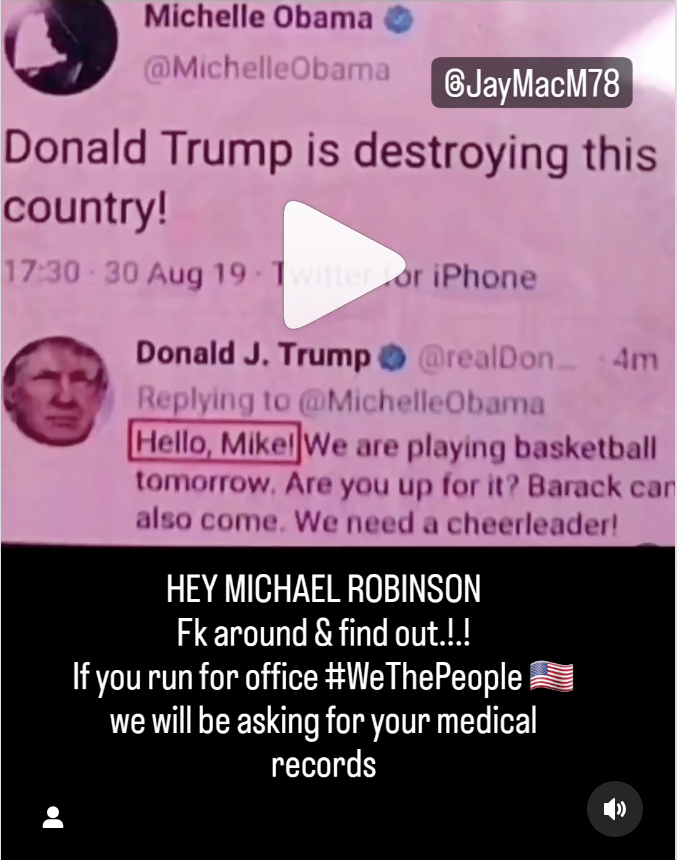 (Source: Instagram screenshot taken on Tue Sept 19 14:12:33 2023 UTC)
The image within the video, which is a static shot with music, features the fabricated tweets between the two.
A search of Michelle Obama's verified X account, formerly known as Twitter, for the month of August 2019 does not show any messages to or about Donald Trump.
A search on X of Trump's account and the phrase, "Hello, Mike! We are playing basketball tomorrow. Are you up for it? Barack can also come. We need a cheerleader!" does not return any results.
This Google search does not return any results for supposed Trump tweet. The archive of Trump's deleted tweets as of 2021 does not show the message.
The video plays music and has a caption at the top that reads:
#hellomike >QSentMe17 some of us have known for a while.. #TrustThePlan #kek🐸
At the bottom it reads:
HEY MICHAEL ROBINSON
Fk around and find out.!.!
If you run for office #WeThePeople🇺🇸 we will be asking for your medical records
The reference to "QSentMe17" refers to the QAnon conspiracy theory, a continuing series of prophecies that don't come true. Its believers claim that a secret shadow government is running the United States but that Trump is waging a war, or "the storm," against a cabal of evil Democrats, Hollywood elites and satanists who are sex trafficking children worldwide, killing them and eating them. This is not supported by any public evidence and has been debunked by Lead Stories and national news outlets including The New York Times.
Lead Stories had debunked several variations of the trope calling Michelle Obama "Michael." These include edited images (here, here and here), baseless rumors with falsified details (here, here and here), and satirical trolling (here and here).
Other Lead Stories fact checks regarding Michelle Obama can be found here and about Donald Trump can be found here.