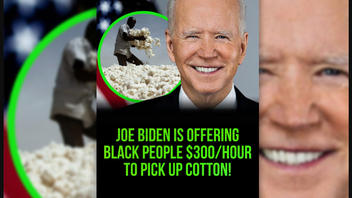 Is President Joe Biden offering Black individuals $300 an hour to pick cotton? No, that's not true: This meme is satire and is not based on any current events or proposals from the U.S. leader. The meme appears to be a spin-off from a satrical Instagram page named Hoods News that boasts it has "The best memes and fake news posted daily."
The meme was posted on Instagram (archived here) by @financelegends on October 5, 2023. It was simply captioned:
Thoughts?
This is how the meme appeared at the time of the writing of this fact check: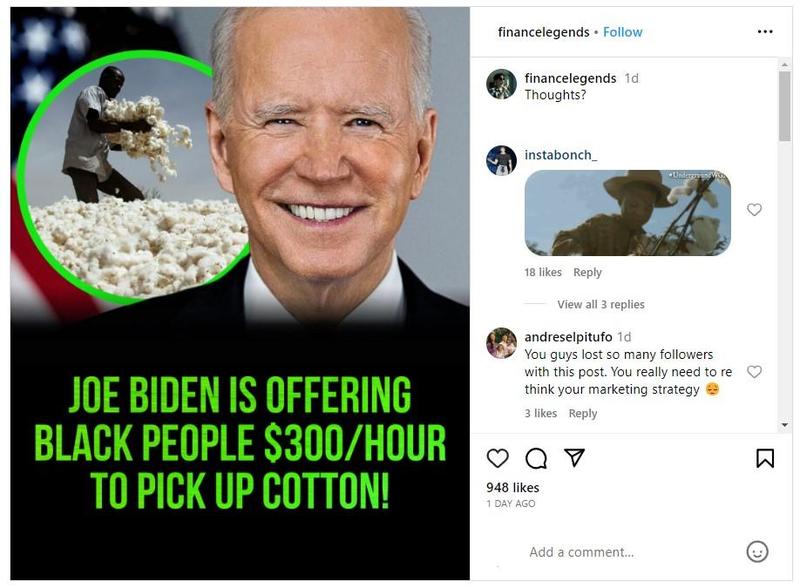 (Source: Instagram screenshot taken on Fri Oct 06 17:05:28 2023 UTC)
The text overlay on the meme reads:
JOE BIDEN IS OFFERING BLACK PEOPLE UP TO $300/HOUR TO PICK COTTON!
Several people who commented on this meme found it in such poor taste that they unfollowed the page. Some responded to the meme as a joke and others appeared to think it was true.
It is not true, and a search of Google (archived here) only returns other fact checks and references to the meme, but no links to official White House sources.
An August 4, 2023, post on Instagram by @hoodsnews had a similar meme (pictured below), but did not specifically mention that the cotton- picking jobs were only for Black people. The hoodsnews page has a disclaimer that says "The best memes and fake news posted daily." This meme was captioned:
JOE BIDEN ANNOUNCES 'COTTON PICKING' JOBS PAYING $300/HOUR
Would y'all do it or nah🤔!?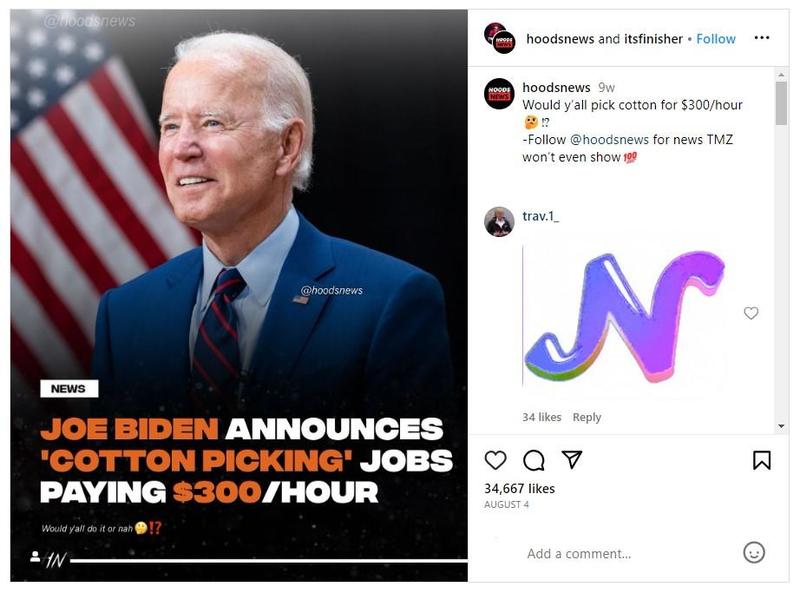 (Source: Instagram screenshot taken on Fri Oct 06 17:05:28 2023 UTC)
Many stitched videos on TikTok used this hoodsnews meme: Some were joking, some introspective and others did the math -- $576,000 a year based on a 40-hour workweek. There was even a spoof Simpsons' prediction video connecting the meme to a scene of Bart Simpson driving a combine harvester and receiving a $50,000 check from the U.S. Treasury.
The hypothetical cotton-picking wage is unrealistic on two fronts, according to the U.S. Department of Agriculture. In May 2023, farm laborers in the United States made an average wage of $18 per hour. Cotton is still picked by hand in some places around the world, but, in the U.S., large specialized cotton harvesters pick and bundle cotton at scale.

Additional Lead Stories fact checks of claims about President Joe Biden can be found here.