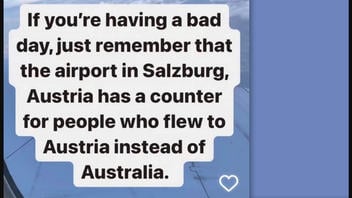 Does the Salzburg, Austria, airport have a counter for people who flew to Austria instead of Australia? No, that's not true: A meme originated from a satirical ad campaign positioned at the baggage claim in the Salzburg airport. The ad, featuring a SOS call button, was from a communication technology company that provides solutions such as the SOS intercom call button for this hypothetical traveler's mishap.
The claim appeared in a post on Instagram published by @gerardarmondpowell (archived here) on October 25, 2023. The post had no caption but three laughing-crying emojis. The text of the meme reads:
If you're having a bad day, just remember that the airport in Salzburg, Austria has a counter for people who flew to Austria instead of Australia.
This is how the post appeared on Instagram at the time of writing: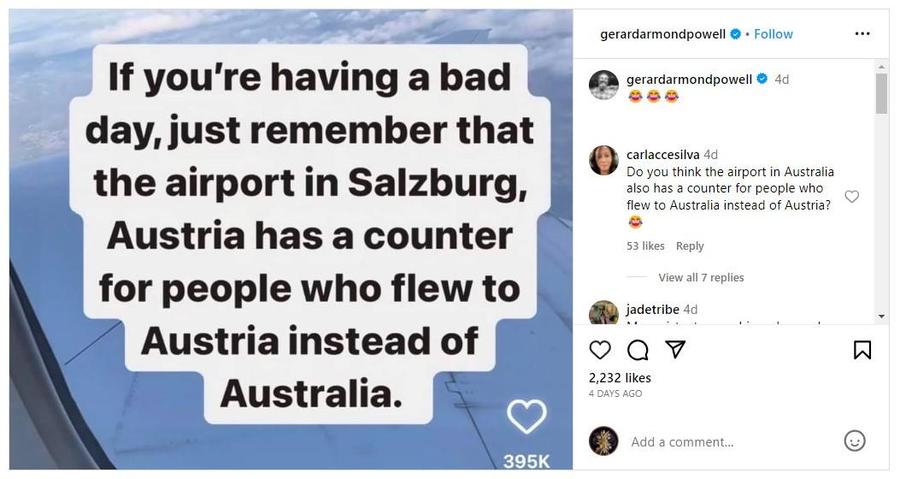 (Image source: Instagram screenshot taken on Mon Oct 30 16:43:25 2023 UTC)
Lead Stories reached out to the Salzburg Airport for comment and a spokesman with the public relations department responded:
The whole story is no more than a rumor.
There is no - and never has been - such a counter (there would be no use at all, since - as far as we know - no one ever travels to Austria instead of Australia by mistake)
There used to be an advertisement space at the airport used by a company selling intercom solutions several years ago. They sort of used this ad for a similar joke. We believe that this was the origin of this current hype. Why it was triggered now - several years later - we do not have a clue.
Lead Stories found photos of that attention-catching satirical ad at the Salzburg baggage claim posted online in 2015. The image below was posted on imgur.com by @KnightKrypto on September 1, 2025. with the title, "Where are the Kangaroos?" The ad text reads:
Sorry, this is Austria not Australia!
Need help? Please press the button.
Commend provides Security and Communication. From Salzburg to the rest of the world. Even for the most unlikely of situations.
www.commend.com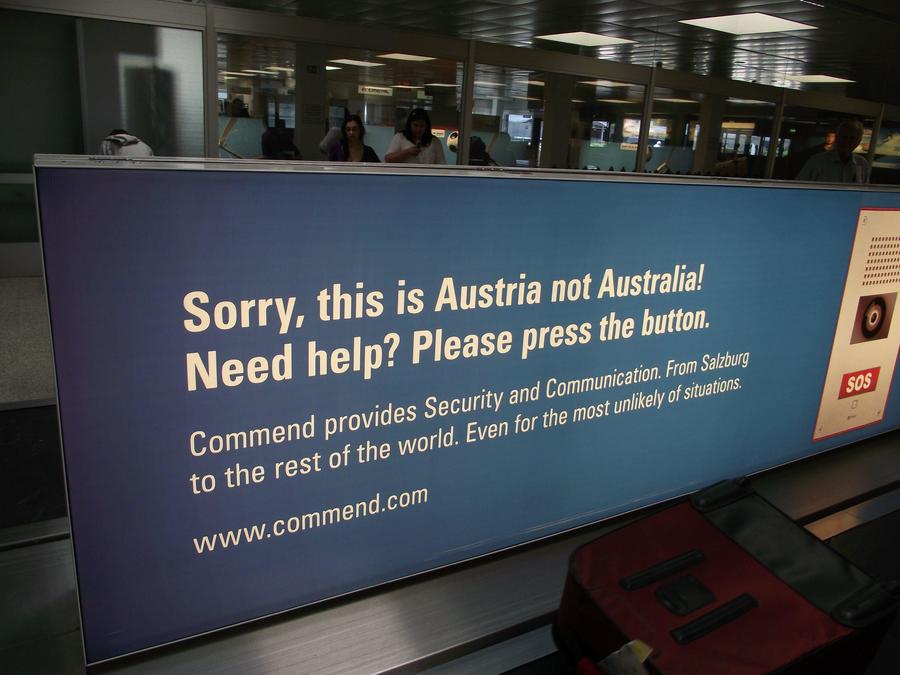 (Image source: Imgur screenshot taken on Mon Oct 30 16:43:25 2023 UTC)
The ad, featuring an image of a SOS call button and intercom speaker, includes a link to the Commend company website. Commend is an international company founded in Austria specializing in security and intercom systems.
There has been enough confusion surrounding the names of the countries Austria and Australia for there to be kangaroo-themed souvenirs that poke fun at the situation.

(Image source: Amazon,Teepublic (here and here) and spreadshirt screenshots taken on Mon Oct 30 17:39:28 2023 UTC)