What Ted Cruz's Canadian birth certificate shows might not be a headline if not for the GOP presidential candidate's many speeches about the decline of America and it's family values. His mother's name is not listed as Cruz, but that of a previous husband, whom she divorced seven years earlier.
Cruz's father is listed as Rafael Bienvenido Cruz, but his mother is listed as Eleanor Elizabeth Wilson. The candidate's full name is given as Rafael Edward Cruz.
The search for the Cruz's birth certificate became relevant to the 2016 presidential campaign after frontrunner Donald Trump raised questions about the Texas senator's constitutional eligibility to be president, since he was born in Canada and his family did not move to Texas until he was four. Cruz did not officially renounce his Canadian citizenship until 2014 when he was seeking the U.S. presidency.
Reporters with the McClatchy newspaper chain wrote they could find no record of when the Cuban Cruz, who was working at the time as a geophysical consultant in Calgary, Canada, oil fields, and his mother got married. They divorced in 1997.
Both father and son Cruz's have built careers off of sermons about morality, sometimes railing against unmarried mothers. The irony is not lost on journalists and political opponents who opposed the Texas senator's presidential ambitions.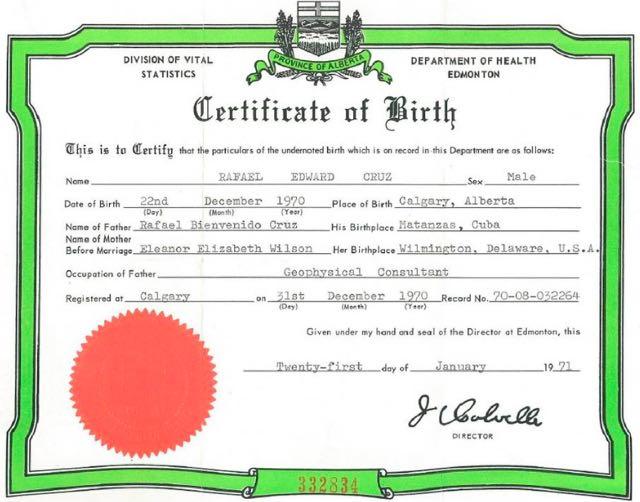 The reporters tracked down his mother's first husband, Alan Wilson, in an effort to solve the mystery of why his name was listed on the birth certificate as Eleanor Elizabeth Wilson. They divorced seven years earlier.
Wilson, who still lives in London, England, where they were married more 50 years ago, said he was unaware that his ex-wife's son was Ted Cruz, the presidential candidate. "I'll be darned," he told a McClatchy reporter. "No kidding. That is Eleanor's son? I had no idea."
Wilson also said he was not the father of another son born to her in 1965, two years after their divorce. Ted Cruz, in his book A Time for Truth: Reigniting the Promise of America, wrote that the crib death of his older brother is what broke up his mother's marriage to Wilson.