I grew up loving Garbage Pail Kids trading cards, so seeing their most recent release makes me happy.
Topps has unveiled nine new Garbage Pail Kids cards featuring the presidential candidates, just in time for the New Hampshire primary. You better be quick to snatch them up: They're only available for 24 hours.
In this new series, Topps reimagines Donald Trump (Donald Dumpty, Humpty Trumpty), Ted Cruz ("Texan" Ted, Canadian Cruz), Marco Rubio (Misspent Marco, Repo'ed Rubio), Jeb Bush (Dead Jeb, Beat Bush), Ben Carson (Brutal Ben, Cruel Carson), Chris Christie (Crass Chris, Crude Christie), John Kasich (Jumped-Ship John, Cash Kasich), Hillary Clinton (BillaryHillary, Coattails Clinton) and Bernie Sanders (Batty Bernie, Psycho Sanders).
Topps released five limited-edition "Garbage Pail Kids" cards last week for the Iowa Caucus. Somehow, current candidate Carly Fiorina and now-former candidates Mike Huckabee, Rand Paul and Rick Santorum escaped parody in both rounds.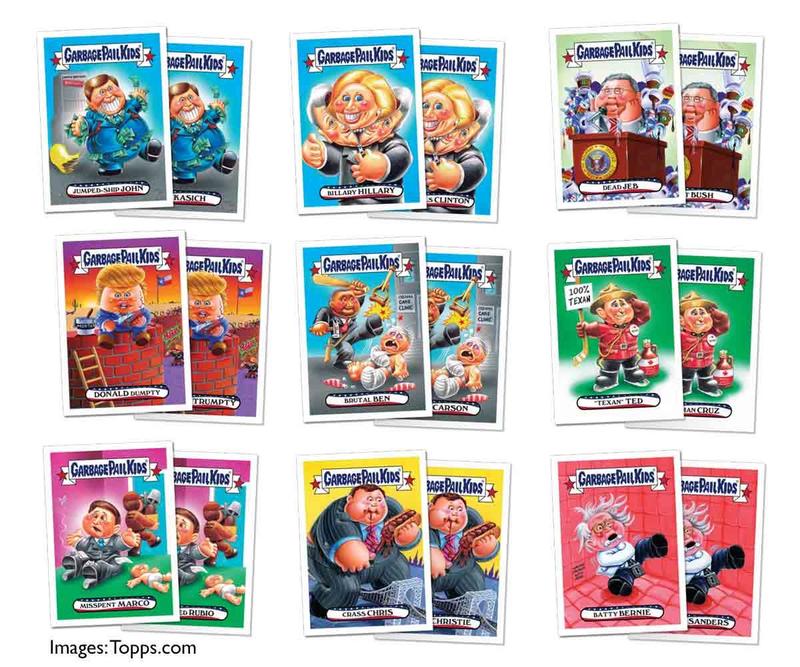 Lead Stories' Trendolizer™ is constantly scouring the web for the hottest news, viral videos and images.
Follow us on Facebook and Twitter @LeadStoriesCom for your daily news.