STORY UPDATED: check for updates below.
Earlier today thousands of Twitter accounts apparently were taken over by Turkish or Turkey supporting hackers and they all started posting the same tweet :
卐 #Nazialmanya👌#Nazihollanda
Bu size ufakbir👋#OSMANLITOKADI#16Nisan da görüşmek üzere
Nemi yazdım🇹🇷Türkçe ÖĞREN #RThttps://t.co/dyUr9M9sV0

-- o (@maliklamore) March 15, 2017
Screenshot in case the tweet goes down: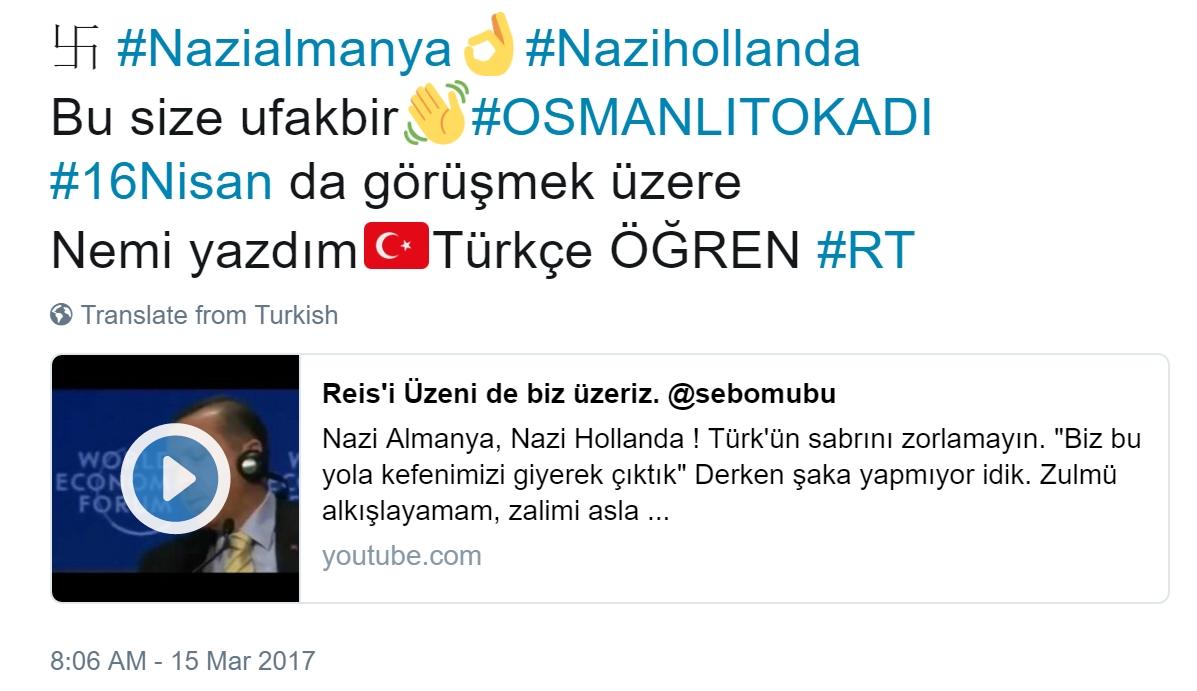 A Bing translation of the message reads:
卐#Nazialmanya👌#Nazihollanda This gives you a little 👋 #OSMANLITOKADI #16Nisan too see you wrote the moisture 🇹🇷 #RT https://www.youtube.com/watch?v=z8cN1W0tanY?0f581d7ca7cd22f3de7252731c0ccd1b ... LEARN Turkish
You can see the attack unfolding live via this twitter search widget:
Tweets about #nazihollanda OR #nazialmanya
As of the moment of writing, Twitter has not acknowledged the attack on their status page.
2017-03-15T08:05:15Z

2017-03-15T08:05:15Z

2017-03-15T07:54:53Z

2017-03-15T07:54:53Z

2017-03-15T07:46:27Z

2017-03-15T07:46:27Z

2017-03-15T07:40:05Z

2017-03-15T07:40:05Z

2017-03-15T07:28:20Z

2017-03-15T07:28:20Z

Google translation of the Turkish text under the video:

Nazi Germany, Nazi Netherlands! Do not force the patience of the Turk. "We got out of this way by wearing our kefen" I was not kidding. I can not applaud the persecution; I can not swear to enjoy up from the past. Someone attacked an ancestor, even strangled! ... -You can not choke! -I'm not going anywhere unless I'm out. I can not get rid of it after three and a half. Especially if I died right injustice aka the plug will not. It is the berth when I am born; I have never tasted me golden tulip! Soft-headed isem, who said the docile sheep? Maybe it will be cut off, but it will not pull out! I saw a bleeding wound, my lungs, To relieve her whip, my double! Go wait for the man! , I do not mind. Chewing, chewing, keeps the right money! I am cruelly hostile and I am an oppressor ... Is that what you have in your dialect? Http://twitter.com/sebomubu

2017-03-15T07:20:30Z

2017-03-15T07:20:30Z

The video that is referenced in the hacked tweets: