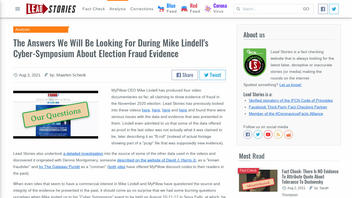 Will the materials Mike Lindell releases at his Cyber Symposium meet evidentiary standards of authenticity to support his claim the 2020 election was stolen? Here's how Lead Stories will test the data: By asking the questions we sent to him August 3, 2021.
Lead Stories will tune into the symposium to ask the questions we have been asking since he began claiming he has evidence the 2020 election was stolen. He has promised all will be revealed at the South Dakota event.
The following chart, which we will update during the Cyber Symposium, summarizes the questions by which cybersecurity experts say the data can be authenticated.
For now, all are rated "Not answered yet" and we'll change those ratings if and when evidence is made public.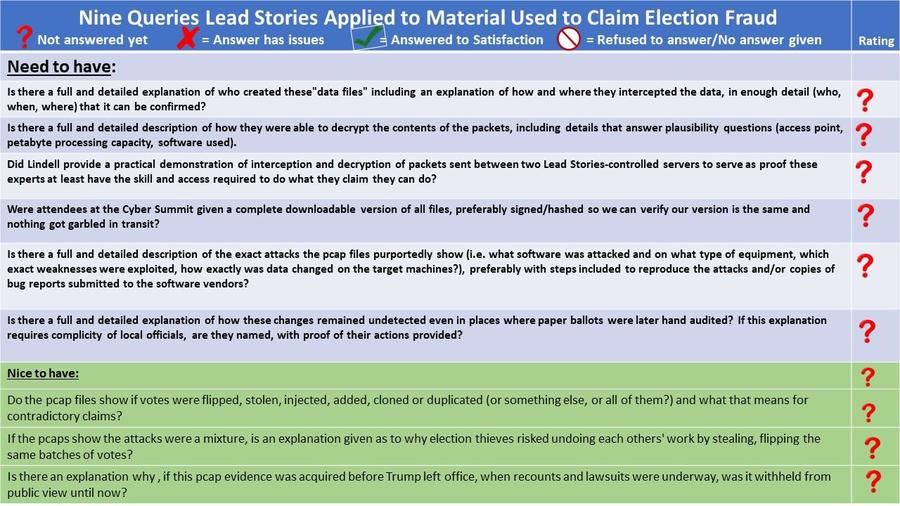 During the weeks leading up to the Cyber Symposium, Lead Stories staff spoke with Lindell and a member of his team, and national election security and cybersecurity experts.To ensure accuracy and provide expert assessment of the materials, Lead Stories arranged to send to the symposium Robert Graham, a cybersecurity expert well known for inventing several internet security tools. Graham will examine any data Lindell releases and consult with us in assessing them. You can follow him live on Twitter via @ErrataRob (and Lead Stories via @LeadStoriesCom).
We'll have @ErrataRob on the ground in Sioux Falls tomorrow to take a look at the evidence of election fraud Mike Lindell promised to finally reveal at his Cyber Symposium.

We have questions and we hope we'll be getting some answers:https://t.co/4uS8Ee20tU https://t.co/jIwSS1ZGkb

-- Lead Stories (@LeadStoriesCom) August 10, 2021