Several fake news websites came out with articles titled something like:
Trump's NEW Air Force One Just Came In, Look What Everyone Noticed That's VERY Different
Trump's New Air Force One Just Rolled Out, Look What Everyone Noticed That's VERY Different
Trump's NEW Air Force One Just Pulled Up, Look What Everyone Noticed That's VERY Different
The body of the article almost always begins like this:
The contract was up on Barack Obama's Air Force One with the expiration of his presidency. While that was just a chance of timing, President Trump stepped in to not only renegotiate the exorbitant cost of the aircraft, which came in millions higher than necessary but also took advantage of the renegotiation to make some much-needed changes to the new design. These proposed changes weren't revealed to the public until today and as soon as his plans for the new Boeing rolled out in public view, everyone immediately noticed one thing that has liberals losing their minds more than before.
(emphasis ours)
So contrary to what the title implies, the new Air Force One is still in the planning stage today (and the two planes under consideration aren't expected to fly until 2024) so the phrases 'came in', 'rolled out' and 'pulled up' in the headlines are definitely not true.
The articles also claim Trump made several design changes to make the interior of the plane way more luxurious and illustrates this with several photos. These photos actually come from a 2015 story about an unknown wealthy individual having a Boeing 747-8 Jumbo Jet converted to a private plane.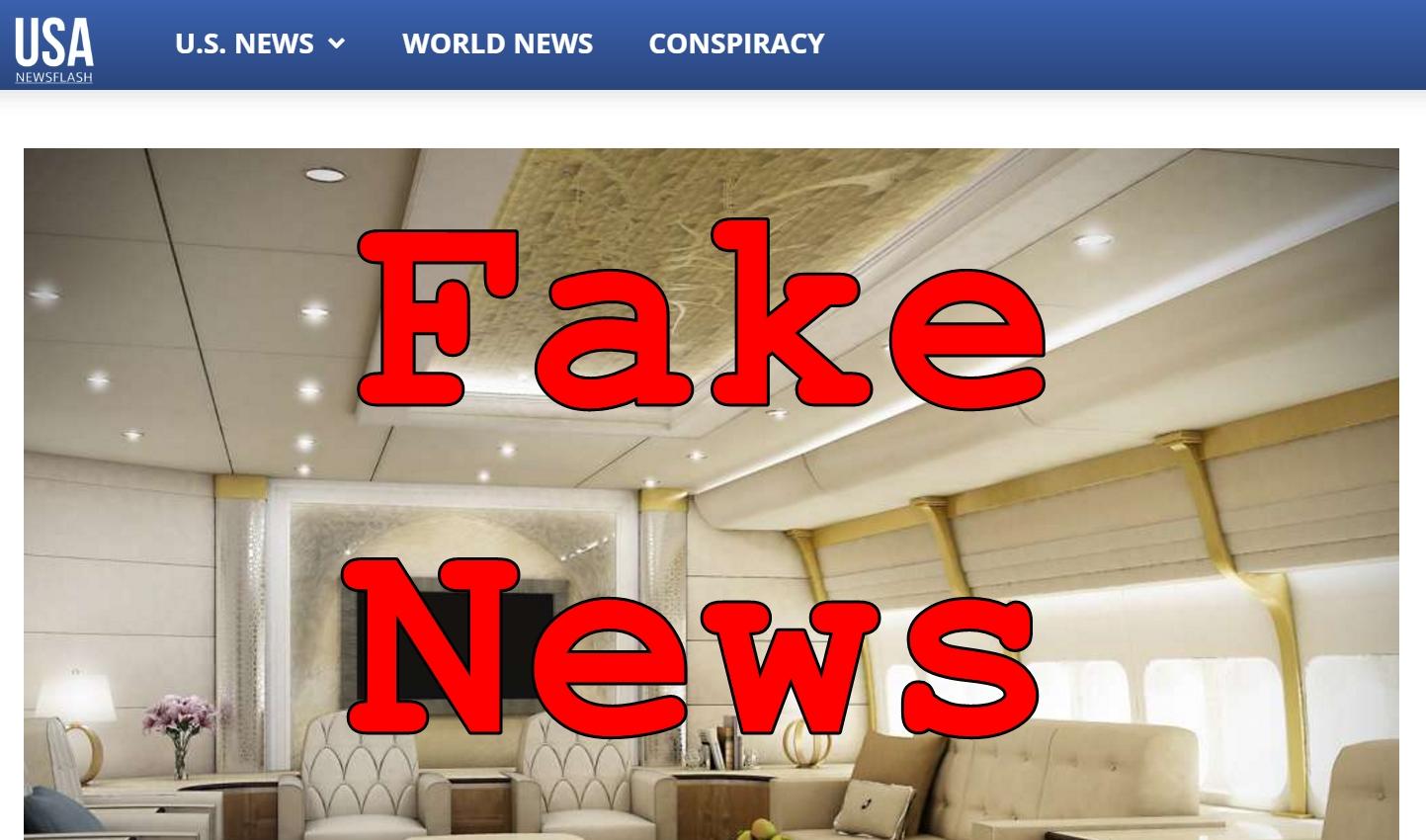 Funnily enough another fake news site claimed in 2015 this was actually the interior of Obama's Air Force One.
So not only is there no new Air Force One yet, the design changes are fake news too.
The fact free article is being shared around nonetheless as you can see in the Trendolizer graph at the end of this article. If you notice anyone spreading the rumor around you can help by pointing them to this article here because nobody likes being fooled by fake news and no other hoax busting sites like Snopes have debunked this one yet. In this particular case it appears both Trump supporters and opponents are being duped into going to dodgy, ad-infested websites by the same story. Both seem to click and share without thinking because it confirms their existing ideas about Trump's tastes... Don't be fooled!