A fake news website named USA News (fox-news24.com) has published a fake article titled "Chris Brown in critical condition after Cincinnati nightclub shooting" which opens like this:
News emerging indicate that Singer Chris Brown is among the people injured in a shooting incident at the Cincinnati nightclub about 1 a.m. Sunday.

One person was killed and 14 injured in a shooting at a crowded hip-hop nightclub Cincinnati.

Chris Brown is reported to be in a critical condition and is undergoing surgery, Cincinnati Police Sgt. Eric Franz said.
The article is not true. There was an actual shooting at a Cincinnati nightclub on March 26, 2017 but Chris Brown was not involved in any way. Despite the story being over 24 hours old by now neither Chris Brown's official website or his verified twitter account have made any mention of it. In fact, Brown tweeted just a few minutes ago:
https://t.co/4Iq2qsSlxi pic.twitter.com/gzPrxsdeXe

-- Chris Brown (@chrisbrown) March 28, 2017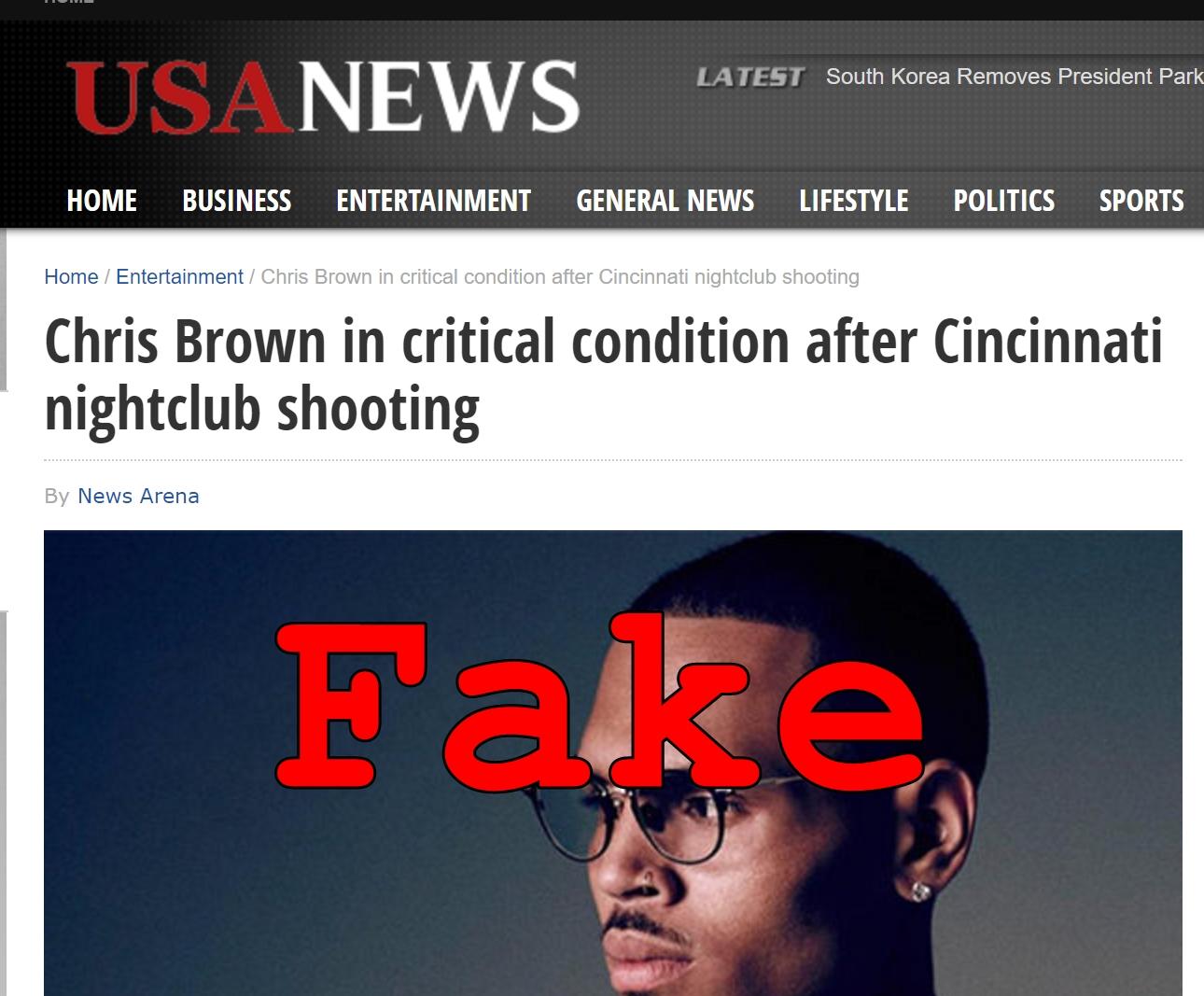 The site fox-news.24.com appears to be part of a network of fake news websites that all have normal looking front pages with some generic news stories taken from other websites but which frequently publish hoax articles on other parts of the site that aren't immediately obvious to visitors. Case in point: the Chris Brown death story is currently not even on the front page of the site.
Some other sites we've tentatively identified as being part of the network include:
cbn-tv.com
cnn-channel.com
fox-news24.com
metro-uk.com
news.cbn-tv.com
online.read-news.com
states-tv.com
meganews360.com
parliaments.eu
Sites like these typically try to lure visitors by posting fake stories to Facebook groups or pages in the hope of attracting visitors that will unwittingly click on various dodgy ads and popups in order to make the site owners some cash.
As you can see in the Trendolizer graph at the end of this article the story didn't appear to have gained much traction the first 24 hours it was posted but it appears it is taking off now. If you notice anyone spreading the Chris Brown death hoax around you can help by pointing them to this article here because nobody likes being used by fake news websites and no other hoax debunking websites like Snopes have put out articles about it yet.