A fake news site going by the name news.cbn-tv.com has published a celebrity death hoax about rapper Andrew E. titled "CONFIRMED: Andrew E. killed at Tomas Morato Avenue". The story opens:
Management of rapper Andrew E. has confirmed that the rapper has been shot dead at the Tomas Morato Avenue.

The rapper was shot dead while in the company of friends in his car, management confirms in a statement.

Police sources say a close friend, Kelvin Valiente and one eyewitness who were close to the scene would be crucial to police investigations.
The best proof that the story isn't true is that Andrew E. just posted to his Instagram account one hour ago:
He certainly doesn't look very dead in that video...
Also there's this:
Fake news 😏

-- Andrew E. (@AndrewE_Dongalo) March 19, 2017
Finally the phrase "Eye witnesses claim the man who pulled the trigger drove off quickly in a black Hyundai Accent car." from the article seems to be used in several other death hoaxes about other celebrities as you can see in this screenshot of a google search for it: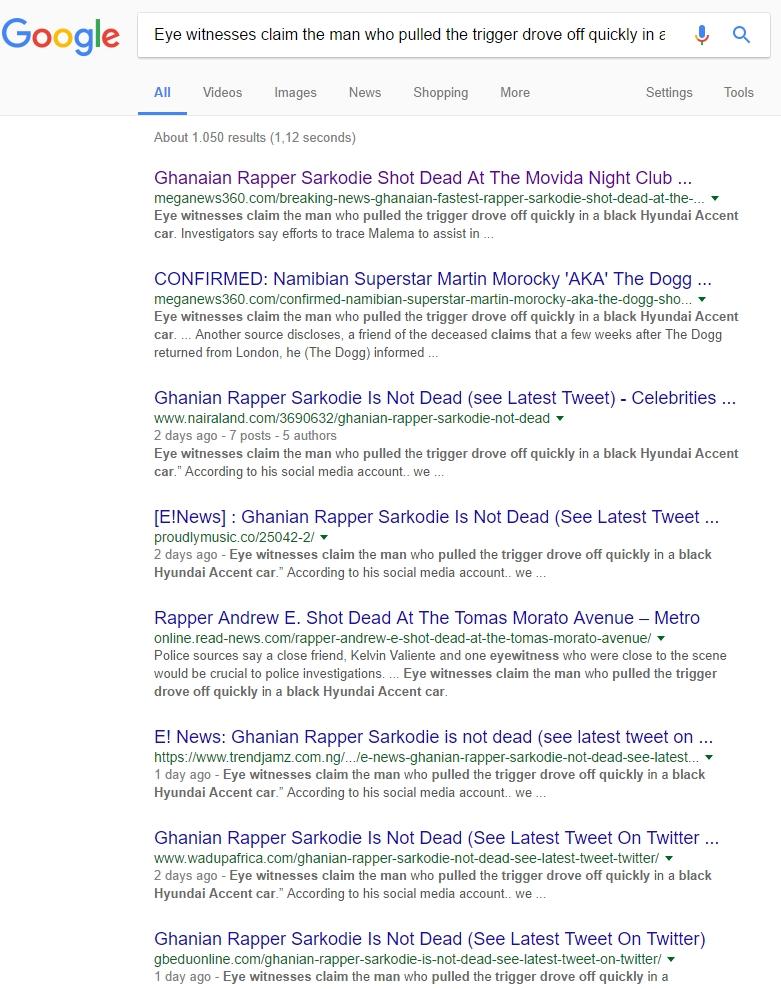 The site appears to be part of a network of fake news websites that all have normal looking front pages with some generic news stories taken from other websites but which frequently publish hoax articles on other parts of the site that aren't immediately obvious to visitors. Some sites we've identified as seemingly being in the network so far include:
cbn-tv.com
cnn-channel.com
fox-news24.com
metro-uk.com
news.cbn-tv.com
online.read-news.com
states-tv.com
meganews360.com
Meanwhile the story is being shared around widely as you can see in the Trendolizer graph at the end of this article. If you notice anyone spreading the rumor around you can help by pointing them to this article here because nobody likes fake news.