Go ahead, fake my death! No, a report trending on social media is not true: Conservative Icon Clinton Eastwood was not found dead in his Brentwood home. Lead Stories' Trendolizer system detected the death hoax as trending, but we've confirmed it is not true. The article headlined "BREAKING: Conservative Icon Clint Eastwood Found Dead In His Brentwood Home" from known fake/hoax website "The Last Line of Defense" says:
The Orange County Sheriff confirmed this morning that Clint Eastwood was found deceased at his home in Brentwood, bringing to an end a life that will never be forgotten and leaving behind a legacy that will live forever. The coroner reports that it appears Eastwood died of natural causes. There is no word yet on funeral arrangements.
First, Eastwood does not live in Brentwood, a west Los Angeles community. He is a Carmel, California, resident. Also, Brentwood is in Los Angeles County, not Orange County.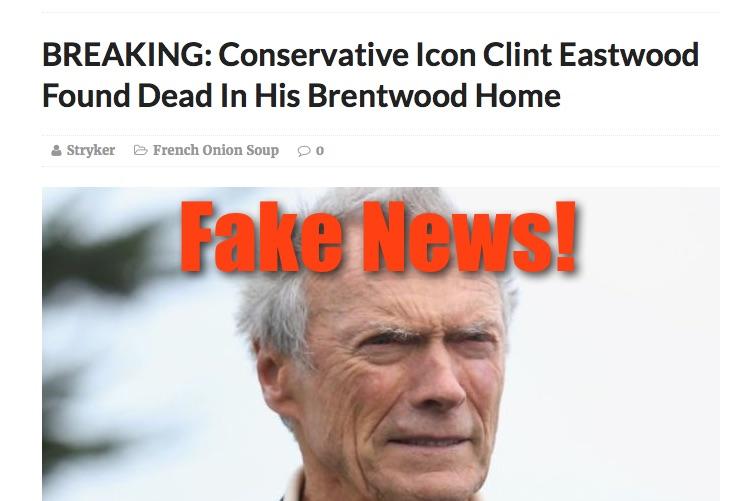 Meanwhile the story is being shared around widely as you can see in the Trendolizer graph at the end of this article. If you notice anyone spreading the rumor around you can help by pointing them to this article here because nobody likes fake news.
The Resistance: The Last Line of Defense is a fake news website that carries following disclaimer on its about page:
DISCLAIMER: The Resistance may include information from sources that may or may not be reliable and facts that don't necessarily exist. All articles should be considered satirical and any and all quotes attributed to actual people complete and total baloney. Pictures that represent actual people should be considered altered and not in any way real.
The site also tends to include nonsensical phrases or insults hints in the list of "categories" under the article titles:

According to Buzzfeed the site was originally meant to troll conservatives with over the top satirical articles but now appears to be used as a 'source' by a large network of actual fake news sites (not related to the original creator) that all repost the same articles mentioning it as the source but not acknowlediging the satire disclaimer. This causes many people to believe the fake stories especially when they are being shared on social media where all context is removed and only the title, image and description remain. Sites in the network appear to include: