Somebody posted an article on prank website channel22news titled "Popeyes manager arrested for allegedly dipping chicken in cocaine based flour to increase business sales." The fake article opened:
Popeyes' in Brunswick, Ga (3319 Altama Avenue) is under investigation after a man alerted police that he got an euphoric high after eating dinner from the restaurant. The man stated after he ate dinner he was craving more and more food. Brunswick Police Department went to the Popeyes' location and collected samples of the food and found numerous trace amounts of drugs: marijuana, heroin and crack cocaine. Many more arrest and details to come.
Of course none of it is true: channel22news.com is a prank website apparently operated by a Korry Scherer from Milwaukee, WI. according to WHOIS data. The site lets visitors create their own realistic looking fake news stories to prank friends and family.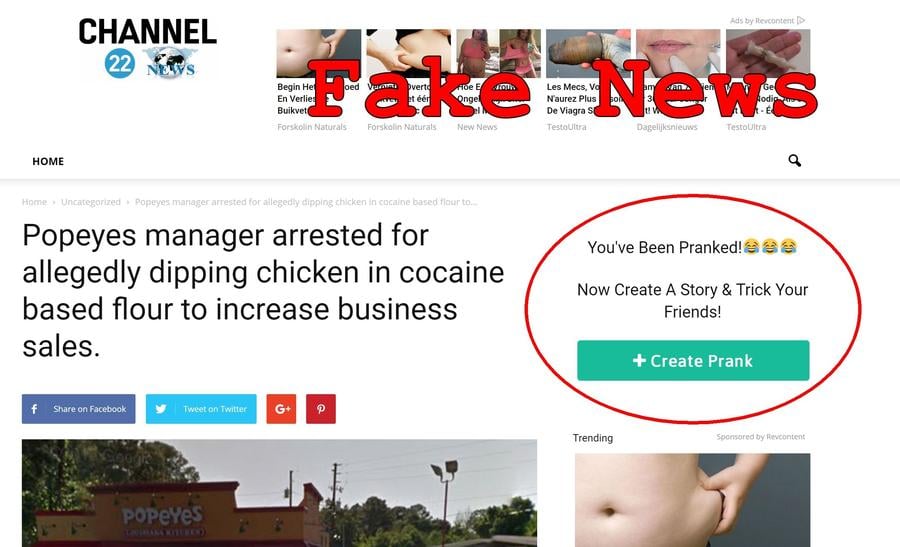 The site seems to be part of a network of similar sites. So far we've found these, but there may be others:
channel22news.com
channel23news.com
channel24news.com
channel28news.com
channel45news.com
Many people were fooled by the prank as can be seen in the Trendolizer graph at the end of this article. Warn your friends!