What do a 27-year old man from Boise, Idaho, a 27-year old woman from Tulsa, Oklahoma, a 24-year old woman from Rapid City, South Dakota, a 34-year old man from Maple Grove, Minnesota and a 29-year old man from Louisville, Kentucky all have in common?
UPDATE: Add a 23-year old woman from Harlingen, Texas to the list.
UPDATE 2: And a 33-year old man from Myrtle Beach , South Carolina.
UPDATE 3: Add a 23-year old woman from Temecula, California.
UPDATE 4: And a 23-year old womans from Trenton, New Jersey.
UPDATE 5: And a 26-year old woman from Port Richey, Florida.
According to several fake news websites set up to look like regional newspapers they all got fidget spinners stuck in their anus or vagina. The story seems to always follows this template:
A [AGE]-year old [MAN|WOMAN] from [CITY], [STATE] has been rushed to hospital after a fidget spinner became stuck inside [HIS ANUS|HER VAGINA]. Surgeons were forced to operate on the [MAN|WOMAN] to remove the device, which had become stuck after [HE|SHE] used it in an attempt to 'pleasure [HIMSELF|HERSELF]'.

"We are confident the [MAN|WOMAN] will make a full recovery, but for the moment [HE|SHEdoes face a fairly long recovery due to the internal damage the device made," said one of the doctors who operated on the [MAN|WOMAN].

According to local media reports, the [MAN|WOMAN] had been introduced to fidget spinners by one of [HIS|HER] younger cousins, and had been playing with the device while in bed when the accident occurred.
Sometimes a word or turn of phrase is changed and in one particular instance we even read in the report that surgeons were forced to operate on a man after he pleasured "herself". Clear evidence that somebody pulled the story out of their...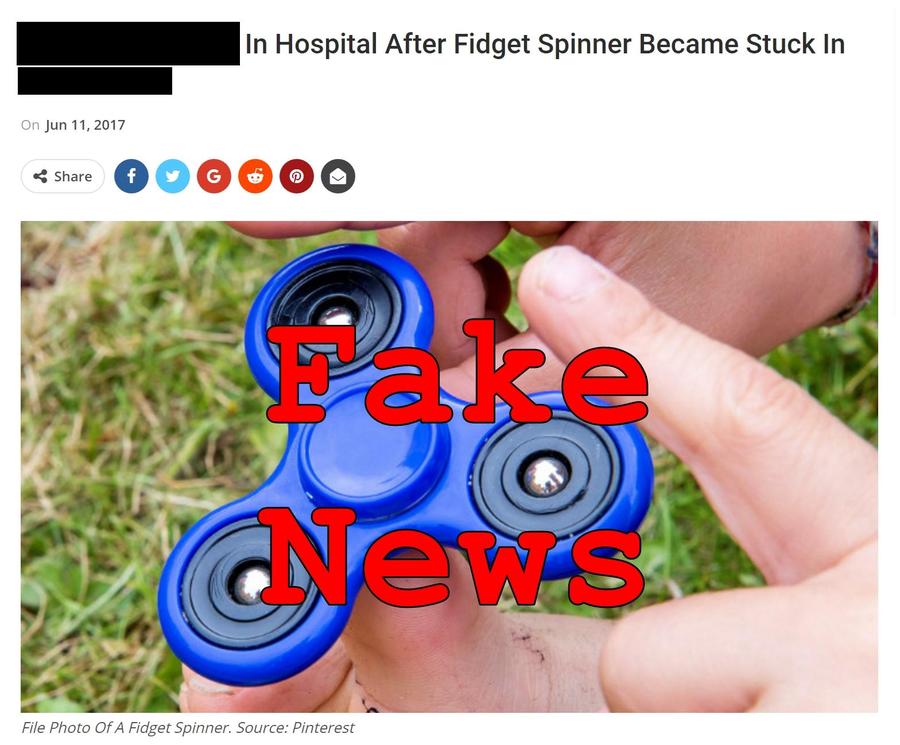 This is not the first fake story this range of fake regional news websites has published with differing local details in each version. Earlier there has been the incident at the strip club or the longest penis in the world competition for example.
Don't fall for this kind of (fidget) spin, like the hundreds of people who swallowed the latest instance of the hoax according to the Trendolizer graph at the end of this article.