A U.S. based gossip website posted an article titled "Queen Elizabeth Names Prince William and Kate Middleton King and Queen (Sorry, Prince Charles!)". It opened:
What a royal family shake-up! Queen Elizabeth has officially named her beloved grandson Prince William and his wife, Kate Middleton, the next King and Queen of England, according to Life & Style magazine. Unfortunately, this means the Queen's eldest son, Prince Charles, has officially been skipped over in the British monarchy's line of succession.

"Her Majesty realized that William and Kate are the future. She has spent 65 years making sure that the House of Windsor survives, and she sees William and Kate as having the energy and star quality to do the job in a modern world. Queen Elizabeth will always do what is best for the long-term health of the monarchy," a palace insider recently told the entertainment news magazine.
This article was used as the only source of a second article on Yahoo News: Royal Announcement: William & Kate Will Officially Be King & Queen.
UPDATE: The Yahoo! article has been taken down, archived version here. The story probably got onto Yahoo! because of a syndication agreement with SheKnows, likely copying this article: http://www.sheknows.com/entertainment/articles/1135541/royal-announcement-william-kate-will-be-king-queen. Note from the URL that the original clearly claimed Will and Kate were going to be king and queen. Currently the article and the new headline are just speaking about an "anonymous source" that made this claim, the text was probably altered after online pushback.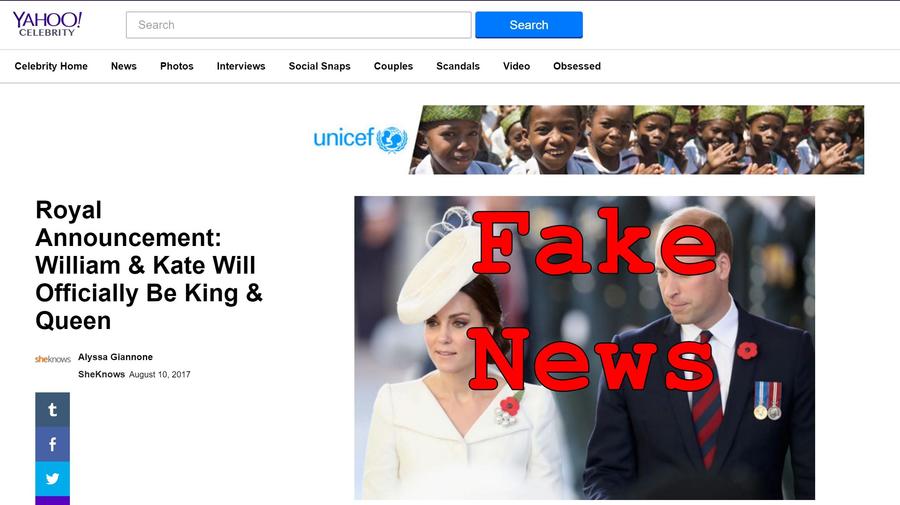 There is only one problem: the website of Life & Style magazine has no trace of any article even mentioning Queen Elizabeth in this or the past month. Also, the official website of the royal family has not mentioned the announcement anywhere in the Press Releases & Announcements section. The BBC is also silent on the matter.
That leaves us with two possibilities:
The U.K. monarchy is now making official announcements about the succession to the throne via New Jersey based entertainment websites.
We are dealing with fake news.
Our guess is the second option is the more likely one.
That hasn't stopped the story from going massively viral as the Trendolizer graph at the end of this article shows. If anyone sees Prince Charles, tell him his throne is safe for now...