A tweet from Holly O'Reilly with a snippet of video from Donald Trump's visit to Fort Meyers in Florida went viral:
And here, we have video of Trump saying that Melania "really wanted to be here"...while she's standing next to him. (h/t @MaverickofKain) pic.twitter.com/rvQCUo4RYB

-- Holly O'Reilly (@AynRandPaulRyan) September 21, 2017
O'Reilly implies Trump doesn't realize Melania is standing right next to him as he seemingly apologises for her absence.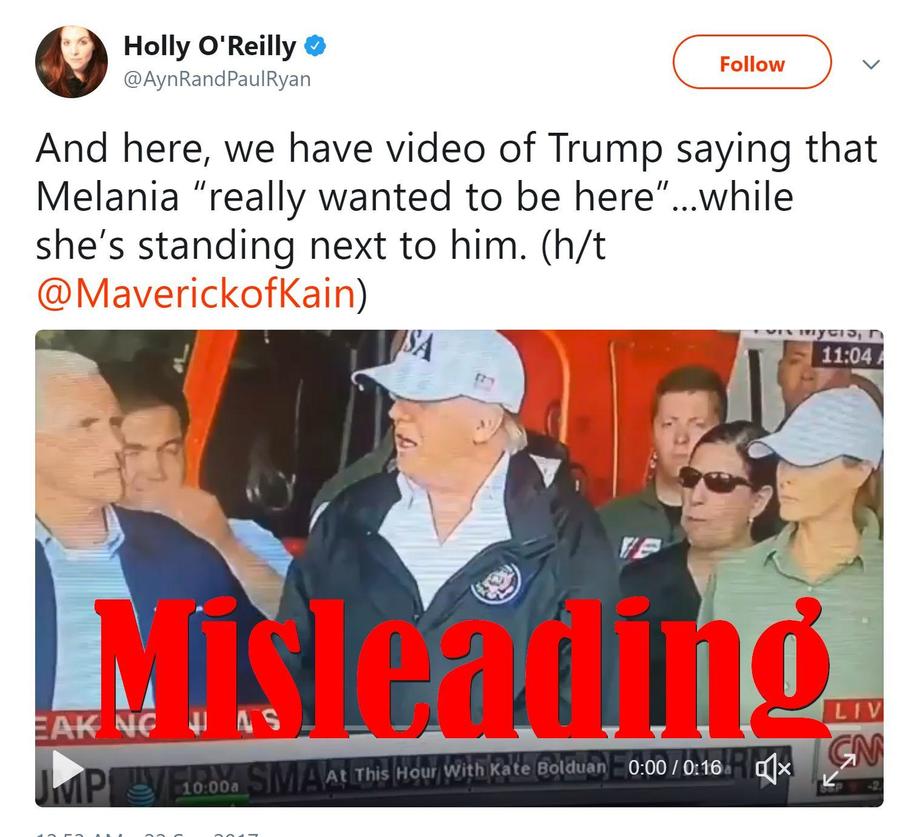 However the full clip shows something different:
Trump actually says:
...on behalf of myself, our Vice President..., Melania (really wanted to be with us). She's really... It really touched her heart what is going on and we've seen the devastation.
Trump is clearly aware she is there and is talking about himself and Melania seeing the devastation in person.
Of course, Holly O'Reilly is not exactly a neutral source either:
Hey! I wrote a little something for the .@washingtonpost about Trump blocking me on Twitter.https://t.co/yexLFmras0#WedesdayWisdom

-- Holly O'Reilly (@AynRandPaulRyan) June 7, 2017
So we are going to rate this tweet as fake news.