STORY UPDATED: check for updates below.
A website by the name of Sit Set Digital published an article titled "BREAKING: Stephen Hawking accused of sexual misconduct" (archived here and here), which opened:
A former student of the acclaimed physicist and author, Stephen Hawking, is accusing the famed scientist of sexual assault in 1994. The accuser, Gabrielle J. Kelley, who was 22 at the time of the alleged incident, claims that Hawking took advantage of her when she was a student in one of his physics lectures.

"Although it's very old, the memory still haunts me," said Kelley. "I felt so powerless for so long because Hawking is so intimidating and held in such high stature in the academic community. I felt that no one would believe me."
The article also detailed the alleged misconduct:
Hawking, as Kelley tells it, invited her to a one-on-one, after-hours study session at the professor's home. The two drank a bit and she remembers feeling very dizzy, like she was going to pass out. The next thing Gabrielle remembers, is "feeling a wheelchair rub up against my genitals. It was like mechanical violation.'

"I'll never forget the way he looked at me after," the alleged assault, she added. "He didn't even move his eyes. It was terrible."
Although there is no satire disclaimer on the article we are pretty sure the entire story is made up. It is the only article on what appears to be a site that is still very much under construction: the contact page, terms of service and 'be a contributor' pages are all returning 'not found' errors at the time of writing.
Despite that the story has gone viral after someone posted it to Reddit earlier today (with a 'parody' disclaimer).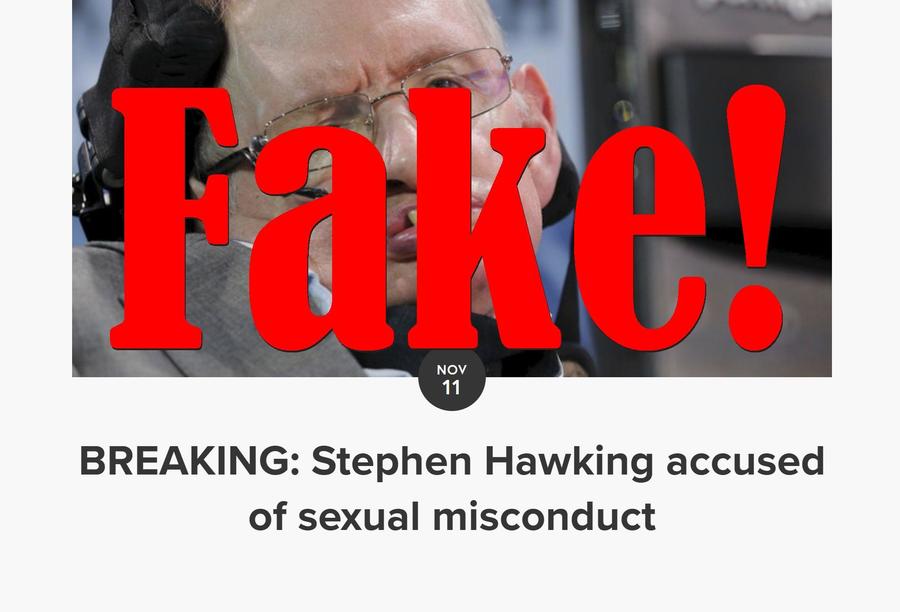 There are only two authors listed on the page, a 'stacy' that supposedly wrote the Hawking story and a 'Matthew Linn' who has no articles under his name. That name also appears in the registration records of the website:
DOMAIN INFORMATION
Domain:sitsetdigital.com
Registrar:GoDaddy.com, LLC
Registration Date:2017-08-29
Expiration Date:2022-08-29
Updated Date:2017-08-29
Status:clientDeleteProhibited
clientRenewProhibited
clientTransferProhibited
clientUpdateProhibited
Name Servers:ns15.domaincontrol.com
ns16.domaincontrol.com
REGISTRANT CONTACT
Name:Matthew Linn
We found a 'Matthew Linn' Facebook profile that lists him as "Owner/Designer" at Sit Set Digital.
We were unable to find any other reports about the story from any mainstream news source. So for now we are going to assume this was just a satirical test article on a website under construction. We have reached out to Matthew Linn for comment and will update this article if we hear more.
2017-11-12T22:01:33Z

2017-11-12T22:01:33Z

Matthew Linn responded to our request for more information and provided us with following statement:

An acquaintance from another old and abandoned project accidentally had access to the wrong site. I don't know why he wrote the story for the site he intended it for, either. I didn't hear anything about it until you asked. I do not agree with the story and don't think it's an interesting piece of satire. I don't think it was funny and it does not represent my values. Sexual assault is a serious issue that causes damage to people's lives and minimizing it in this way is not helpful to anyone. The blog article and its contributor have since been removed.

Lead Stories has received confirmation about this from the real writer of the article who claimed it was just a joke meant for a few friends and he never expected it to go viral. We have removed the screenshot of Matthew Linn's Facebook profile from the article since it is no longer relevant to the story.

2017-11-12T22:00:14Z

2017-11-12T22:00:14Z

The site in question has gone offline.