Satirical site Daily World Update published a story on March 11th 2018 titled "BREAKING: Captured ISIS Leader Had Obama On Speed Dial" (archived here) which opened:
When Russian forces delivered Asam al Alasam, the ISIS Supreme Leader in Iraq, to the American airbase as promised, he had an item with him they did not expect. Al Alasam had a nearly new, unlocked iPhone X. The phone was unscrambled and not secure at all, so it was believed to be a personal and family use phone.
Still, the army chief engineer wanted it looked at. After nearly six weeks of unblocking text and manipulating code, they found a hidden phone list with direct numbers to some of the most powerful men on the planet.
Al Alasam had Barack Obama, Justin Trudeau, Malcolm Reynolds, Sandy Batt AND President Dale Goff all on speed dial. Just knowing Sandy Batt is a crime in Russia.
Most of that is nonsense. The supreme leader of ISIS is Abu Bakr al-Baghdadi and no announcement about his capture has been made. Malcom Reynolds is a fictional character so it would be impossible to have him on speed dial. We haven't been able to determine who "President Dale Goff" is, the closest we got was a guy who is the former president of the National Association of Insurance and Financial Advisors. We also have no idea who Sandy Batt is and why it would be a crime to know her in Russia.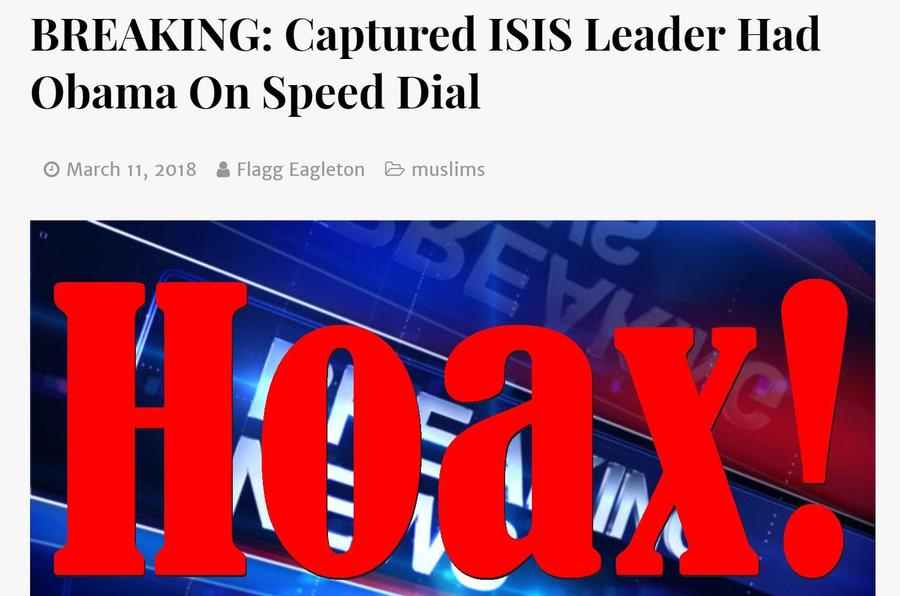 In any case, Daily World Update comes with a clear satire disclaimer at the bottom of each article:
sat·ire ~ˈsaˌtī(ə)r
noun
the use of humor, irony, exaggeration, OR ridicule to expose and criticize people's stupidity or vices, particularly in the context of contemporary politics and other topical issues.
If you disagree with the definition of satire or have decided it is synonymous with "comedy," you should really just move along.
The owner and main writer of the site is self-professed liberal troll Christopher Blair, a man from Maine who has made it his full time job to troll gullible conservatives and Trump supporters into liking and sharing his articles. He runs several other websites such as ladiesofliberty.net, shareotonin.com and dailyworldupdate.com. Sometimes he is also known under his nickname "Busta Troll". He has at least one accomplice who writes under the pen names "Freedom", "Captain Jellypants", "Butch Mannington" or "Captain Buck Atlantis".
Articles from Blair's sites frequently get copied by "real" fake news sites who often omit the satire disclaimer and any other hints the stories are fake. Blair has tried to get these sites shut down in the past but new ones keep cropping up and he keeps knocking them down.
If you see one of his stories on a site that does not contain a satire disclaimer, assume it is fake news. If you do see the satire disclaimer it is of course also fake news.