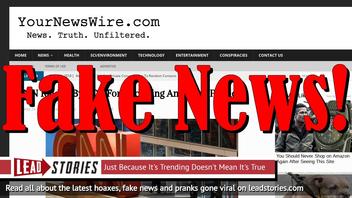 Was CNN raided by the FCC "for deceiving the American public"? No, that's not true: a website with a reputation for inventing facts blew up a single unconfirmed tweet from two days ago into "reports" of an action that the FCC doesn't even has jurisdiction for.
The story went viral via an article published by YourNewsWire on May 23, 2018 titled "CNN Raided By FCC For Deceiving American Public" (archived here) which opened:
The CNN head office in Atlanta, Georgia, was raided by Federal Communications Commission (FCC) agents Tuesday in an operation related to the "violation of press guidelines" including "publishing and promotion of blatantly false information designed to deceive the American public," according to reports.

The FCC arrived unannounced and seized documents and hard drives as part of their investigation, including all of the "source data" the network has used for their stories.

MSNBC and the Associated Press are also reported to have been raided by the FCC for violating press guidelines, including the "printing of blatant lies", the "publishing and promotion of stories which require immediate retractions while not promoting the retractions", according to a source within one of networks.
Strong claims require strong evidence. What are these "reports", you ask? Here they are:
5) My one source inside one of these networks has informed me that the FCC has arrived and has seized all kinds of document as part of their investigation, including all of the source data the networks were using for their stories.

-- Kyle (@HNIJohnMiller) May 22, 2018
A tweet from two days ago that the author hasn't even been able to confirm for himself:
So far, nothing has changed regarding what I was told, and I have every reason to trust my source. I'm basically trying to confirm the existence an enforcement action of some kind that the FCC can't talk about and CNN, AP, and presumably MSNBC won't talk about. It's a bit tough. https://t.co/WPBu3pERzQ

-- Kyle (@HNIJohnMiller) May 24, 2018
The FCC is allowed to act in cases where false content is broadcasted during news programming according to their own website:
Broadcasting false content during news programming
The FCC is prohibited by law from engaging in censorship or infringing on First Amendment rights of the press. It is, however, illegal for broadcasters to intentionally distort the news, and the FCC may act on complaints if there is documented evidence of such behavior from persons with direct personal knowledge.
But AP (Associated Press) is not a broadcaster. And do you really think CNN and MSNBC (and all their colleagues in the media) would not make a huge stink about such a raid if it happened? It would be the perfect opportunity to paint President Trump as an "enemy of the First Amendment". If you think their Stormy Daniels coverage was over the top, just imagine what wall-to-wall coverage a "direct attack on press freedom" by "Trumps FCC" would get if it really happened.
YourNewsWire has published several hoaxes and fake news articles in the past so anything they write or publish should be taken with a large grain of salt. Their Facebook page "The People's Voice" recently lost its verification checkmark according to a report from MMFA.
The Terms of Use of the site also make it clear they don't really stand behind the accuracy of any of their reporting:
THE PEOPLE'S VOICE, INC. AND/OR ITS SUPPLIERS MAKE NO REPRESENTATIONS ABOUT THE SUITABILITY, RELIABILITY, AVAILABILITY, TIMELINESS, AND ACCURACY OF THE INFORMATION, SOFTWARE, PRODUCTS, SERVICES AND RELATED GRAPHICS CONTAINED ON THE SITE FOR ANY PURPOSE.
The site was profiled in the Hollywood reporter where it was described as:
Your News Wire, a 3-year-old website of murky facts and slippery spin, is published by Sean Adl-Tabatabai and Sinclair Treadway -- a Bernie Sanders supporter in 2016 -- out of an apartment in L.A.'s historic El Royale.
RationalWiki described it as:
YourNewsWire (styled as YourNewsWire.com[1]) is an Los Angeles-based clickbait fake news website known for disseminating conspiracy theories and misleading information, contrary to its claimed motto ("News. Truth. Unfiltered").[1]
A while ago we also reported that YourNewsWire had rebranded itself as NewsPunch by changing its domain name in an apparent effort to evade filtering/blocking. It appears the site has changed back to it's old name in the mean time but you can still see the NewsPunch name in the contact email address in the footer.
We wrote about yournewswire.com before, here are our most recent articles that mention the site: