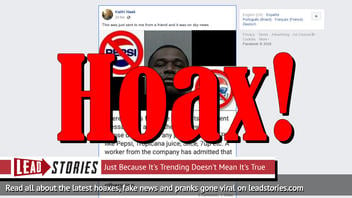 Did police issue an urgent message warning that "for the next few weeks" you should not to drink any Pepsi products, including Tropicana juice, Slice, and 7Up because a Pepsi worker admitted he added his blood contaminated with AIDS? No, this is not true: It is a false warning that has circulated through social media since at least 2011. And even if blood with HIV was placed into the drinks at a factory, CDC guidance shows it would not e a health threat.
A recent version of the false claim is a post (archived here) shared on May 15, 2019 under the title "This was just sent to me from a friend and it was on sky news". It read:
There's news from the police. Its an urgent message for all. For the next few weeks please do not drink any product from PEPSI like Pepsi, Tropicana juice, Slice, 7up etc. A worker from the company has admitted that he added his blood contaminated with AIDS. Watch MDTV. It was shown on Sky News. Please forward and warn others too.
This is what social media users saw:
The exact wording is seen in posts debunked in 2011 by Snopes. It does not specify what police agency issued the warning or what area of the world the factory was in.
Here are other recent versions of the meme:
While HIV and AIDS is a scary health threat, it's transmission is limited. The U.S. Centers for Disease Control and Prevention advise HIV is not transmitted through food. Click here to see the full guidelines:
Can I get HIV from food?

You can't get HIV from consuming food handled by someone with HIV. Even if the food contained small amounts of HIV-infected blood or semen, exposure to the air, heat from cooking, and stomach acid would destroy the virus.

Though it is very rare, HIV can be spread by eating food that has been pre-chewed by someone with HIV. The contamination occurs when infected blood from a caregiver's mouth mixes with food while chewing. The only known cases are among infants.
While social media users may think they are doing their friends a favor by sharing such health warnings, they don't do them a favor if they click "share" without first checking them out.