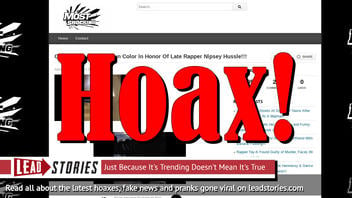 Did Crayola rename a crayon color in honor of slain rapper Nipsey Hussle? No, that's not true: It is a hoax published by a website known for its questionable reporting. The crayon maker denied it was changing its blue crayon from "Bluetiful" to "Nipsey Blue."
The story originated from an article (archived here) where it was published by GenoBreaker.com on April 29, 2019 under the title "Crayola Renames Crayon Color in Honor Of Late Rapper Nipsey Hussle". It opened:
Around two years ago, Crayola asked for help in deciding a name for its newest blue crayon. Initially 'Bluetiful' was chosen but after thousands of tweets from fans around the world, 'Nipsey Blue' will replace the previously chosen name.

Several people have proposed Nipsey related ideas such as "The Marathon Continues, 60's Blue, Blue Laces & Marathon Blue.

NBA star LeBron James has also co-signed the name change to "Nipsey Blue" in dedication to the California Rapper.
This is what social media users saw:
This is the image of the purported new crayon: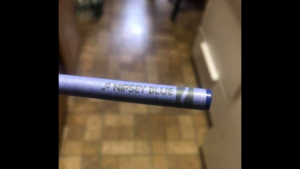 The false story of the mythical crayon was published four days after NBA star LeBron James floated the idea in a tweet posted on April 25, 2019.
Nipsey Blue 💙

-- LeBron James (@KingJames) April 25, 2019
Crayola eventually chose "Bluetiful" as the name and announced it in September 2017: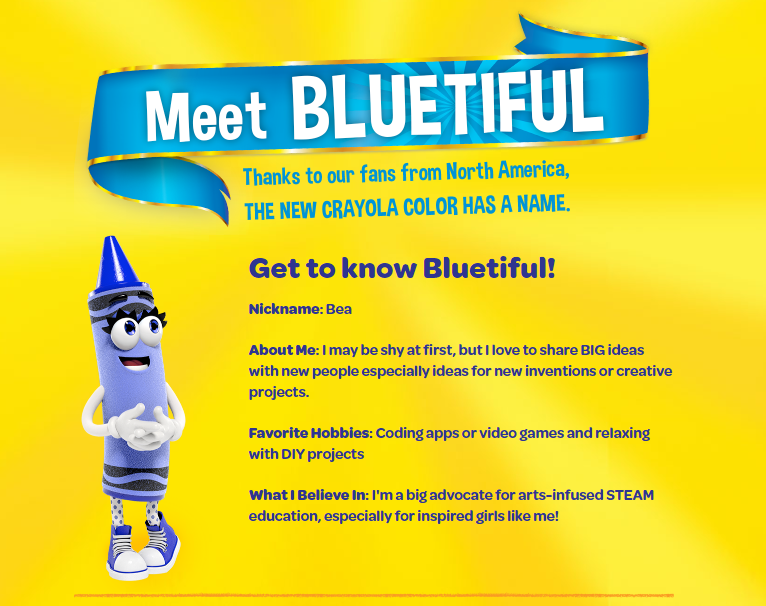 This false claim was also debunked by the fact checkers at AFP in a story titled "'We do not make a box of crayons that contains a Nipsey Blue colored crayon': Crayola" published on June 17, 2019. AFP got a statement from Crayola in which the company explained that the image of the "Nipsey Blue" crayon was created by a visitor to its Crayola Experience website and was never actually produced by the company.
"The photo circulating on social media is a crayon that was made by a visitor at one of our Crayola Experience locations in the United States," said a Crayola spokesperson via Facebook Messenger.

Crayola says the attraction allows a visitor to personalize and print an authentic Crayola crayon label, and then wrap it onto a crayon.

"We do not make a box of crayons that contains a Nipsey Blue colored crayon."
Nipsey Hussle was killed in front of his clothing store in south Los Angeles on March 31, 2019. A Los Angeles man has been charged with his murder. His name is associated with the color blue since he joined a subgroup of the Crips gang when he was 14. Blue is a color associated with the Crips.
We wrote about genobreaker.com before, here are our most recent articles that mention the site: