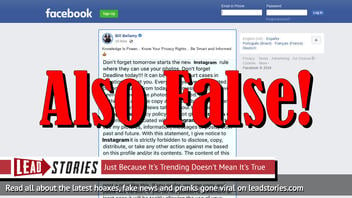 Do you need to post a status update with some legal gibberish on your Instagram feed to prevent the Facebook (the company that owns Instagram) from using your pictures, information, messages or posts? No, that's not true: what Facebook can do with your information is stipulated in the Terms of Use every Instagram user has to agree to in order to use the service. Unilaterally posting a message on your feed does not change anything about that.
A recent example of the message can be seen in the picture in this Facebook post (archived here) where it was published today:
Don't forget tomorrow starts the new Instagram rule where they can use your photos. Don't forget Deadline today!!! It can be used in court cases in litigation against you. Everything you've ever posted becomes public from today Even messages that have been deleted or the photos not allowed. It costs nothing for a simple copy and paste, better safe than sorry. Channel 13 News talked about the change in Instagram's privacy policy. I do not give Instagram or any entities associated with Instagram permission to use my pictures, information, messages or posts, both past and future. With this statement, I give notice to Instagram it is strictly forbidden to disclose, copy, distribute, or take any other action against me based on this profile and/or its contents. The content of this profile is private and confidential information. The violation of privacy can be punished by law (UCC 1-308- 1 1 308-103 and the Rome Statute). NOTE: Instagram is now a public entity. All members must post a note like this. If you prefer, you can copy and paste this version. If you do not publish a statement at least once it will be tacitly allowing the use of your photos, as well as the information contained in the profile status updates. INSTAGRAM DOES NOT HAVE PERMISSION TO SHARE PHOTOS OR MESSAGES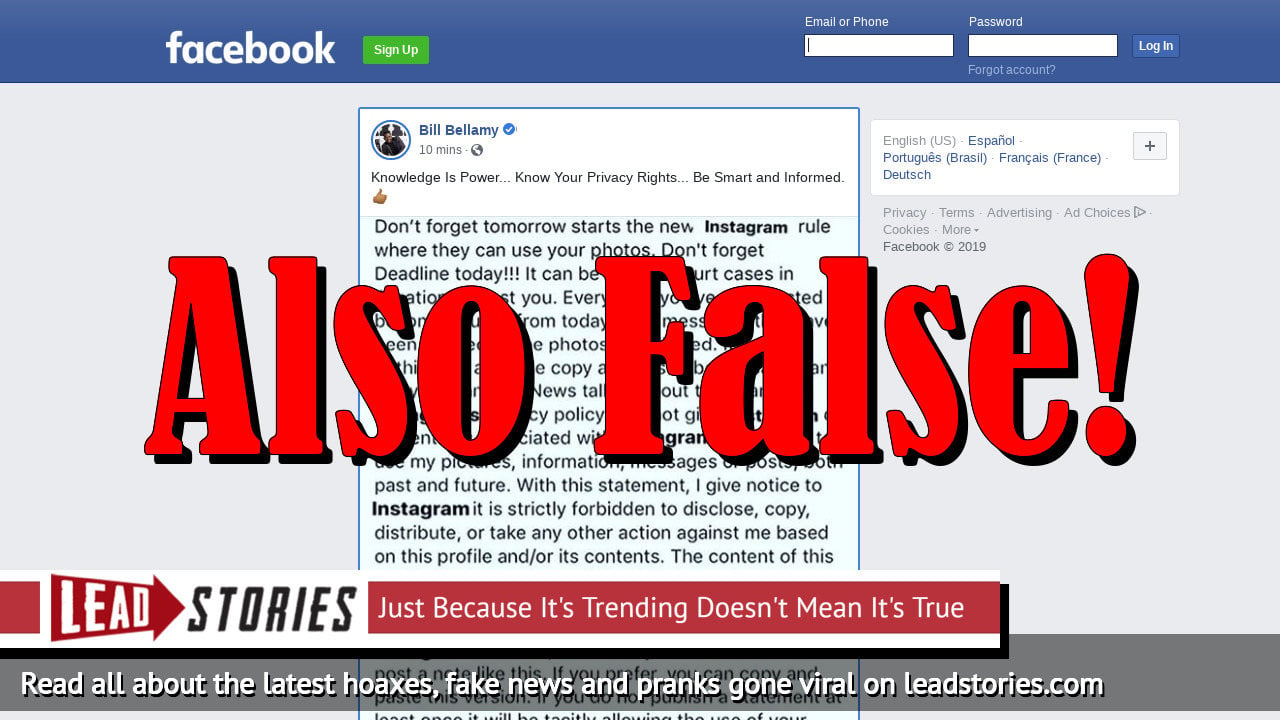 Here is an example of the image typically appearing in such posts: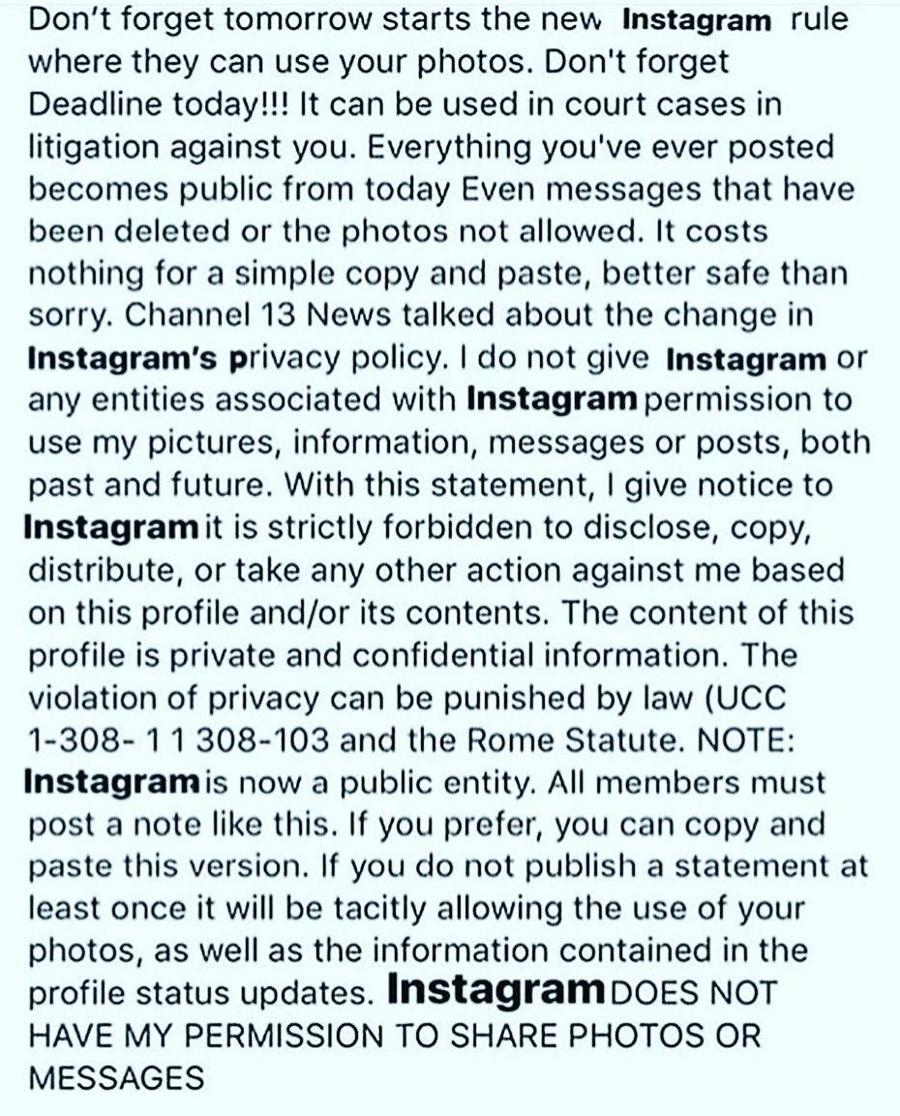 Essentially the exact same text has been circulating on Facebook for years but with the word "Facebook" instead of "Instagram". That text is also a hoax as we wrote only a few days ago:
Do you need to post a status update with some legal gibberish on your Facebook wall to prevent the company from using your pictures, information, messages or posts? No, that's not true: what Facebook can do with your information is stipulated in the Terms of Use every Facebook user has to agree to in order to use the service.
As we pointed out in that article too, It is very questionable legal theory that you can change the terms of an agreement by unilaterally posting something on a website. If you believe that such things are possible, please read the text below and send me $100!
Lead Stories is a Colorado-based LLC or entity. By reading this website you agree to pay the sum of $100 to the author of this article. Copyright violations are punishable by law. Do not modify this notice and keep it away from open flames. This legal disclaimer contains traces of satire and/or sarcasm.