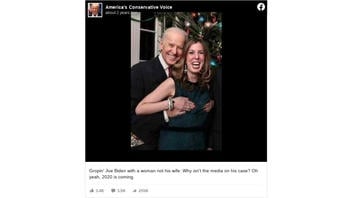 Did former Vice President Joe Biden grope a woman's breasts in a 2013 photo they took at a Christmas gathering? No, that's not true: The image of Biden supposedly "groping" a female reporter's breasts was doctored. The presumptive Democratic nominee for president was not touching her chest in the actual photo, but rather he had his hands on her waist.
The altered photo, which has been making the rounds again, seems to have originated in a post (archived here) on America's Conservative Voice's Facebook page on November 12, 2017, under the title "Gropin' Joe Biden with a woman not his wife." It opened:
Gropin' Joe Biden with a woman not his wife. Why isn't the media on his case? Oh yeah, 2020 is coming."
This is what the post looked like on Facebook at the time of writing:
The digitally altered photo first appeared in 2017 and, since then, it has earned 255,000 shares. Now, it has resurfaced, again going viral after Bernie Sanders dropped his bid for the Democratic nod for president, leaving Biden as the presumptive nominee to take on Donald Trump in the general election.
A new photo with Biden's campaign logo on the picture has been circulating as his campaign has ramped up. In it, Biden appears to have both hands on the woman's chest with her hands are on top of his. They are standing in front of a Christmas tree and both are smiling:
However, the original photo does not show Biden groping the woman's breasts. Politifact, for one, debunked the claim, noting the actual photo was nearly seven years old - from a 2013 holiday party with Biden's hands on the waist of Amie Parnes, The Hill's White House correspondent: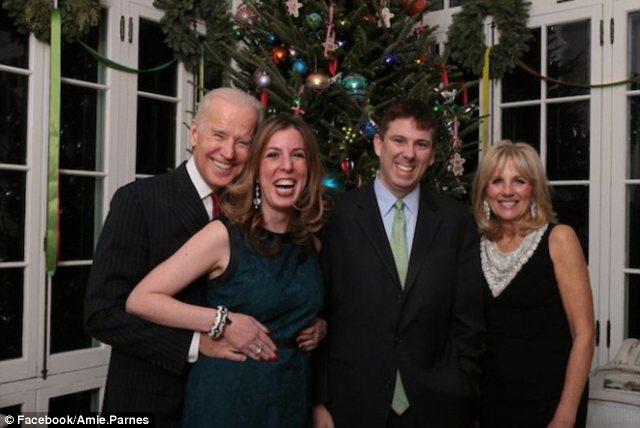 At the time, Biden was criticized for having his hands around Parnes' waist.
The Daily Caller, for its part, ran the image in a story on December 16, 2013, with the headline, "Vice President Joe Biden gropes White House reporter". At the time, the story read:
Sure, he likely didn't mean anything overtly sexual by it. But Vice President Joe Biden is a folksy kind of guy who has officially entered dirty old man territory and done something sure to elicit laughs within the White House Press Corps. Look how he's manhandling The Hill's White House Correspondent Amie Parnes for this photograph taken at a recent holiday party that she posted on her Facebook page. For most people's tastes he's grazing way too close to the vicinity of her abdomen. And watch her reaction. Is it shock, awe, utter disbelief? Whatever the expression, she appeared to roll with it with her hands firmly in control of his at least until the shot was over. If we were to guess her words we'd wager, "OH F-K SO THIS IS REALLY HAPPENING."