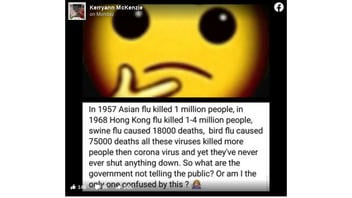 Did the Asian flu, Hong Kong flu, swine flu and bird flu each kill more people than the coronavirus we face today? And did the government "never ever shut down anything," suggesting that there is something officials aren't telling the public? No, these claims are misleading: The numbers and information shared in a circulating meme (a) aren't entirely accurate and (b) don't tell a full and fair story.
These claims have appeared on social media, for example in this Facebook post (archived here) published by Keryann McKenzie on April 6, 2020.
This is how the meme she shared reads:
In 1957 Asian flu killed 1 million people, in 1968 Hong Kong flu killed 1-4 million people, swine flu caused 18000 deaths, bird flu caused 75000 deaths all these viruses killed more people than corona virus and yet they've never ever shut anything down. So what are the government not telling the public? Or am I the only one confused by this?
This is what the post looked like on Facebook at the time of writing:
The information contained in this meme is misleading on a few fronts.
Let's start by looking at the referenced pandemics and the numbers:
Even if all the numbers included in the meme were accurate, there is no truth to the claim that each of the listed viruses have "killed more than corona virus." At the time of this story's publication, about 95,000 deaths across the globe have been a result of COVID-19, according to the Coronavirus Resource Center at Johns Hopkins University.
Lastly, in response to the suggestion that the government has "never ever shut anything down" in response to pandemics, that's not true.
In its report on responses to the 2009 pandemic, the CDC said:
As the outbreak spread, CDC began receiving reports of school closures and implementation of community-level social distancing measures meant to slow the spread of disease. School administrators and public health officials were following their pandemic plans and doing everything they could to slow the spread of illness.
Much earlier, even, governments took action to stem viruses.
The National Academies of Sciences, Engineering, and Medicine included some history in an article published on April 3, 2020. The author wrote:
During the 1918 flu pandemic (known as the Spanish flu), many U.S. cities used the same social distancing strategies that are currently in place. Generally, the earlier these cities implemented social distancing measures, the more effective they were; evidence shows that they were able to delay the peak of deaths and the death toll overall.
The Los Angeles Times dug into its archives recently to show what happened in LA during that time, saying, "city officials banned public gatherings, shut down entertainment venues and closed schools. Infections spread nonetheless, and leaders asked Angelenos to take more drastic measures -- staying inside and using their phones to buy groceries and necessities -- in a desperate attempt to keep people safe."
Salt Lake City shut down public gathering places in response to the 1918 Spanish flu pandemic. Residents of Dallas were also warned to avoid crowds and some were placed in quarantine. And when Philadelphia refused to cancel a parade, the city paid with thousands of lives.
Lead Stories could not confirm what government shutdowns were put in place for the pandemics listed in the circulating meme, but it's clear that talk about social distancing is not new.
Recommendations were issued by WHO in 2009, during the swine flu, which included social distancing and the avoidance of public gatherings. A medical journal article from 2007 looked at the spread of a couple viruses, including the Asian flu, and determined "that community-based countermeasures (eg, area quarantine and social distancing) may play key roles in influenza interventions."