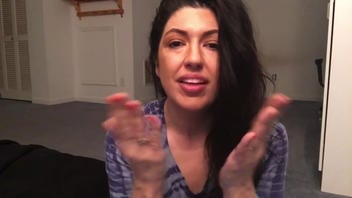 Can the drug Diamox, often used as treatment for high-altitude sickness, cure coronavirus? No, that's not true: COVID-19 cannot be cured using the same drug that is often used to treat high-altitude sickness. A viral video raked up more than 4 million views with a woman making the claim that the drug acetazolamide (Diamox) can cure coronavirus. Doctors and experts in the field of high-altitude pulmonary edema (HAPE) have spoken out since the video went viral to shoot down the claim.
It appeared as a video (archived here) put on YouTube on April 14, 2020, titled "Did she find the missing link for a Cornonavirus treatment? Her brain fluid leak led her right to it!"
Click below to watch the video on YouTube:
The video has 4,184,649 views as of April 24, 2020, and she told her almost 10,000 YouTube subscribers "this video is in regards to a treatment for the coronavirus."
Ava Green claimed that an injury she had suffered -- a brain fluid leak -- led her to think about the medication with which she was treated. Green said she had been prescribed acetazolamide, or Diamox, and said she "realized" it could be used to treat coronavirus patients.
She said on the video that she previously had been treated for the brain-fluid leak, which caused low- and high-pressure headaches. For the high-pressure headaches, she said, Green was treated with Diamox.
She said in the video that a light then went off, and she began to use Google to research what she believed would be a connection between Diamox and treating the coronavirus after learning about an interview with Dr. Cameron Kyle-Sidell. In the interview, Kyle-Sidell -- a physician trained in emergency medicine and critical care at Maimonides Medical Center in Brooklyn -- spoke about the parallels being similar between high-altitude sickness and coronavirus.
He was interviewed by John Whyte, MD, MPH, the chief medical officer for WebMD on April 6, 2020. Here is that interview:
In this video, the two doctors discussed the intracacies of treating coronavirus patients, and Kyle-Sidell expressed his concern that ventilators were not effectively helping people diagnosed with COVID-19.
Whyte asked Kyle-Sidell, "This is more like a high-altitude sickness. Is that right?" Kyle-Sidell replied "Yes."
Green, in her video, said she needed "some type of medical something" to prove her hunch about Diamox, and then she cited an article published on Cureus.com referencing Acetazolamide. The article is titled: Acetazolamide, Nifedipine and Phosphodiesterase Inhibitors: Rationale for Their Utilization as Adjunctive Countermeasures in the Treatment of Coronavirus Disease 2019 (COVID-19). It reads, in part:
Effective treatments for Coronavirus Disease 2019 (COVID-19) outbreak are urgently needed. While anti-viral approaches and vaccines are being considered immediate countermeasures are unavailable. The aim of this article is to outline a perspective on the pathophysiology of COVID-19 in the context of the currently available clinical data published in the literature. This article appreciates clinical data published on COVID-19 in the context of another respiratory illness - high altitude pulmonary edema (HAPE). Both conditions have significant similarities that portend pathophysiologic trajectories. Following this potential treatment options emerge.
"Can we just do something with this information and share it?" Green asked on the video.
As Green's claim went viral, doctors started warning that this is not a valid treatment for the coronavirus and explained why the HAPE treatment was not suitable for COVID-19. MDedge.com, for example, published an article on April 21, 2020, with the headline "Doctors push back on treating COVID-19 as HAPE."
Dr. Luanne Freer -- an expert in high-altitude pulmonary edema (HAPE) and founder and director of Everest ER, a nonprofit seasonal clinic at the Mt. Everest base camp in Nepal -- directly knocked down any "similarities" between HAPE and the coronavirus.
My goodness, they are so completely different."
Freer then added:
With COVID, we don't understand everything that's going on, but we know for sure it's an inflammatory process - not a pressure-related problem. I thought ... this could be so dangerous to load the medicines that we use when we're treating HAPE onto patients with COVID-19."
Freer reached out to pulmonary intensivists with experience treating both HAPE and COVID-19 their reactions were published in High Altitude Medicine & Biology on April 13, 2020, even as the YouTube video continued to gain viewers.
"COVID-19 Lung Injury is Not High Altitude Pulmonary Edema," by doctors Andrew M. Luks, Luanne Freer, Colin K. Grissom, Scott E. McIntosh, Robert B. Schoene, Erik R. Swenson, and Peter H. Hackett addressed the claims. The doctors wrote, "we feel it important to correct this misconception."
As a group of physicians who have in some cases cared for patients with COVID-19 and in all cases cared for patients with HAPE and studied its pathophysiology and management, we feel it important to correct this misconception, as continued amplification of this message could have adverse effects on management of these patients," they wrote.

Understanding the distinction between the pathophysiological mechanisms of these entities is critical for patient management. In most patients, HAPE can be treated with supplemental oxygen alone or descent to lower elevation when supplemental oxygen is not available. Raising the alveolar PO2 decreases pulmonary artery pressure, leading to resolution of the alveolar and interstitial edema and complete recovery within hours to a few days. In contrast, supplemental oxygen may improve hypoxemia in COVID-19 but will not resolve the underlying inflammation or lung injury. Only good supportive care including mechanical ventilation, quite often for long periods of time, allows some patients to survive until their disease resolves.

HAPE, is a "fundamentally different phenomenon than what is seen in COVID-19-related ARDS, which involves viral-mediated inflammatory responses as the primary pathophysiological mechanism," the article insisted.

According to the Centers for Disease Control and Prevention, there is not now a cure for the coronavirus, and there is currently no vaccine to prevent the disease, COVID-19.