STORY UPDATED: check for updates below.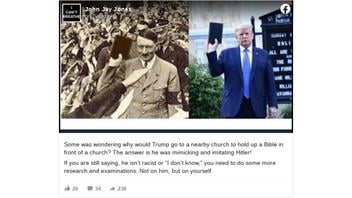 Is President Trump holding a Bible in his right hand imitating an image of Nazi leader Adolf Hitler posing with a Bible? No, that's not true: The photo of Hitler was digitally altered to add a Bible in his right hand. The original image showed Hitler holding his right hand up, as if waving, in front of supporters giving the Nazi salute. The photo of Trump posing with a Bible in front of St. John's Episcopal Church in Washington, D.C., is real.
The claim appeared in a post (archived here) shared Facebook on June 2, 2020. The text above the photo read:
Some was wondering why would Trump go to a nearby church to hold up a Bible in front of a church? The answer is he was mimicking and imitating Hitler!

If you are still saying, he isn't racist or "I don't know," you need to do some more research and examinations. Not on him, but on yourself.
This is what the post looked like on Facebook at the time of writing: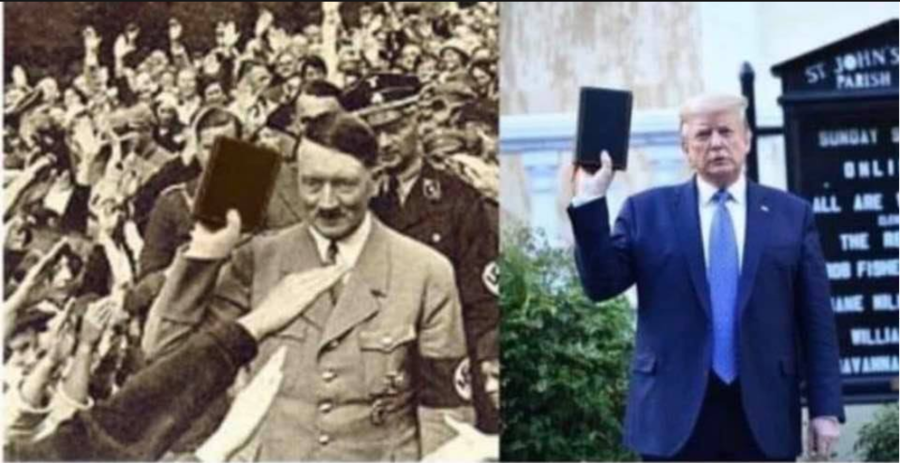 (Source: Facebook screenshot taken on Wed Jun 3 12:57:56 2020 UTC)
The image of Hitler is digitally altered for the Facebook post. Here is the original pose by the Geman leader before and during World War II: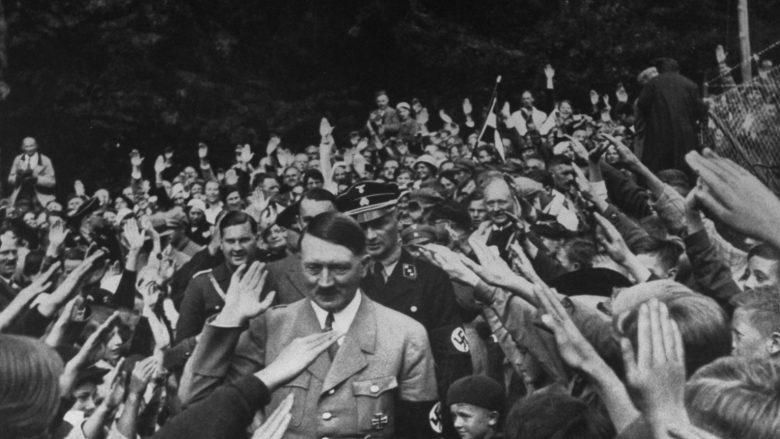 The image, an Alamy stock photo, is dated and datelined: Adolf Hitler at Obersalzberg, ca. 1935.
Responders to the Facebook post pointed out the inaccuracy of the Hitler image, sharing the real Hitler photo.
Regardless, the Trump image is accurate.
On June 1, after police dispersed protesters denouncing racist policing and police killings in the wake of George Floyd's death, Trump walked up to the church parish house, held up a Bible in his right hand before walking away.
The church was partially boarded after a small fire that broke out amid the protests over Floyd's death -- which has sparked international outrage and resulted in murder charges against the officer who was captured on video with his knee pressed to Floyd's neck before he died. Two autopsies have declared the death a homicide, and the officer, Derek Chauvin, has been charged with third-degree murder.
The president's photo op drew immediate and immense criticism from both parties and across the media spectrum, who slammed Trump for a political stunt amid a national crisis. NBC News put the event this way:
WASHINGTON -- Lawmakers and religious leaders -- including the bishop of the Episcopal Diocese of Washington -- voiced outrage after police used tear gas against peaceful protesters outside the White House before President Donald Trump's photo op at nearby St. John's Episcopal Church on Monday evening.

Bishop Mariann Budde said Tuesday that Trump held up the Bible in front of St. John's "as if it were a prop or an extension of his military and authoritarian position."

Budde, in an interview with Craig Melvin on NBC's "TODAY" show, said that what Trump did in front of the church she oversees "was an abuse of the spiritual tools and symbols of our traditions and of our sacred space."

"He didn't come to church to pray, he didn't come to church to offer condolences to those who are grieving," she said. "He didn't come to commit to healing our nation, all the things that we would expect and long for from the highest leader in the land."
Here is a video of the event from NBC's Today show:
So, again, the Trump picture in the post is accurate. But the Hitler photo is fabricated. It never happened. It has already been called out by BuzzFeed and Politifact.
2020-06-03T17:27:10Z

2020-06-03T17:27:10Z

Update 1:30pET June 3, 2020: revised headline.