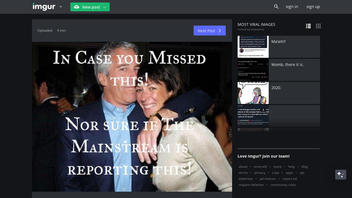 Were a long list of politicians indicted, sued, fired, or disgraced for sex offenses as documents relating to a defamation lawsuit against accused sex trafficker Ghislaine Maxwell were unsealed by a judge? No, that's not true: The list includes allegations reaching back nearly 100 years and none from 2020. None of the 87 people on the list are connection to Maxwell or her late partner Jeffrey Epstein. All of the allegations have been covered by the mainstream media at the time.
The claims appeared in a post (archived here) shared on Facebook on August 3, 2020. It featured a photo of deceased accused sex trafficker Jeffrey Epstein and his longtime partner Ghislaine Maxwell, with a message that read "In Case you Missed THIS! Nor sure if The Mainstream is reporting this!" Above the meme was a long text post that opened:
IN CASE YOU MISSED: Update:
#GiselleMaxwellslist became unsealed some time yesterday and here's what's been happening while you all were distracted by bullshit.
This is what the post looked like on Facebook at the time of writing:
(Source: Facebook screenshot taken on Thu Aug 6 16:52:03 2020 UTC)
First, what documents were unsealed relating to Maxwell in July 2020? It included 47 documents related to a defamation lawsuit filed by an Epstein victim in 2015. NPR reported this on July 31, 2020:
A federal judge has unsealed hundreds of pages of deposition transcripts and other documents related to a now-settled defamation suit brought against Ghislaine Maxwell, who is accused of helping the late Jeffrey Epstein run a sex trafficking operation that catered to rich and powerful men.

The 47 documents include a deposition given by Epstein accuser Virginia Roberts Giuffre, the draft of a memoir she was writing about her experiences inside the sex-trafficking ring, and previously unseen email exchanges between Maxwell and Epstein.

A centerpiece of the documents remains sealed: Maxwell's own deposition transcripts from 2016. U.S. District Judge Loretta Preska granted a stay on those records and a transcript from "John Doe 1" until Monday to give Maxwell's defense team time to seek a stay in appellate court.
The documents have nothing to do with the Strom Thurmond, the U.S. senator from South Carolina who died at the age of 100 in 2002. Yet, this post claims Thurmond's fathering of a daughter with the 15-year-old Black domestic servant in his parents' home when he was 22 in 1925 was part of "what's been happening" in the first 24 hours after the Maxwell court papers became public:
Republican Senator Strom Thurmond, a notable racist, had sex with a 15-year old black girl which produced a child.
This was widely reported by the U.S. news media in 2003, and it was not just revealed by the Maxwell court papers. Another odd entry on the list of purported sex crimes revealed by the Maxwell court papers was the arrest of film director Roman Polanski for the rape of a under-age teen in Los Angeles in 1977:
Democratic activist, donor, and director, Roman Polanski, fled the country after pleading guilty to statutory rape of a 13-year-old girl. Democrats and Hollywood actors still defend him to this day, including, Whoopi Goldberg, Martin Scorcese, Woody Allen, David Lynch, Wim Wenders, Pedro Almodovar, Tilda Swinton and Monica Bellucci.
Again, this case was decades old, widely reported and had no connection to the Maxwell papers. Also on the list is Gerry Studds, who died in 2006. His sex offense happened in 1983 and was not revealed in the Maxwell court docs:
Democratic Massachusetts Congressman, Gerry Studds, was censured by the House of Representatives after he admitted to an inappropriate relationship with a 17-year-old.
The only name on the post's list of 87 offenders connected to Maxwell and mentioned in the documents is Epstein:
Democratic donor and billionaire, Jeffrey Epstein, ran an underage child sex brothel and was convicted of soliciting underage girls for prostitution.
Of course, the Epstein case has been widely reported, contary to the post claims.
Again, none of the names listed in the post were recent or connected to Maxwell or the unsealed documents.
This same list has been circulating for years, copied and pasted into posts, emails and articles for various claims. It was included in one Lead Stories recently debunked in an article titled Fact Check: 409,152 Non-Sealed Indictments For 'Child Pedophilia' And Trafficking Offenses NOT 'Coming To The Surface'.