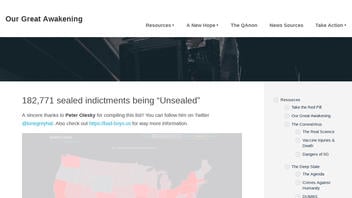 Were 409,152 indictments for "child pedophilia" and trafficking offenses "coming to the surface" in July, 2020? No, that's not true: This claim is unsupported by facts. Much of evidence presented by a website that promotes QAnon conspiracy theories involves non-criminal cases -- not indictments -- including some that are decades old. A database that purportedly lists the "non-sealed" indictments is simply an index of thousands of federal cases from recent years downloaded from the public PACER system, the vast majority not involving child sex or trafficking charges. The article also claimed 182,771 child sex and trafficking indictments remained sealed and another 21,381 were recently unsealed, which is unsupported by evidence.
The claim appeared in an article published by OurGreatAwakening.org on July 27, 2020 titled "182,771 sealed indictments being 'Unsealed'" (archived here) which opened:
As of today, there are 182,771 sealed, 21,381 unsealed, and 409,152 non-sealed indictments for child pedophilia and trafficking offenses. This is only the beginning.
Users on social media only saw this title, description and thumbnail:
There are 182,771 Sealed, 21,381 Unsealed, and 409,152 Non-sealed Indictments that are all coming to the surface. Where we go one, we go all.
This is a screenshot of the top section of the webpage: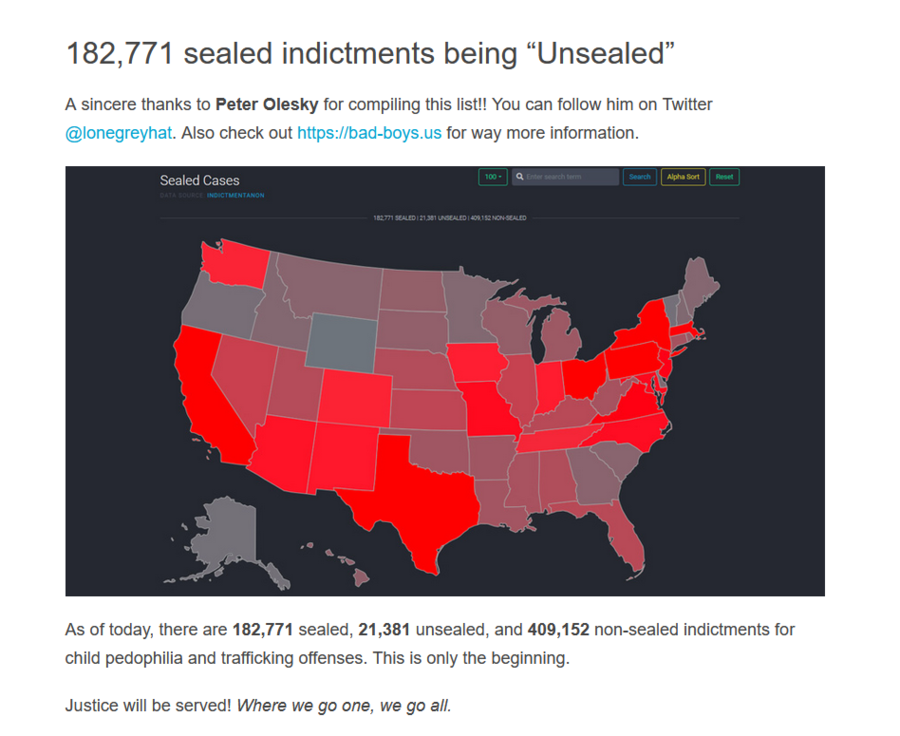 Note that it credits another website for the list of the sealed, unsealed, and non-sealed indictments. Lead Stories dug into that data and found that there was no indication most -- or even many -- of the indictments related to child sex trafficking charges. Or that the data was just now becoming public. In fact, the index was something anyone can downloaded from the U.S. Courts PACER service system.
To show how this index is not about pedophiles or human traffickers, we randomly selected one case on this page, USA vs. Keith Ralph Garcia, filed in January 2018: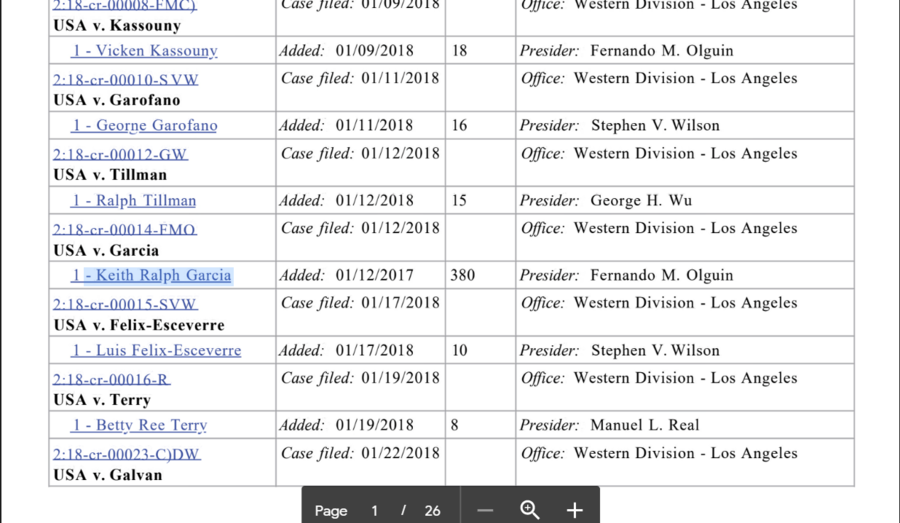 Garcia's case involved a charge that he illegally boarded a Turkish Airline jet without a ticket at Los Angeles International Airport in December 2017.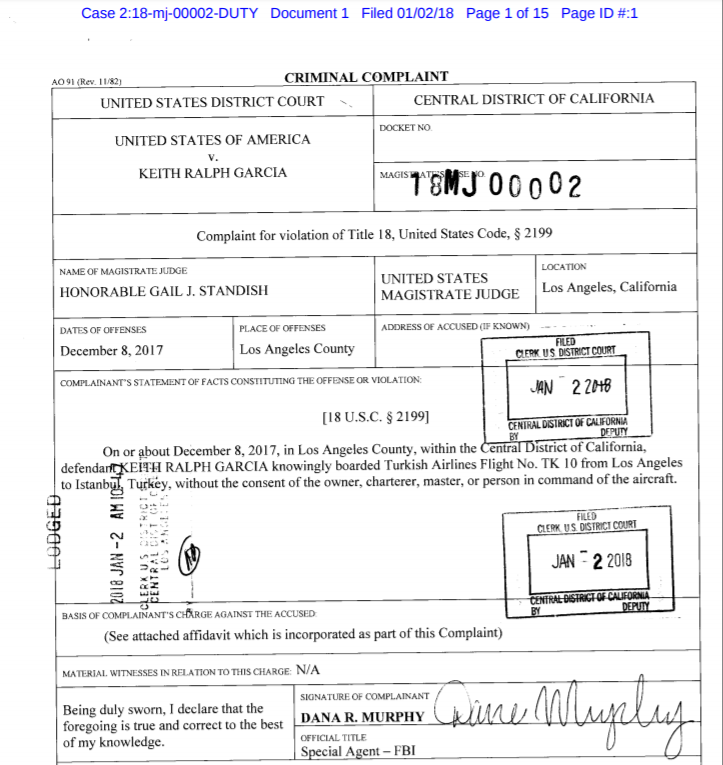 This case, and the vast majority of those in the index, are not related to pedophilia or human trafficking charge.
The page also includes a list of 87 names of politicians, officer holders, and "activists" who have been accused of sexual misconduct. The positioning of the list implies that these some of the cases were "just unsealed" or "coming to the surface" involving pedophile or trafficking charges. The list however includes mostly old cases -- one dating back 95 years and many decades old. Many of them do not involve child sex or trafficking charges. Very few of the cases were brought in the past three years. The list appears to have been taken from lists that have circulated in online forums for several years.
The claim that federal prosecutors are now making hundreds of thousands of arrests addresses one of the core beliefs of QAnon -- that President Donald Trump is engaged in a secret war to destroy a global child kidnapping and pedophilia network protected by the Deep State for the benefit of the wealthy, famous and powerful elite.
The FBI identified the QAnon conspiracy theories as a domestic terrorist threat, according to a Yahoo News report on an FBI document it obtained in August 2019:
"The FBI assesses these conspiracy theories very likely will emerge, spread, and evolve in the modern information marketplace, occasionally driving both groups and individual extremists to carry out criminal or violent acts," the document states. It also goes on to say the FBI believes conspiracy theory-driven extremists are likely to increase during the 2020 presidential election cycle.
Lead Stories has debunked several false conspiracy claims concerning child sex trafficking, including:
Fact Check: Maps Of 'Human Trafficking Hot Spots' And 'China Virus Hot Spots' Do Not Have A Connection
Fact Check: No Evidence Wayfair Is Selling Human Trafficked Children On Their Website With Very Expensive Cabinets
Fact Check: 'Thousands Upon Thousands' Of Children Purportedly Kidnapped By A Satanic Pedophile Ring Have NOT Been 'Pulled From Underground Bunkers'
Fake News: IG Report Did NOT Say Hillary Clinton Committed 'Sexual Crimes Against Children' And That Barack Obama Covered Up Those Crimes
Fake News: CIA Agent Does NOT Blow Whistle, Does NOT Say 'We Supply Elite Pedophiles With Children'
Here are some of the debunk articles published by Lead Stories concerning QAnon claims:
Fact Check: Adrenochrome Is NOT Obtained From Adrenal Glands Of Living Children Or Used In Satanic Rituals By The Elite
Fact Check: That Was NOT JFK Jr. Spotted At July 3, 2020, Mount Rushmore Celebration
Fact Check: Tom Hanks, Others NOT Arrested For Pedophilia Or Other Crimes in QAnon Conspiracy
Fake News: State Of The Union Guests Were NOT Wearing "Q" Flag Pins
Fake News: FBI Intelligence Bulletin Was NOT Falsified
Fake News: President Trump Did NOT Reveal He Is In Fact
Fake News: JFK Jr. Is NOT Alive And Will Not Replace Vice President Pence as Donald Trump's 2020 Running Mate
Fake News: Blackouts In Major Cities Are NOT Likely White Hat EMP Attacks In Wake Of Epstein Arrest