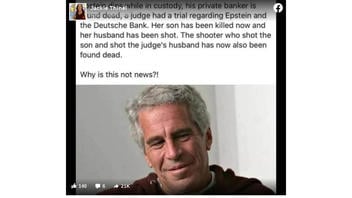 Was Jeffrey Epstein's private banker found dead and was the son of a judge handling a case related to Epstein murdered by a shooter who was later found dead? Most of this is not true, but the part that is lacks key facts that give it context: Former Deutsche Bank executive Thomas Bowers was found dead at his Malibu, California, home on November 19, 2019, but it was ruled a suicide and Bowers was never Epstein's personal banker. A federal judge's son was shot to death days after she was assigned a case involving a lawsuit against Deutsche Bank that had a connection to the deceased Epstein, but investigators say the killing was revenge against the judge for another case. The killer then killed himself.
The claim appeared in a meme in a post (archived here) shared on Facebook on September 2, 2020. It read:
Epstein dies while in custody, his private banker is found dead, a judge has a trial regarding Epstein and the Deutsche Bank. Her son has been killed now and her husband has been shot. The shooter who shot the son and shot the judge's husband has now also been found dead. Why is this not news?!
This is what the post looked like on Facebook at the time of writing:
(Source: Facebook screenshot taken on Wed Sep 16 15:06:06 2020 UTC)
Thomas Bowers, who worked at two large banks over recent decades, committed suicide by hanging at his Malibu, California, home on November 19, 2019, according to the Los Angeles County coroner's office. Lead Stories debunk the claim in December 2019 that Bower's death was "fishy" and related to Epstein. Our article was titled: Fake News: Jeffrey Epstein Saga Does NOT Get Fishier And Fishier With Banker's Hanging Death.
While Bowers' work as the head of Deutsche Bank's American wealth management division has been part of a federal investigation, it was concerning his approval of loans for President Donald Trump, not relating to deceased sex offender Jeffrey Epstein. The bank acknowledged it was conducting an internal investigation of its dealings with Epstein, but Bowers, who left Deutsche Bank in 2013, was not himself under investigation.
Did Bowers have "extensive ties" to Epstein as claimed? Lead Stories has been unable to find a detailed resume' for the banker, but we did find references to Bowers leaving Deutsche Bank in 2013 and also 2015. If Epstein moved his money to Deutsche Bank accounts in 2013, then Bowers would not have been there through much of Epstein's relationship with the bank.
The claim that the son of a judge who "has a trial regarding Epstein and the Deutsche Bank" was fatally shot by a shooter who later was found dead has a seed of truth in it, but it is highly misleading. The New York Post reported the case did have a connection to Epstein, but not directly:
Four days before her son was gunned down and her husband was wounded, New Jersey federal Judge Esther Salas was assigned to handle a class-action lawsuit from Deutsche Bank investors who claim the company failed to monitor "high-risk" customers including late pedophile Jeffrey Epstein.

The investors also claim in New Jersey federal district court that the bank made false and misleading statements about its anti-money-laundering policies.

The complaint alleges that Deutsche Bank AG "failed to properly monitor customers that the Bank itself deemed to be high risk, including, among others, the convicted sex offender Jeffrey Epstein."
The investigation into the shooting of the judge's son and husband revealed no connection to Epstein. The FBI identified the gunman as Roy Den Hollander, a New York lawyer who had a grudge against Judge Salas and women in general, as CNN reported:
On his website, Roy Den Hollander described himself as an "anti-feminist" lawyer who defended "men's rights." His personal writings and life's work reveal a toxic stew of sexist and racist bigotry.

He had unsuccessfully filed lawsuits against bars and night clubs offering "ladies' nights," claiming they violate the 14th Amendment, and he filed suits against the federal government, challenging the constitutionality of its Violence Against Women Act -- the "Female Fraud Act," as he referred to it -- and against Columbia University, for its Women's Studies program.
Hollander was also suspected in the murder of a California men's rights activist days earlier. Police said Hollander killed himself with ab gunshot to his head hours after the attack on the judge's family.
The meme also asks "Why is this not news?!" The real part of it was covered extensively at the time by the national news media in the United States.