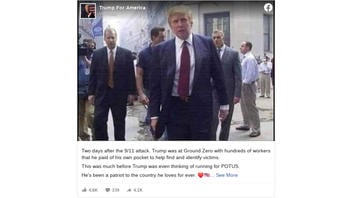 Did Donald Trump pay hundreds of workers to help with search-and-rescue efforts after 9/11? It's unclear, but unlikely: Almost immediately after the attacks, Trump told reporters that he had men helping in the efforts. But we could find no independent confirmation of such a claim. And, on the contrary, sources have cast doubt on Trump's assertion, including a retired deputy chief with the New York Fire Department who told Lead Stories that there is zero evidence to support such a statement.
The claim was made in a Facebook post (archived here) on September 11, 2020, on the 19th anniversary of the attacks. Alongside a photograph of Trump, the post read:
Two days after the 9/11 attack. Trump was at Ground Zero with hundreds of workers that he paid of his own pocket to help find and identify victims.

This was much before Trump was even thinking of running for POTUS.

He's been a patriot to the country he loves for ever.
This is what the post looked at the time of writing:
(Source: Facebook screenshot taken on Mon Sep 14 15:32:27 2020 UTC)
The photograph in the post was not taken two days after the attack, as implied. It was taken on September 18, 2001, according to Getty Images. It shows Trump speaking outside the New York Stock Exchange.
There is evidence, however, that Trump was near Ground Zero in the days immediately after 9/11. He spoke to a German television station from there on September 13, 2001. During the interview, Trump says that he had men working in the area. Here's the relevant quote:
I have a lot of men down here right now. We have over 100 and we have about 125 coming. So we'll have a couple of hundred people down here. And they're very brave and what they're doing is amazing. And we will be involved in some form in helping to reconstruct."
You can watch Trump's interview here:
Trump made similar claims during an interview with NBC News. He said:
I have hundreds of men inside working right now, and we're bringing down another 125 in a little while."
Later, in the same interview, he added:
The great thing is when they find somebody that's alive, like the five firemen that they just found a little while ago. That's the great thing and that's what they're all striving for, but generally speaking that's not that case. So they are working very, very hard, but it's a very depressing situation for these folks."
You can watch Trump's interview with NBC here:
Lead Stories could find no independent confirmation of Trump's claim that he had workers at Ground Zero.
We spoke to Richard Alles, a retired deputy chief with the New York Fire Department. He coordinated teams of fire personnel in the search and rescue, as well as the recovery efforts after 9/11. He said he would have known if Trump had hired workers to help. Alles told Lead Stories:
It's not like they would just blend into the fabric of the operation. I clearly would have been made aware."
He said security was tight at the site; people could not just come and go. Workers were required to check in and there would be evidence, in the form of logs or records, if Trump had hired hundreds of people to help, according to Alles. He said no such documentation exists.
Timothy O'Brien, author of "TrumpNation: The Art of Being the Donald," similarly cast doubt on Trump's claims. Last year, he spoke to The New York Times, which reported:
Mr. O'Brien, the author, said the size of the Trump Organization at the time was "a little bit over a dozen people," which would have made it impossible to send hundreds of people to participate in the relief effort. At the time, Mr. Trump had a large number of casino workers based in Atlantic City, but there is no documented evidence of him marshaling his resources to aid in the relief effort."
Lead Stories attempted to contact the Trump Organization for clarification. We were unsuccessful.
We also reached out the 9/11 Memorial Museum for comment. We will update this story, as needed, if we receive responses.
Bottom line: Lead Stories found no evidence to support that claim that Trump hired hundreds of workers to help with search and rescue after 9/11, apart from his own statements.