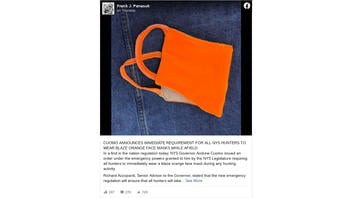 Did New York Gov. Andrew Cuomo order all hunters in the state to wear an orange face mask while in the field? No, that's not true: There have been no announcements from the governor's office or the state agency that regulates hunters that would require hunters to wear the orange face masks. A similar claim about hunters in Pennsylvania also has been debunked.
The claim appeared in a post (archived here) published by Facebook on October 15, 2020. It opened:
CUOMO ANNOUNCES IMMEDIATE REQUIREMENT FOR ALL NYS HUNTERS TO WEAR BLAZE ORANGE FACE MASKS WHILE AFIELD
This is what the post looked like on Facebook at the time of writing:
(Source: Facebook screenshot taken on Sat Oct 17 16:30:57 2020 UTC)
No official state entity in New York has issued an order for hunters to wear orange face masks while in the field. Not Gov. Andrew Cuomo. Not the New York Office of the Governor. And not the Department of Environmental Conservation, which regulates hunting and hunters.
There have been no legitimate media reports about any such mandate, and a representative of the New York State Outdoor Writers Association told Lead Stories he was not aware of mask requirements.
Your message would be the first I have heard of this.
The same hoax was published on social media for Pennsylvania hunters. The Pennsylvania Game Commission debunked it on its official web page and on its Facebook page.
Both messages were the same:
There is a false post circulating on social media, featuring the Pennsylvania Game Commission's name and logo, stating hunters are required to wear fluorescent orange face masks while hunting this year. This is NOT TRUE.

The Pennsylvania Game Commission IS NOT requiring hunters to wear fluorescent orange face masks while hunting this fall. All florescent orange requirements are outlined in the 2020-21 Hunting and Trapping Digest.

Help spread the word to fellow Pennsylvania hunters by correcting false posts out there with the correct information. Agency news and updates can always be found on the agency's official website and verified social media pages.