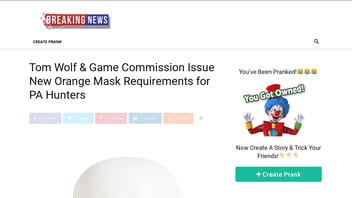 Did Pennsylvania state officials order hunters to wear orange face masks in the field? No, that's not true: The Pennsylvania Game Commission said it has not issued such an order. A similar claim for New York hunters also is not true.
The claim appeared in an article (archived here) published by the prank site channel22news.com under the title "Tom Wolf & Game Commission Issue New Orange Mask Requirements for PA Hunters."
It opened:
In an announcement late Wednesday afternoon, Governor Tom Wolf and the Pennsylvania Game Commission have released new requirements for hunters taking to the woods in Pennsylvanias general seasons.

In all seasons that require fluorescent orange to be worn, PA hunters must additionally wear an orange face mask for visual safety and to reduce the spread of Covid-19. "This measure will ensure that those afield in Pennsylvania will do so with the utmost of safety."
The site is part of a network of prank sites operated by Korry Scherer from Milwaukee, Wisconsin, according to WHOIS data. The site lets visitors create their own realistic-looking fake news stories to prank friends and family.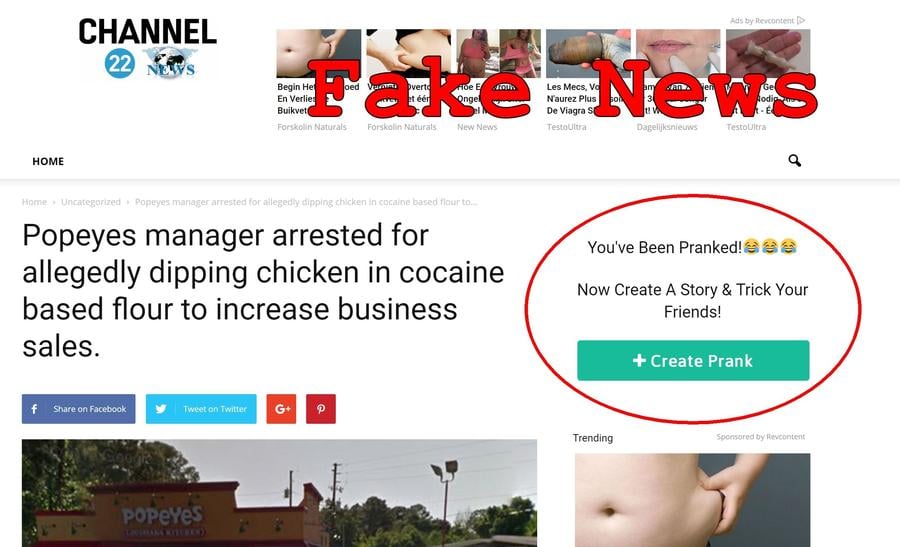 The site seems to be part of a network of similar sites. So far we've found these, but there may be others:
channel22news.com
channel23news.com
channel24news.com
channel28news.com
channel33news.com
channel34news.com
channel40news.com
channel45news.com
channel46news.com
The sites all come with disclaimers at the bottom of each prank:
We do NOT support FAKE NEWS!!! This is a Prank website that is intended for Fun. Bullying, Violent Threats or posts that Violate Public Order are NOT permitted on this Website.
NewsGuard, a company that uses trained journalist to rank the reliability of websites, describes channel22news.com as:
One in a network of websites that lets users make up stories and headlines that mimic real news and share them on social media.
According to NewsGuard the site does not maintain basic standards of accuracy and accountability. Read their full assessment here.
Despite the fact that the claim about orange masks appeared on a prank site, social media picked up the claim as if it were real. That led the Pennsylvania Game Commission to debunk it on its official web page and on its Facebook page.
Both messages were the same:
There is a false post circulating on social media, featuring the Pennsylvania Game Commission's name and logo, stating hunters are required to wear fluorescent orange face masks while hunting this year. This is NOT TRUE.

The Pennsylvania Game Commission IS NOT requiring hunters to wear fluorescent orange face masks while hunting this fall. All florescent orange requirements are outlined in the 2020-21 Hunting and Trapping Digest.

Help spread the word to fellow Pennsylvania hunters by correcting false posts out there with the correct information. Agency news and updates can always be found on the agency's official website and verified social media pages.
A similar claim about New York was published on a Facebook page. It attributed the order to New York Gov. Andrew Cuomo, saying in part:
CUOMO ANNOUNCES IMMEDIATE REQUIREMENT FOR ALL NYS HUNTERS TO WEAR BLAZE ORANGE FACE MASKS WHILE AFIELD
In a first in the nation regulation today, NYS Governor Andrew Cuomo issued an order under the emergency powers granted to him by the NYS Legislature requiring all hunters to immediately wear a blaze orange face mask during any hunting activity.
In fact, no official state entity in New York has issued an order for hunters to wear orange face masks while in the field. Not Gov. Cuomo. Not the New York Office of the Governor. And not the Department of Environmental Conservation, which regulates hunting and hunters.
There have been no legitimate media reports about any such mandate, and a representative of the New York State Outdoor Writers Association told Lead Stories he was not aware of mask requirements.
Your message would be the first I have heard of this.