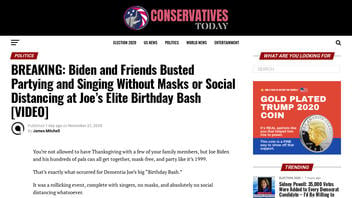 Did Joe Biden have a big birthday party on Friday, November 20, 2020, where friends gathered close and sang "Happy Birthday" to him without masks? No, that's not true: The video purportedly showing the maskless celebration happened on November 20, 2019, long before COVID-19 had become a concern.
The claim appeared in an article published by conservativetoday.org on November 21, 2020 titled "BREAKING: Biden and Friends Busted Partying and Singing Without Masks or Social Distancing at Joe's Elite Birthday Bash [VIDEO]" (archived here) which opened:
You're not allowed to have Thanksgiving with a few of your family members, but Joe Biden and his hundreds of pals can all get together, mask-free, and party like it's 1999.

That's exactly what occurred for Dementia Joe's big "Birthday Bash."

It was a rollicking event, complete with singers, no masks, and absolutely no social distancing whatsoever.

Why, if you looked at this video and didn't know better, you'd think there was absolutely no "COVID pandemic" at all.
Users on social media only saw this title, description and thumbnail:
This party took place at the Tyler Perry Film Studio in Atlanta after the MSNBC/Washington Post Democratic Debate which just happened to fall on Joe Biden's 77th birthday. The woman who led the singing of Stevie Wonder's, "Happy Birthday To Ya," is Atlanta Mayor Keisha Lance Bottoms.
Mayor Bottoms tweeted a short video with a Birthday wish to President-Elect Joe Biden on November 20, 2020 at 11:37 AM.
Wishing our President-Elect @joebiden a VERY Happy Birthday from the great Blue state of Joe'gia!
Several minutes later, at 11:49, she retweeted her previous tweet (archived here) with the added context:
Pre-Covid! This was in the @TPStudios White House following the @DNC @msnbc debate on 11/20/19.
Pre-Covid! This was in the @TPStudios White House following the @DNC @msnbc debate on 11/20/19. https://t.co/7IVxsirx2J
-- Keisha Lance Bottoms (@KeishaBottoms) November 20, 2020
On November 20, 2020 the Twitter account of President-Elect Joe Biden tweeted a photograph (archived here) of a meeting which appears to have adhered to social distancing and everyone pictured was wearing a mask in the photo:
This afternoon, @KamalaHarris and I met with @SpeakerPelosi and @SenSchumer to discuss how we'll get this virus under control, deliver much-needed relief, and build back better than before.

We're getting right to work for the American people. pic.twitter.com/jbeNpsimdj

-- Joe Biden (@JoeBiden) November 21, 2020